A familiar scenario: you finish a race and are presented with a shiny new medal, which you proudly (or giddily) put on at the finish line to take a selfie. Then you get home and not knowing what else to do with it, your reward ends up with the rest of your medals stuffed in a kitchen drawer, in a heap on the floor of your closet, or hanging in a tangle from a coat hook by the back door. Not a very respectful way to treat those medals, considering all the hard work that they represent. Instead, show your medals – and yourself – some love by displaying them in a way that reminds you of your achievement and motivates you to earn more.
There are a variety of types and sizes of medal displays to suit any décor, from a simple one-hook style to ones that can hold both medals and bibs. The materials include wood, metal or a combination of both. Some offer an expansion option, almost all of them feature an inspirational design or quote, and many can be personalized or customized. Which is the best type of running medal display hanger? Below are a few styles to consider and the advantages of each.
Hooked on Medals
A classic style, a hook medal hanger is a piece of artwork that happens to display medals. Made from wood that is professionally finished on all sides, it has a row of nine hooks below the art to hold your medals. Available in dozens of options to suit any taste, including custom quote and photo, the design is protected with a smooth, glossy finish.
Why choose this medal display?
A great choice for a runner fairly new to races as it looks good both with only a few medals or when full
Each hook can hold up to six medals so it has longevity despite the compact footprint
Perfect for runners who like to rearrange their medals when adding new ones since they are hung without the need for extra hardware
An understated option that won't overpower a smaller space
Review for Running Hooked on Medals Hanger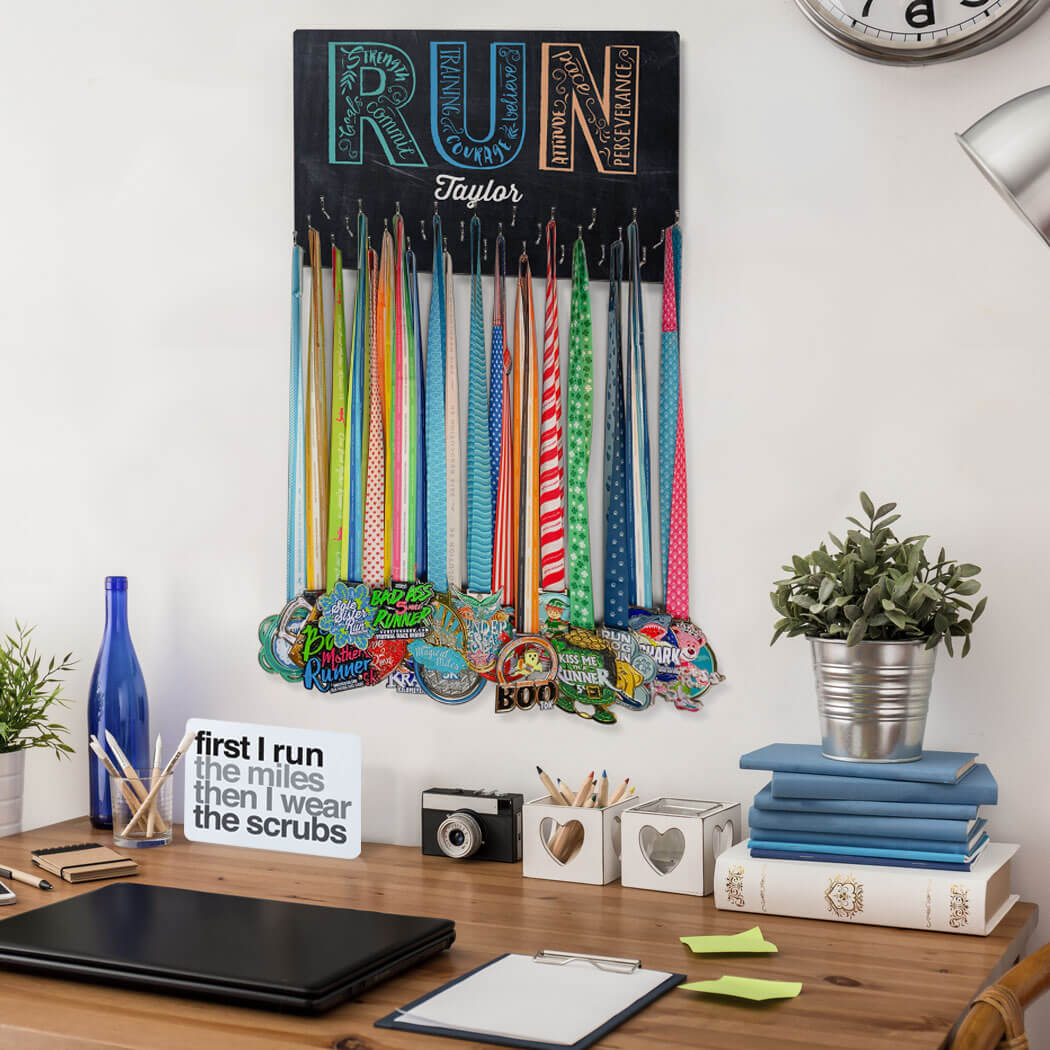 ★★★★★ 5 out of 5 stars
Anne
Great purchase
This is great! I have over 50 medals and was hanging them on one small hook which was about to fall down. My family said I needed something more sturdy. I can fit all my medals on the hooks and there is still plenty of room for more!
Hooked on Bibs & Medal Display
A variation on the classic hook medal hanger, this one also holds race bibs. Made from the same wood and having the same finishes, no special hardware is necessary to mount it despite the larger size.
Why choose this medal display?
For runners who want a fuss-free way to display both their medals and bibs
Holds over three times as many medals as the standard size hook board to accommodate the collection of a more experienced runner
Suitable for larger spaces since it will be more visible than a smaller hanger
The Custom Photo design can also be personalized
Review for Hooked On Medals Bib & Medal Display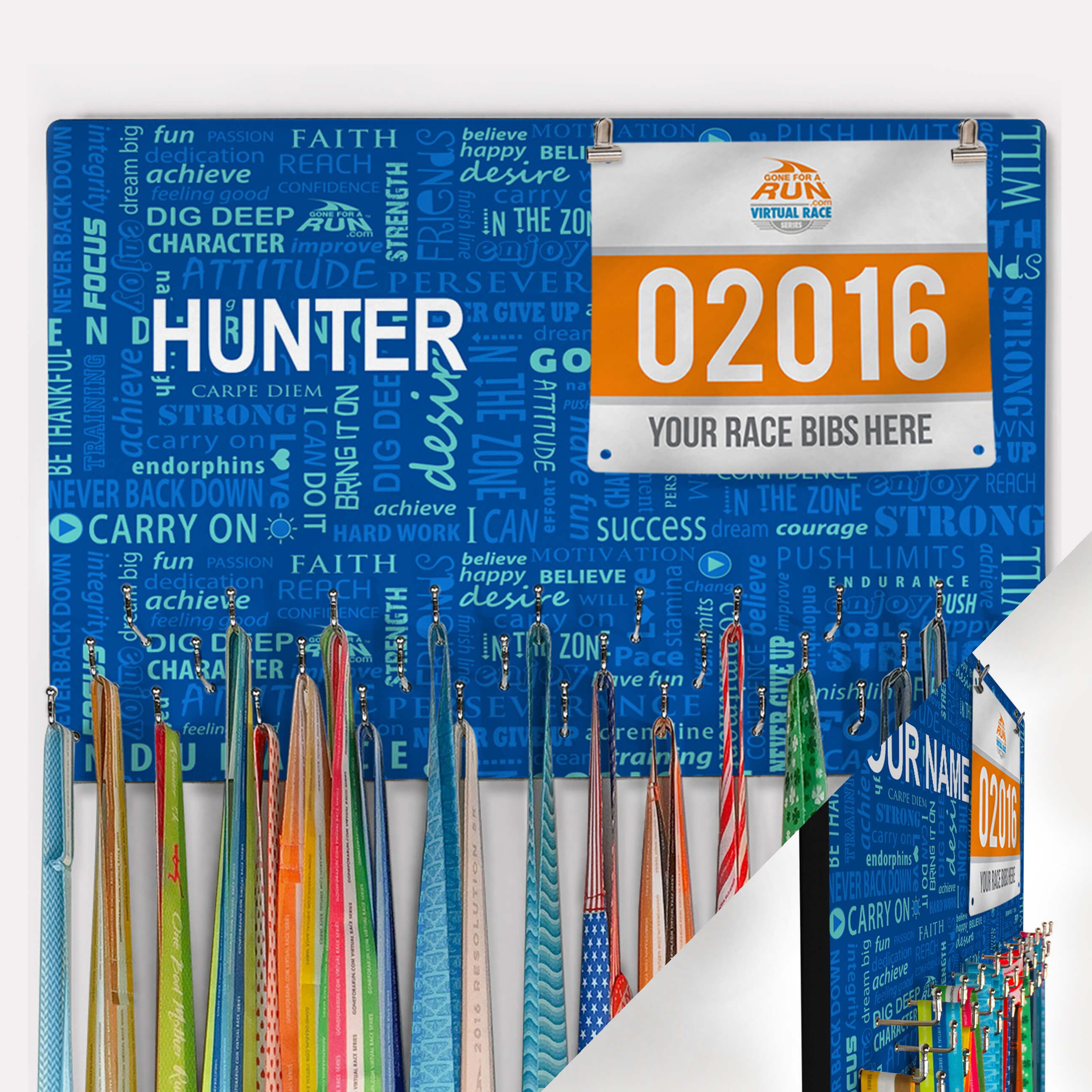 ★★★★★ 5 out of 5 stars
Darren
Exactly what I needed
I've had my medals hanging in my closet collecting dust for years. When I saw this medal display I thought it would be great to have. Good idea to have both the numbers bib and medals in one display, the customized name display is an added bonus. Very easy to hang.
BibFOLIO Plus Race Bib and Medal Display
The original bib and medal display, its frame is made from hand-forged metal for durability. The upper portion has two hooks to hold bibs, and functions like a bib album. Easily slide your medals onto the bar below, which can hold up to 24 medals and be secured to the wall when full for extra stability.
Why choose this medal display?
Ideal for runners who want to display their bibs and medals together in minimal space
The cover lends a neat appearance making it suitable for a professional setting
A set of 12 vinyl sleeves is included to protect your race bibs from dust and damage
An extension bar made from the same sturdy metal is available to accommodate extra medals
This style has the broadest selection of cover art, including a bamboo option
Review for BibFolio Plus display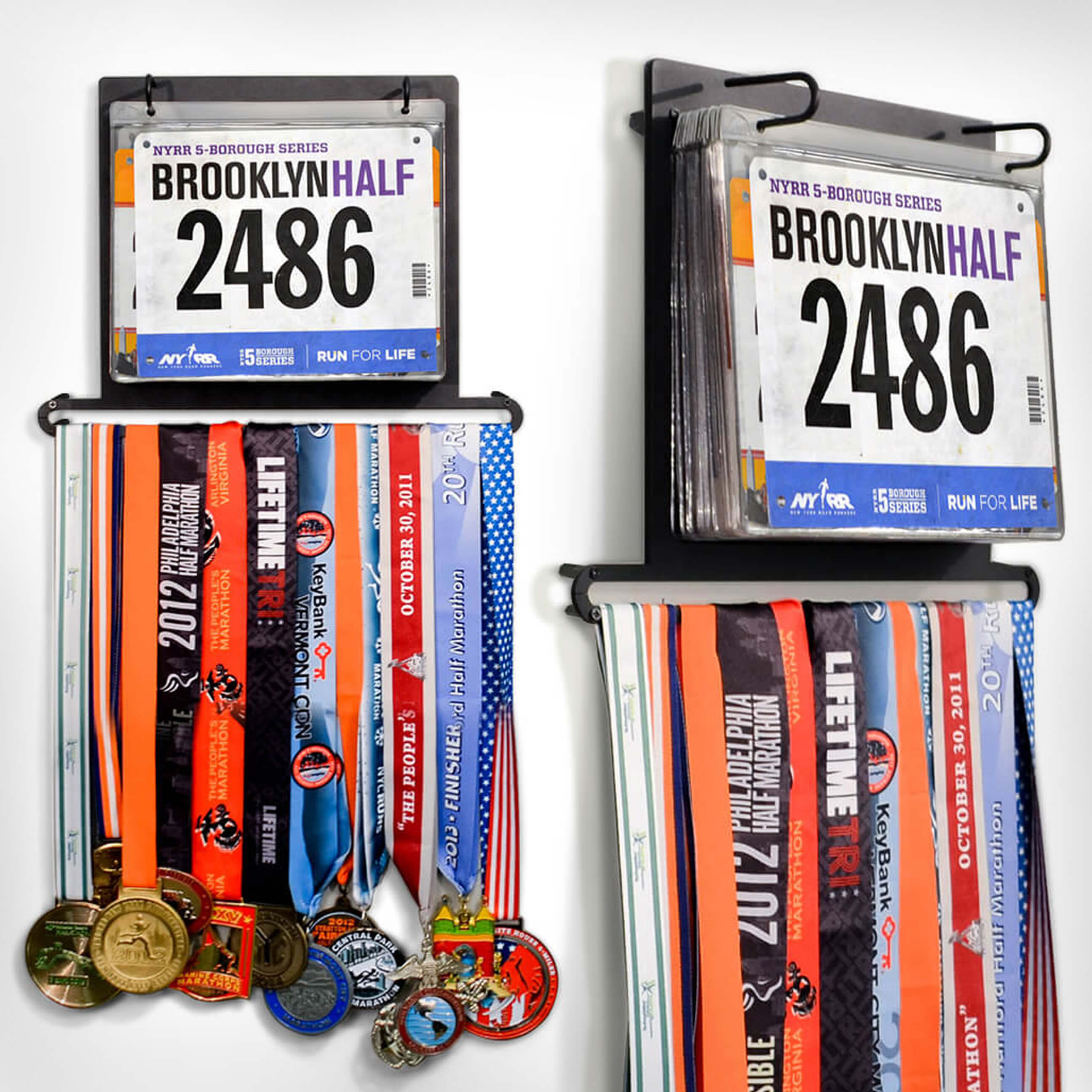 ★★★★★ 5 out of 5 stars
Kristel
Great Display!
I had my bibs in a drawer and medals hanging from a key hook before I purchased this display. Now everything has a place. I write run notes on the back of my bibs and the plastic holders can also keep time tickets or printed finisher sheets (folded). I love having my medals and bibs out where I can see them and it makes me look forward to adding more.
Tabletop Medal Display Lamp
For the ultimate race medal display, look no further! Made from cast iron and steel topped by a white linen lampshade, this patented Tabletop Medal Display Lamp features welded rings that can hold at least 90 medals.
Why choose this medal display?
For anyone who doesn't want to mar their walls by hanging a display
Perfect for runners who have amassed a large collection of medals and prefer to keep their bibs in a bib album
When the lamp is on, it shows your medals to their best, brightest and blingiest advantage
The Custom Photo design
Review for Tabletop Medal Display Lamp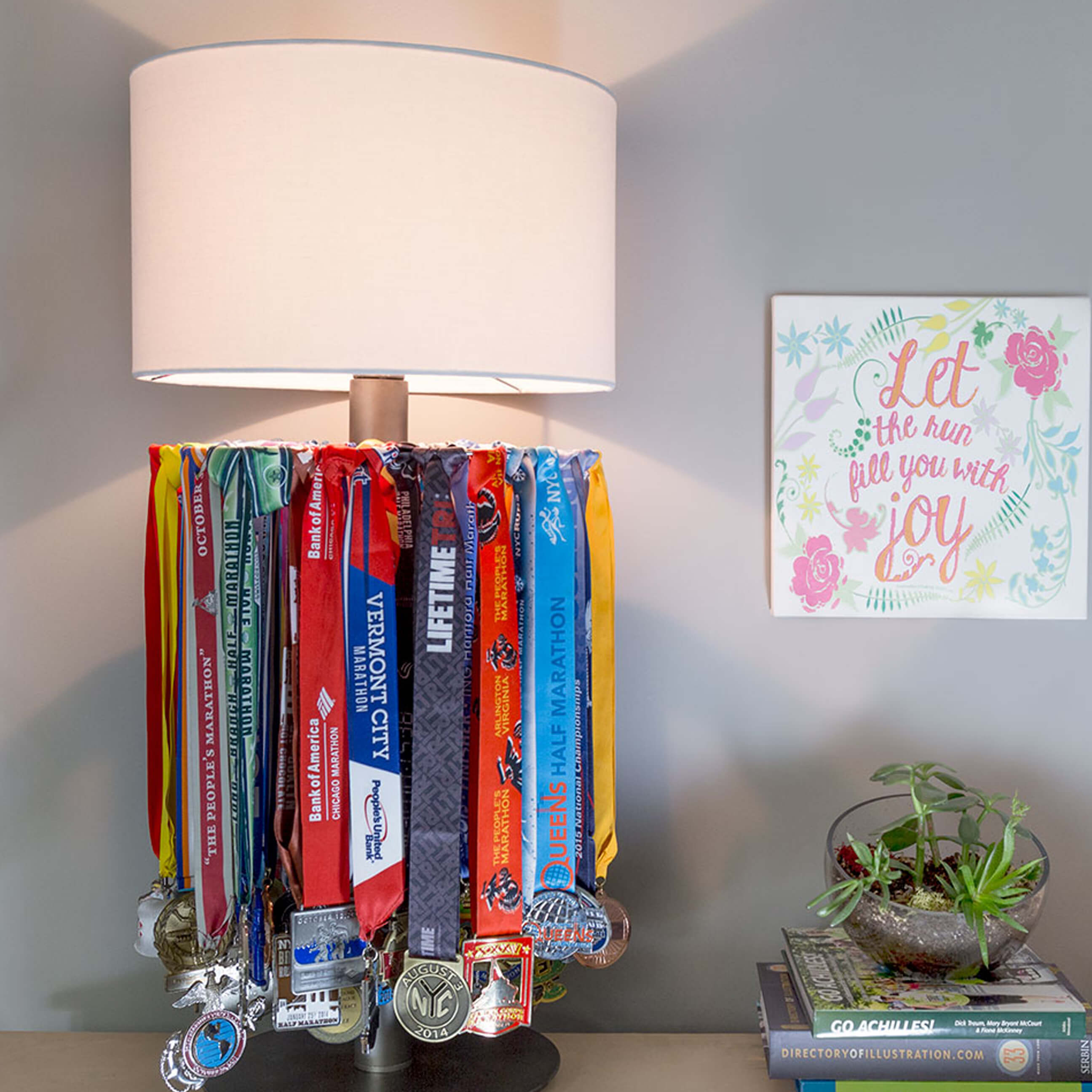 ★★★★★ 5 out of 5 stars
Eliza
Wow! An Amazing Medal Hanger & Lamp
My race medals never looked better! This lamp is both a great functional lamp and a great way to display and enjoy my race medals. It looks so great in my home and I get so many complements! Extremely well made and holds so many medals - I have 60 on the lamp now with more room left. Treat yourself to this awesome medal display!
No matter which style of medal hanger you choose, you will love having your hard-earned medals take pride of place in your home or office. Seeing them every day will give you a great feeling of satisfaction and inspire you to run many more races!