Current Virtual Races
Run with Us and Never Stop Running! You can run alone or with a group of friends. It's your race, on your terms! Each of our fun themed races vary in distance, beginning at 5K (3.1 miles). So, find the right race for you and once you register, we'll send you your race packet. Ready to lace up those shoes and run with us? Check out our current virtual races below:
*Free Shipping
on all Virtual Races
'Run' It Forward
A wonderful component of our Virtual Race Series is the contribution to various charities. A percentage of each race registration is donated directly to the selected charity for that particular race. Our great community of virtual race runners have made it possible for Gone For a Run to donate thousands of dollars to an assortment of charities including:
Girls On The Run International

is an amazing non-profit organization dedicated to helping girls achieve their dreams through running.

Wear Blue: Run to Remember

is a running community that honors the service and sacrifice of the American military.

St. Jude Children's Research Hospital

is a leading children's hospital pioneering research and treatments for kids with cancer and other life-threatening diseases.

Bridgeport Rescue Mission

provides a place of hope and dignity, fighting poverty from the inside out to the hungry, homeless, and addicted.

The Hole In The Wall Gang Camp

is dedicated to providing "a different kind of healing" to seriously ill children and their families, free of charge.

Give Kids The World Village

is a 79-acre, nonprofit resort in Central Florida that provides week-long, cost-free vacations to children with life-threatening illnesses and their families.

Animal Hope & Wellness

is a 501(c)3 non-profit organization focused solely on rescuing abused and neglected animals.

Achilles International

provides a community of support to athletes with disabilities and helps them participate in running events and achieve their personal goals.

The Intrepid Fallen Heroes Fund

is a leader in supporting the men and women of the Armed Forces and their families.

Friends of Jaclyn Foundation

enriches the lives of over 600 children and their families who are battling pediatric cancer.

Harlem RBI

is an organization dedicated to helping inner-city youth with opportunities to play, learn and grow.

Star

is a non-profit organization serving individuals of all ages who have developmental disabilities.
Learn more about the charities we support
"Virtual Races are so much fun! I made sure to let my friends know so they can join me."
"I participated in this virtual event and I'm so glad I did! The medal is fabulous. Thanks for putting together a great virtual run with fun extras. Every event I participate in takes me closer to my goals as a runner."
View All Testimonials
View All Race Recaps
What is a
Gone For a Run

Virtual Race?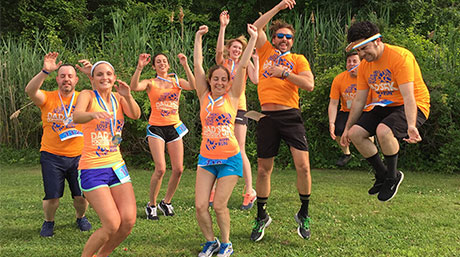 A Gone For A Run Virtual Race is a race on your terms, your turf and your pace! Run (or walk) the predetermined distance with friends, family, or yourself whenever and wherever you'd like. Each race package contains a unique race bib and a truly awesome finisher's medal. Contributing to the cause, a portion of your registration will be donated to a great charity!
You can run (or walk) through your neighborhood, on a treadmill or wherever you'd like. You can run alone or with a group of friends. It's your race, on your terms! Each of our fun themed races vary in distance, beginning at 5K (3.1 miles). So, find the right race for you and once you register, we'll send you your race packet.
Gone For a Run has had thousands of people run or walk our virtual races from all over the world and from all walks of life. We invite you to look at the photo journals below of each of our races and see our community of virtual race participants. You can feel the energy, the pride and the fun! The mantra of this community is inspiring and motivational; Set a goal, live a healthy lifestyle and give back. Ready to lace up those shoes and run with us?
Read More
How Does a Virtual Race Work?
Step 1 -
Register
Register online at GoneForaRun.com for the virtual race of your choice.
Step 2 -
Race Packet
You will receive a race packet that includes an official race shirt, a race bib and a finisher's medal.
Step 3 -
Run!
When the designated race weekend arrives, you can race, run or walk on a road, trail or treadmill. It's all about getting out there and challenging yourself to reach your goal.
Step 4 -
Upload
Once you finish your race, put that hard-earned race medal around your neck, take a photo and share your accomplishment on social media! Be sure to post on Facebook and share on Instagram using the hashtag #GoneForaRunVirtualRaceSeries.
Step 5 -
Run It Forward
You will be proud that not only did you reach your goal, but you also 'ran it forward'. By participating in one of our Virtual Races, a portion of your registration fee was donated to a great charity.
Run With Us!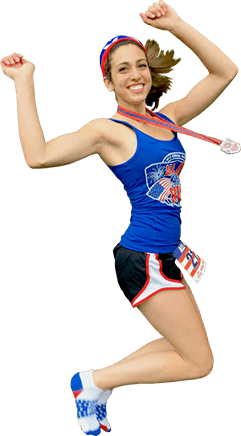 Gone For A Run Virtual Races began in 2015, as a way to encourage people to get out and enjoy running, while also benefiting a variety of charitable causes.
Virtual races are a great way to start running or for seasoned runners to use as a fun training tool. Each virtual race has a fun theme and includes a tee or accessory complementing the race theme. A few of our perennial race themes include a Valentine's Day, St Patrick's Day, New Year's, Halloween, Thanksgiving, Christmas and other seasonal and fun virtual race themes.
By choosing a virtual race, you don't have to get up at pre-dawn hours or travel to far-off places to get the thrill of accomplishing your goal. You can run whenever and wherever you please within the designated virtual race dates. People from around the world have participated in our virtual running events. Many runners (and walkers) create a virtual race event and include family and friends to participate. Check out our past virtual race photo recaps showing groups of friends running together and completing the virtual races.
Once you register for a Gone For a Run Virtual Race you will receive a race packet. The virtual race package includes an awesome finishers medal, an authentic race bib and either a race t-shirt or another race themed wearable accessory. Gone For a Run virtual race medals get called out in social media on a regular basis – they are well designed, colorful, large and many have unique features! Regular virtual race participants have a dedicated medal hanger for these medals and a designated BIBFOLIO® bib album for the virtual race bibs.
Gone For a Run donates a portion of every registration fee to benefit a charitable partner. We believe in the commitment to "Run It Forward", and are proud we have been able to donate over $50,000 and growing!
Let's do this! Start training and when you're ready to officially run the race, pin your bib on and head out to complete the virtual race anywhere on the road, trail or treadmill. Once you have completed your race, proudly wear your well-earned race medal and be sure to share your photos and results.