Power Up Your Recovery
PR SOLES® SHOES REVOLUTIONARY ACUPOINT® FOOTBED TRIGGERS ACTIVE RECOVERY WITH ITS DUAL-ACTION TECHNOLOGY. THE PROPRIETARY DESIGN OF THE FOOTBED ABSORBS IMPACT AND CUSHIONS THE FEET AND THE CALIBRATED ACUPOINT® RAISED BUMPS TRIGGERS ACTIVITY
Learn More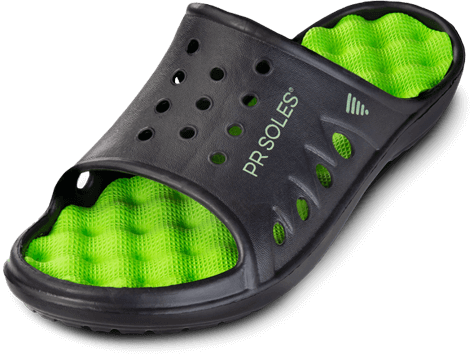 Benefits of Applying
Massage Action

to the feet

Alleviates foot, leg and lower back pain and reduces swelling and tension

Breaks up accumulated lactic acid to detoxify the body

Improves circulation benefiting the entire body
PR Soles®
Acupoint®

footbed technology triggers active massage for full body recovery
What Our
customers are saying

SJ
I Am Impressed
I have had multiple foot surgeries and it had become a painful to walk. These actually do what they say - RELIEVE PAIN! I'm impressed and it takes a lot to impress me! I am a medical professional, so by nature a skeptic of things the mainstream practice.

MG
Pure Magic
I got these recovery sandals for my husband who is on his feet constantly. He had started to experience constant foot pain in the balls of his feet. After introducing these sandals the pain relief was instant. We are calling these sandals pure magic for foot relief.

PT
Very Happy Feet!
Best comfort and recovery my feet have ever felt!! I run 30-60 miles per week and have severe PF. Recovery is very difficult and often times I'm forced to take days off from running because of feet issues. I absolutely love my PR Soles, they really help my feet recover quickly and keep me running!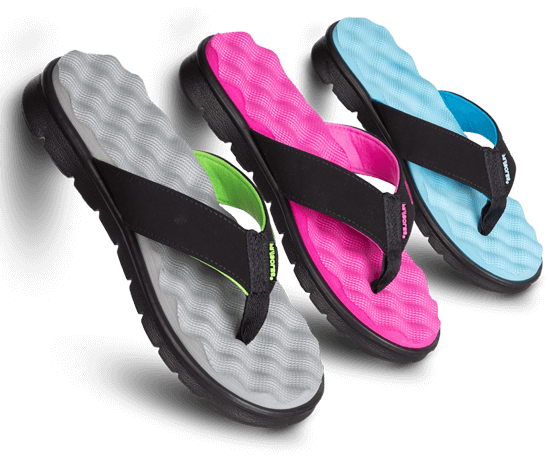 Now That's Recovery
Power up your recovery with PR SOLES! The proprietary ACUPOINT® foam-cushioned sole massages your feet and absorbs impact as you walk. Science has documented that applying massaging action to the feet promotes circulation, breaks up lactic acid and stimulates nerves to bring relief to your legs and lower back as well as your feet. PR Soles Recovery shoes are like applying a foam roller to your feet, amazing long lasting relief and healthy repair. Testimonials from hundreds of PR SOLES customers rave about the rejuvenating results.