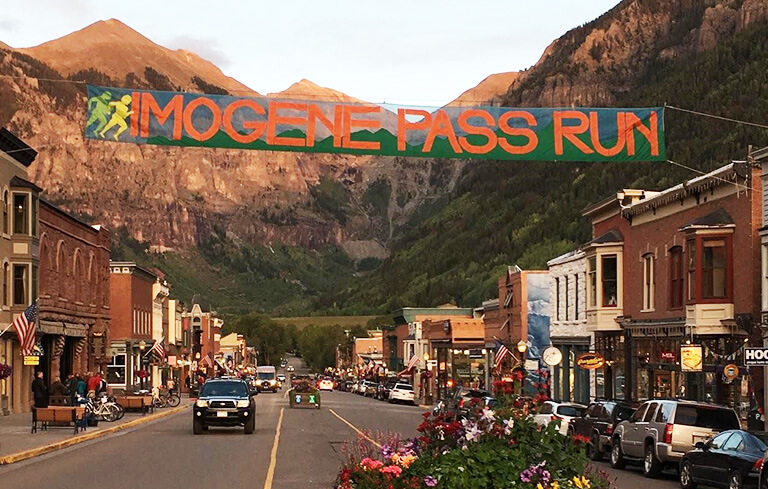 History:
The Imogene Pass Run is a point to point mountain race that takes place every September in the majestic San Juan Mountains of Colorado. It starts in the quaint mountain town of Ouray, and finishes in the once coal mining town of Telluride, Colorado. This 17.1 mile mountain race is mostly run on a old mining dirt road, starting just below 8,000ft and climbing 10 miles to the summit of Imogene pass, which is just over 13,000ft. Once at the top, it descends dramatically for 7 miles to the finishing elevation of 8,800ft. The race originated over 45 years ago when a local runner decided to run up and over the pass while training for the Pikes Peak Marathon. The locals could not believe how fast the man had run over Imogene Pass, so bets were placed and the Imogene Pass run was created. The race has become so popular that the 1,600 race cap sells out within minutes every June. The date for registration is posted after January 1st of each year.
Training:
In early September of 2017 I watched as my girlfriend finished the 44th running of the Imogene Pass Run. She's a phenomenal road and track athlete, but did not train properly for this event. Although she finished, it exposed a lot of weaknesses. I mentioned that we should both train and race Imogene in 2018. Fast forward to June of 2018 and we were both entered for the daunting challenge of Imogene Pass.
I had three months to train my mind and body for a different type of challenge. I had just run a fast half Marathon, but a flat road race at sea level does not translate to racing well up a mountain, and especially the skill set needed on the descent. Fortunately I live in Boulder, CO, which is a trail running mecca. The trail running options are endless, as we have everything from smooth singletrack, steep technical climbs and descents, and 14,000ft peaks within a hours drive. The plethora of options can sometimes be overwhelming. The ultimate goal in training was to mimic the challenges I'd be facing on race day.
My training over the next three months consisted of a lot of miles, long uphill tempos (20:00-40:00), hill reps (varying terrain and time), and long runs up high (9,000-13,000ft). I also raced the Rendezvous Mountain Hill climb in early August as a tuneup. This race starts in Teton village outside of Jackson, WY and climbs 4,100ft in 6 miles to the top of Rendezvous mountain. I raced fairly well, placing 5th against some of the best mountain runners in the area. Although this was tough, as you are relentlessly climbing the entire time, it was only 6 miles, and with no descending involved. I knew I was fit, but how would my body respond to racing up high? I also knew that descending was not my strong suit. I would often feel dizzy on runs above 11,000ft, and in early July I took a bad fall on a descent, resulting in 8 stitches on the lateral side of my right knee. So as you can see, I saw mixed results in how my body was acclimating to mountain running.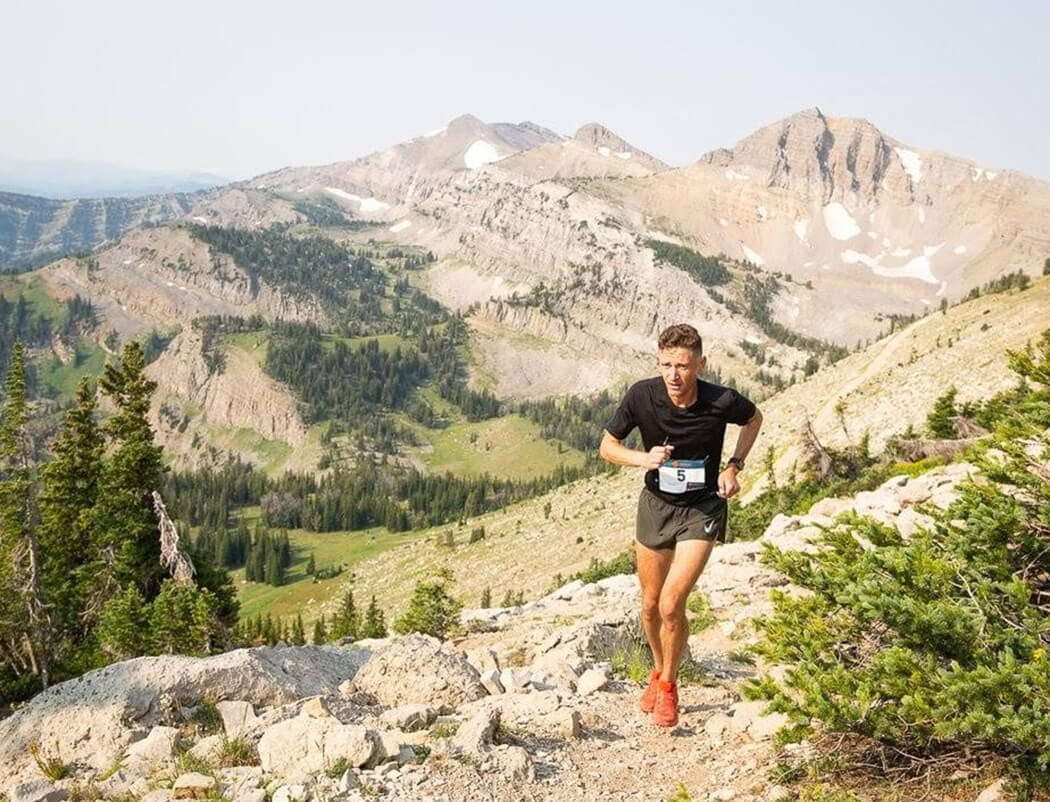 Race Week:
The 45th running of the Imogene Pass Run was to take place on Saturday September, 7th. Early that Thursday, Sarah and I started our trek from Boulder to Telluride. The drive is about 7 hours, with lots to see along the way. I've visited every part of Colorado, and the San Juan mountain range, which includes Telluride, is easily my favorite. It's half the reason I signed up for this ridiculous race. When traveling to races, either flying or driving, I like to arrive two days before. This gives me time to acclimate to the environment, and work out the kinks from sitting for long periods of time. This was definitely needed as the Mountain Village above Telluride sits at 9,600ft. On Friday we ran some easy miles followed by a couple of strides. This is pretty much my standard routine, no matter the race distance. The rest of the day was spent enjoying the scenery, walking around Telluride, and picking up our race packets. The town is surrounded by several 14,000ft peaks, so the views are absolutely breathtaking.
Race Day:
Race day was finally here, and I was ready and excited to start. I was confident in my training block, which is always reassuring when race morning comes around. The busses departed from Telluride at 5:15am, which makes for a early morning. Although the race is 17.1 miles in distance, it takes about an hour to drive to the town of Ouray. This event was unlike anything I had previously raced, so my warm up was a little different. I only jogged for 10 minutes compared to the normal 20 minutes for shorter races (both in duration and distance). It was also a game time decision on what to wear. The weather at the start can vary greatly from the conditions at the top of the pass. There have been years where it's snowing with gusty winds above 11,000ft. The weather looked great (mid 40's) at the start, and the word was it was calm and sunny at the top. With that info I decided on just a singlet. I was carrying a handheld water bottle with my nutrition mixed in. Racing with a water bottle is something I would have never thought about in previous races. This race was a different animal, and not having to stop at the aid stations would ultimately save me time in the end. This strategy is not for everyone, but I had done numerous long runs with a bottle, and I liked practicing with the nutrition I'd be using on race day.
The Race:
At 7:30am the gun went off as more than 1,300 runners started the trek up Imogene Pass. The start had changed this year, so there was only 100 meters of pavement before hitting a steep dirt trail that takes you to the 4WD road. I immediately found myself in a small pack of 4 runners up front. My quads and lungs were telling me to settle in and manage the first climb without going into debt. The next three miles were manageable, as the surface was relatively smooth and the average grade was around 7 percent. Climbing is all about finding a rhythm, staying just below the redline for as long as possible. By mile 5 the climbs were getting steeper, and I was not running as efficiently as I would have liked. I knew it was too early to be feeling this amount of distress. I had no choice but to back off and focus on making it to the summit. Around mile 7 is upper Camp Bird. This is where the surface becomes rockier, the air is thin, and the climbs are relentless. The stretch from 7-10 miles is between 11,000-13,100ft, with a average gradient of 14 percent. At mile 8 I was dizzy, and there were stretches where I had to succumb to the pain and power hike. This killed my confidence, but I simply had no choice. These were the cards I was dealt on the day, and I was going to push through to the best of my ability. I reached the summit of Imogene Pass in 4th place. I was dizzy, my legs were shot, and now I had to stay focused and descend 4,500ft over the next 7 miles. I tried to take in some of the breathtaking views, but it's all fuzzy as I remember it now.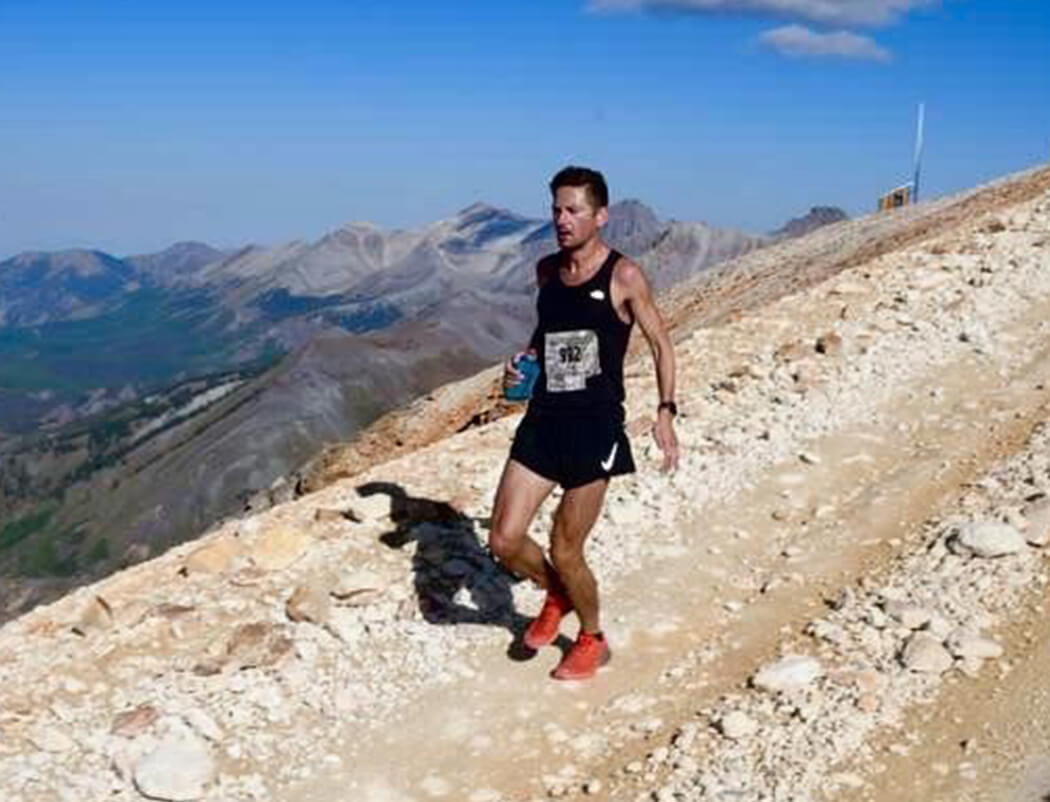 The Descent:
I caught my breath and started the quad pounding voyage to the finish in Telluride. The first two miles are very rocky, so I had to manage the terrain carefully while not putting on the breaks too much. As mentioned before, I'm not a great descender, so my quads were screaming at me. Two runners passed me within the first two miles. There wasn't much I could do, and honestly I was just trying to get to the finish without causing too much damage. The long dirt road becomes much more manageable by mile 13. I kept the legs moving, although they were deteriorating quickly. Every so often there was someone on the road offering encouragement. In the final miles to the finish I was kicking rocks as my legs wanted to quit. Finally, the dirt road ends and it's 200 meters of pavement to the finish. I crossed the line in 7th place in a time of 2:32:44. Although this was not the time or place I was hoping for, I overcame adversity and ran as well as I could have on the day. Course profile with race day splits.
https://www.strava.com/activities/1827941522
The Aftermath:
The days since tackling Imogene Pass have been slow going. My quads are finally coming back to life, as I've been walking gingerly for days, especially downhill. Sarah finished 5th on the Women's side, and nearly 20 minutes faster than the previous year. In hindsight, we both could have benefited from more running in the high mountains, as well as running harder on steep descents. Race specificity makes all the difference in events like this. I would highly recommend this race, just make sure you're prepared and ready. This part of the country is simply amazing, and running over Imogene Pass is an experience I'll never forget.