Like most runners you pinned a bib to your shirt, ran the race, and then tossed it into a shoebox or stuffed it in a drawer when you got home and have repeated this process MANY times. Sure, you hang your shiny medals with their colorful ribbons on your medal hanger for all to admire, but your bibs are not so fortunate. So, how can you store all those hard-earned race bibs to give them the respect they deserve (and free up some precious drawer space at the same time)? The answer is simple: the BibFOLIO® Race Bib Album.
What is a BibFOLIO® Race Bib Album?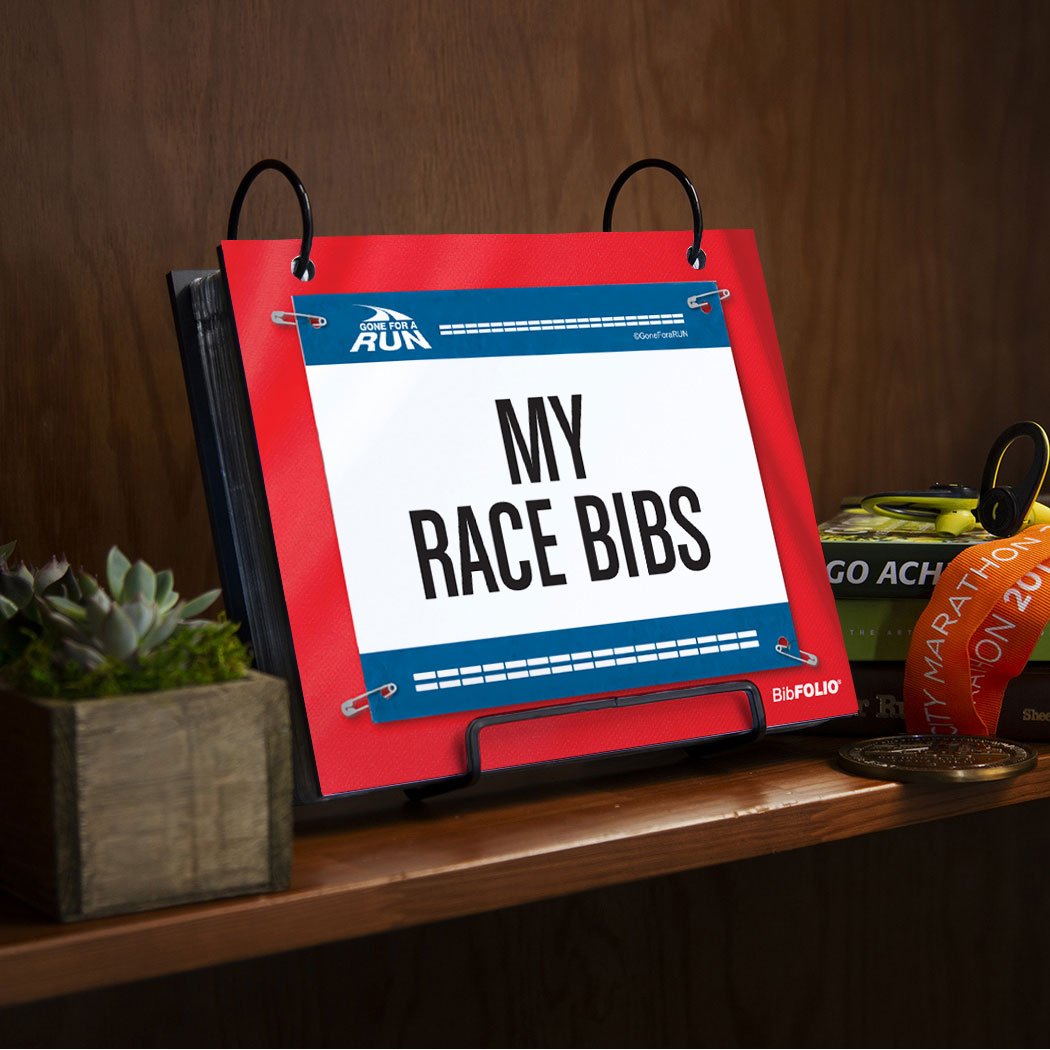 The BibFOLIO® Race Bib Albums is the original race bib album. Created by an avid runner who likes to turn chaos into order, this album is the perfect way to store your running bibs so they are protected and preserved, while at the same time keeping them easily accessible. Based on the idea of a ring binder, each album consists of front and back covers held together with a pair of rubberized rings and can hold up to 100 bibs or 50 vinyl protector sleeves. To use it you simply unscrew the rings, thread them through the holes in your bibs and close them again.
To see how it works, check out this video:
★★★★★ 5 out of 5 stars
Amazing!
"I have been running my whole life and collecting my race bibs in shoe boxes, posting some on the walls in my office, and other various places. I'm all for memorabilia but I'm not big on clutter. This product is so simple and clean and perfect. Exactly what I was looking for and never knew existing until I stumbled upon this." - Tara
Does it really protect my bibs?
Yes, especially when used with the BibFOLIO® Bib Albums. A set of 12 sleeves is included with the album, which will accommodate most standard-size bibs (oversize bibs can be folded). Although the bib album can be used without the vinyl sleeves, similar to a photo album they protect your bibs from avoidable wear and tear, smudges and fingerprints, when you are flipping through them.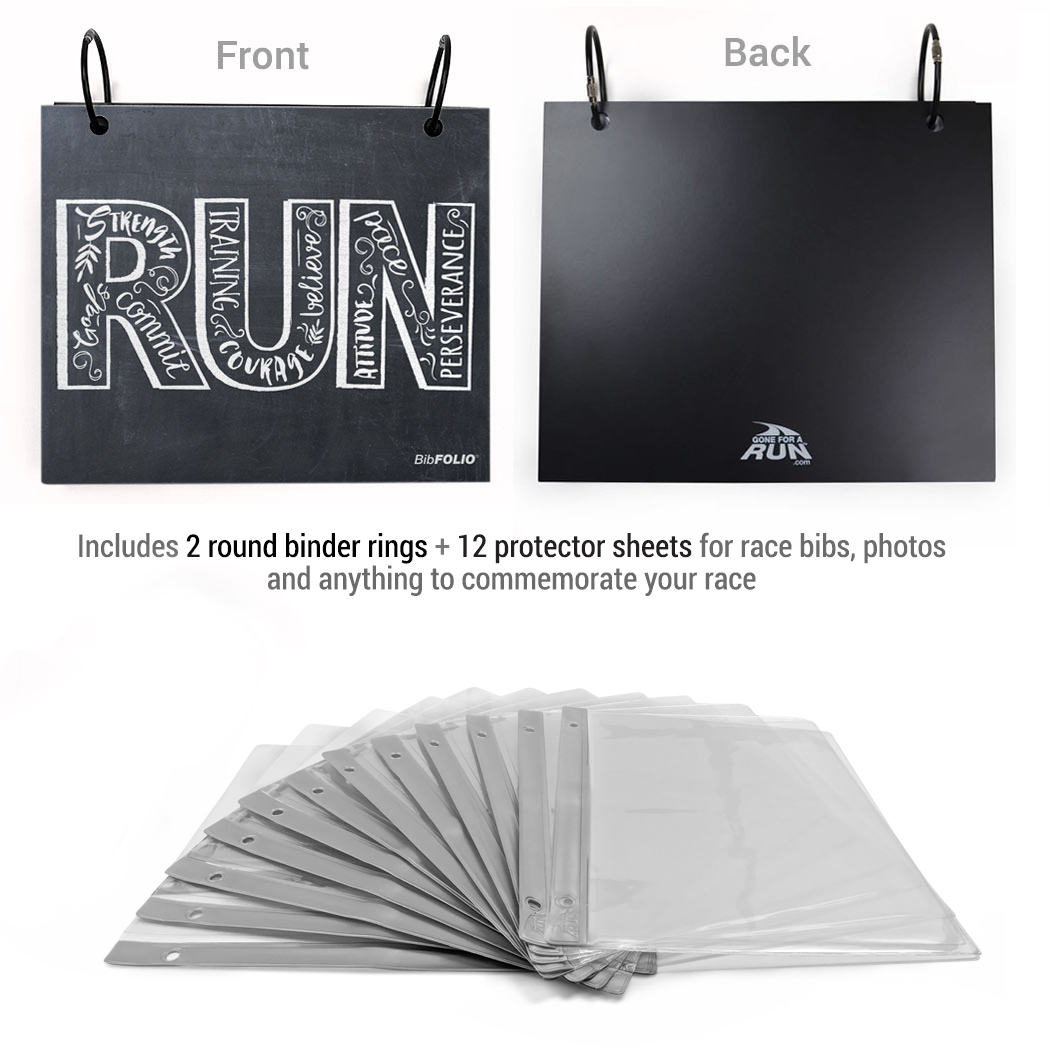 Each sleeve can hold two bibs when inserted back to back, and the top has a space to write race information such as the date, location and your time. You can also use them to include photos, a map of the race route, or other flat race memorabilia. If you want to include more detailed race stats, inserts are available and sized to fit in the sleeves. The bib albums also have expansion rings as an additional accessory for when it gets too full!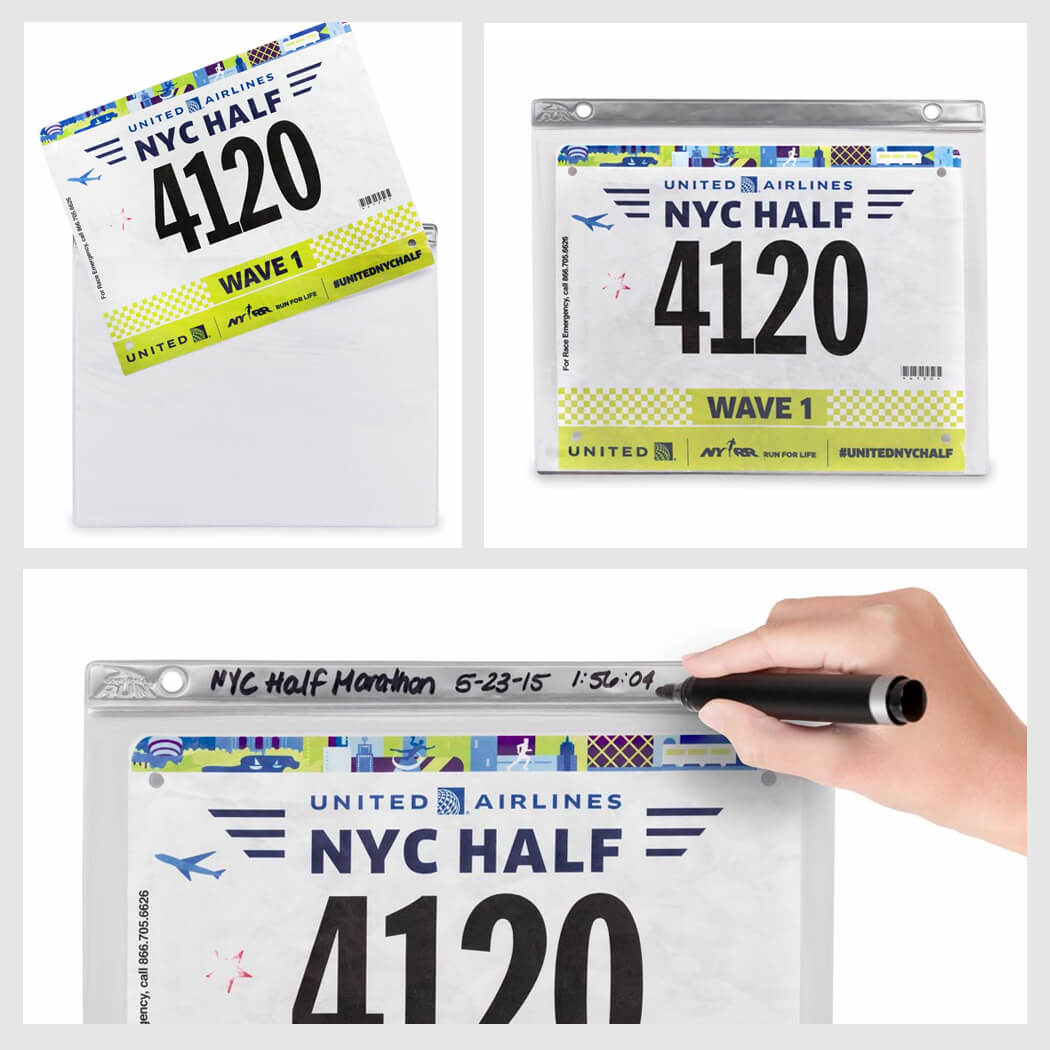 Why should I buy a BibFOLIO® Bib Album when I can just use a binder and plastic sheets from the office supply store?
Your bibs deserve better than a makeshift cardboard and plastic binder, and the BibFOLIO® album was designed to be both functional and beautiful. There is a plethora of cover designs to choose from – with original artwork, an inspiring quote, your photo, or personalization – all finished with a smooth, glossy laminate. Intended to be a decorative room accessory, your album will look great sitting on a coffee or side table or on a bookcase or shelf, and there is an optional stand that allows you to display it like a piece of art.
★★★★★ 5 out of 5 stars
Awesome, High Quality
"I was looking for something like this and was afraid I would not find anything that really worked. This product exceeds my expectations! Easy to put bibs in and assemble. Had mine printed with my name. I bought the stand and it displays elegantly in my house. Highly recommend!" - Mike
Hint: because there is a design to suit every taste, it also makes a perfect gift for your running partner or your favorite runner.
★★★★★ 5 out of 5 stars
Christmas present for Bib Hoarder
"Bought this as my "sudden inspiration" Christmas gift for my wife. Made the mistake of opening up the wrong drawer when putting away laundry and found the dumping ground for all her race bibs. Like a little kid in the candy factory an hour after the presents were open, race bibs out of the drawer and spread across the living room floor. Now nice and neat, now the bibs are all organized." - Robert
BibFOLIO® Bib Albums can be Wall Displays!
This original BibFOLIO® album cannot be attached to a wall, but there is a wall version available. The Wall BibFOLIO® Display has the same capacity and quality finishes as the bib album and is attached to the wall with decorative standoff wall screws. Perfect as a bib holder if you want to really protect your bibs by keeping them up and out of harm's way.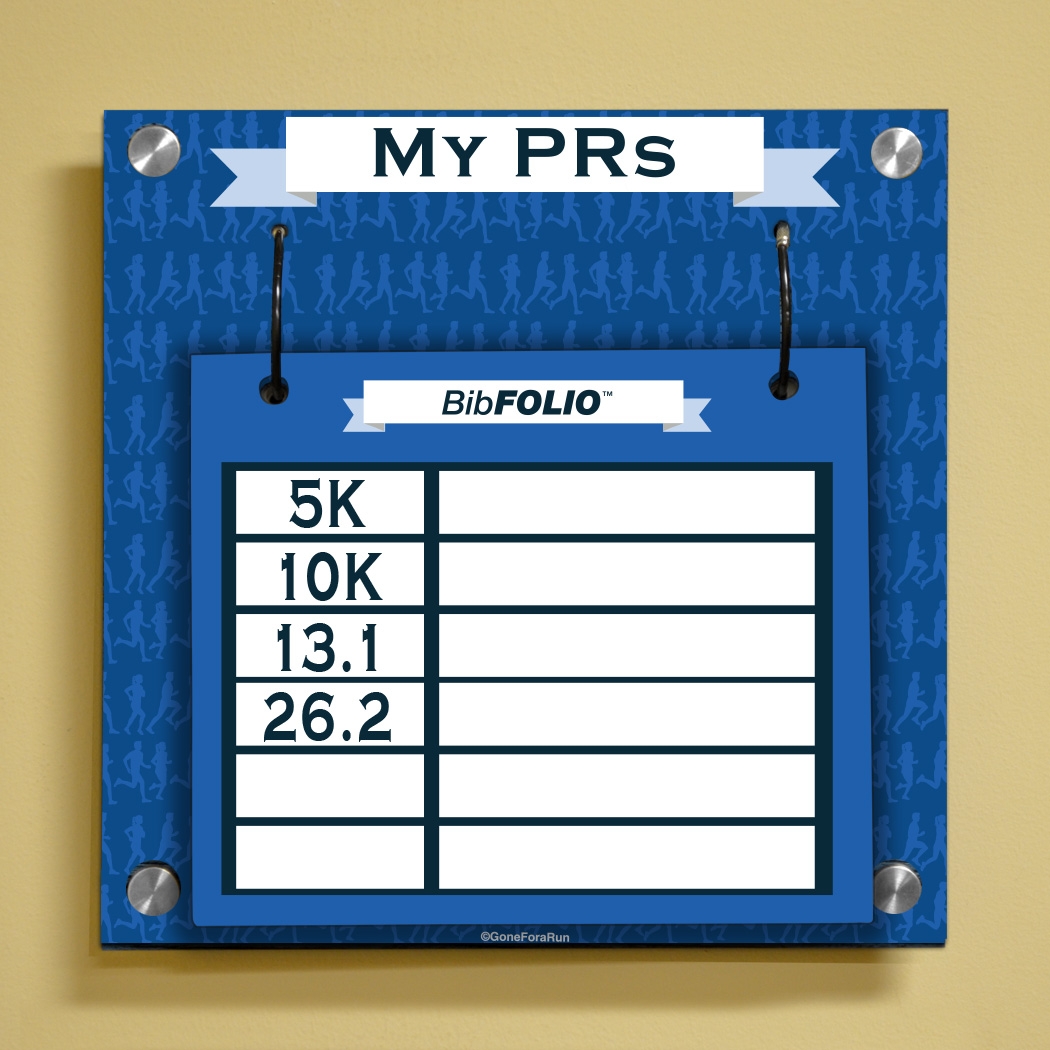 Got medals too? Check out our BibFOLIO® Plus or our BRAND NEW Deluxe BibFOLIO+™ Race Bib and Medal Display to showcase and preserve every aspect of your achievements. These classic designs will fit any home décor and will be a great conversation point for you to talk about running (is there anything else?!)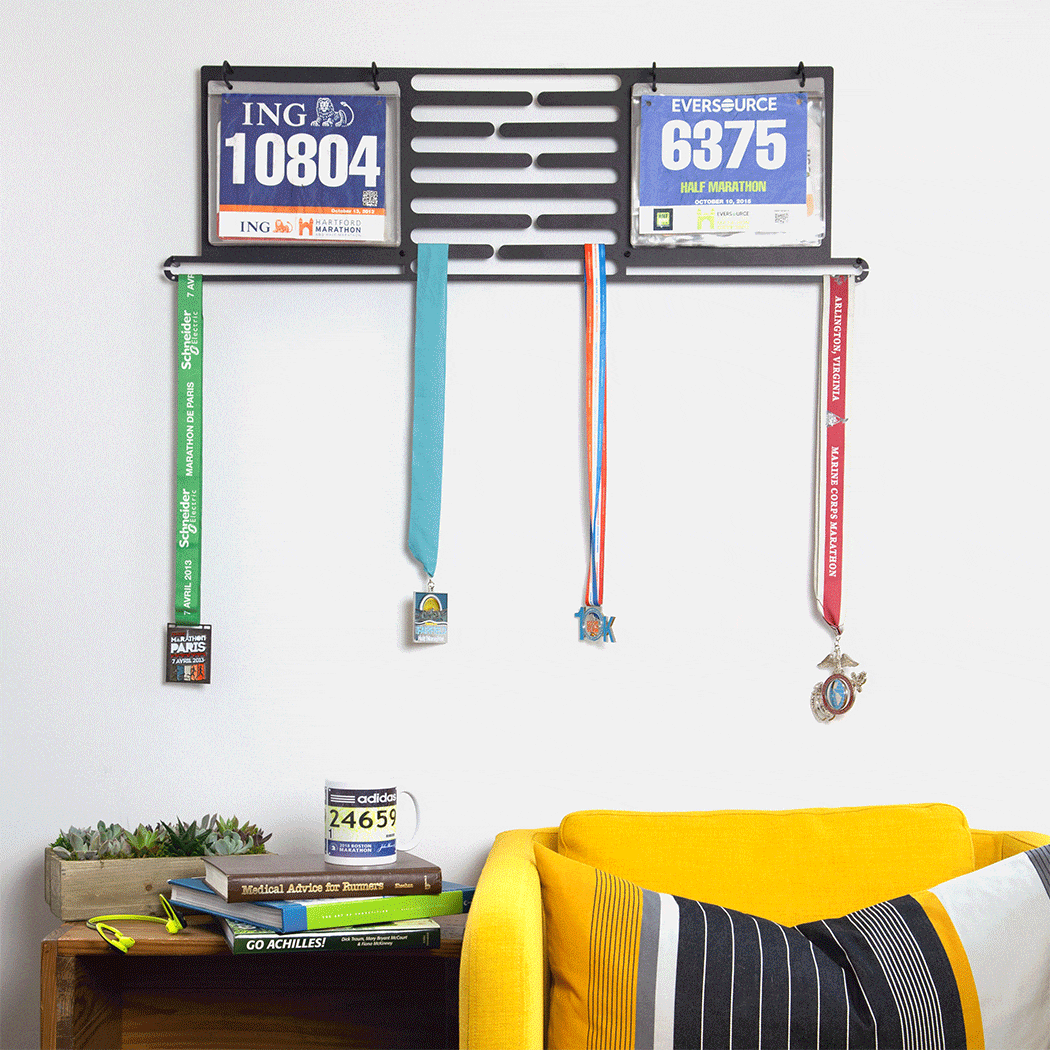 So, be kind to your race bibs and give them a happy home in a BibFOLIO® Race Bib Album. We guarantee that you will love flipping through your album and reliving each race. And when you are done, get up and go for a run!