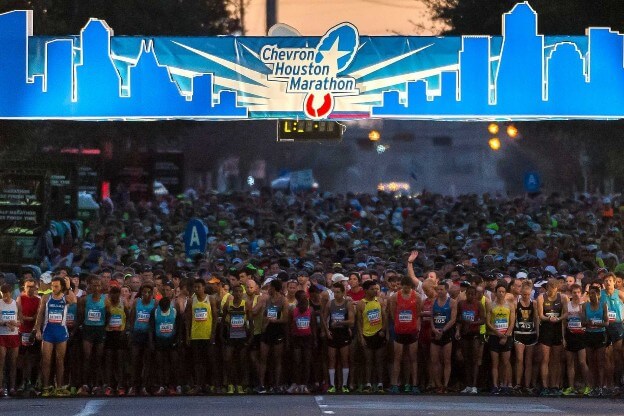 The Process:
On January 20th, 2019 thousands of runners lined up to race the Houston Marathon. This event is listed as a Gold label race, meaning it attracts some of the best distance runners in the world. This includes the same international talent as the likes of New York, Boston, and other world marathon majors. Unlike those races, Houston has a half marathon as well. The half is the most competitive on U.S soil and perhaps one of the fastest courses in the world.
I decided to race the Houston Marathon early on in September of 2018. After racing on the trails over the summer it was time to give the Marathon another crack. My Debut was CIM in December of 2016. It was a terrible experience, and from that point I wondered why anyone would want to race 26.2 miles on pavement. In all honesty, I didn't prepare as well as I could have, which exposed a lot of weaknesses. Especially in someone who is naturally a middle distance athlete. Sarah and I both were entered through the athlete development program, which meant we received a free entry, and would able to line up behind the invited elites. It's very nice that Houston has this program, as it gives athletes with good credentials a opportunity to perform on a big stage.
My training plan for this build had three key components – These included a lot of specificity training, neuromuscular adaptation, and nutrition. The specificity training was achieved by doing a lot of work at Marathon effort. Now this is where things get a little tricky. At altitude you simply cannot run at sea level marathon pace for an extended period of time. If you tried it would be closer to a threshold effort, and the workout would become too difficult. I ran Marathon effort workouts every other long run, with the exception of two half marathon races mixed in. These were tough sessions that were a lot faster than marathon pace. The other weeks I would run for a specific time or distance. Some examples of the Marathon effort workouts include – 5 miles easy + 12 miles at Marathon effort + 3 miles easy, or 5 miles easy + a long fartlek where I alternated running faster than Marathon pace, with half time recovery float of 1 min/mi slower for 10 miles + 5 miles easy. This was a tough session where I practiced nutrition and drinking water while running at pace. I averaged around 5:30/mi for those 10 miles of varying pace. These were big workouts so I would schedule at least three days of easy running before another hard effort. The next session was typically some work faster than Marathon pace. This included longer tempo runs, threshold K's and miles, and on occasion some 5k work. I don't believe it's critical to do a lot of work at 3k-5k pace during Marathon training. What I really enjoy doing is implementing some fast 200's with good rest following some threshold intervals or longer tempo runs. An example of this type of workout included 8 X 1,000 meters @ 10k altitude adjusted pace W/ 90 sec jog + 6 X 30 sec @ mile pace W/ 90 sec rest. So as you can see, I never neglected speed throughout the cycle. I just didn't do much work at 3k-5k pace, which is better known as Vo2 max intervals. These sessions place a lot of stress on the body, especially at altitude. In my opinion, the risk wasn't worth the reward.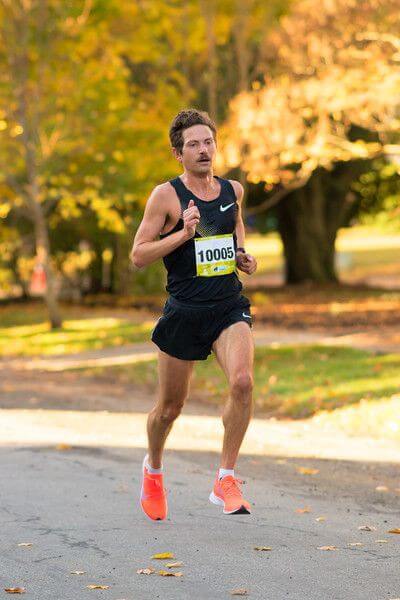 This brings me to neuromuscular adaptation. It's always my legs that fatigue first in longer races. Not just the Marathon, but from 5k on up. It's always frustrating when you have more to give but the legs just don't have it. Training at altitude has made me tough, but often times I'll race at sea level and my legs are not prepared for the pace. Houston is a relatively flat course with parts of it on concrete. Knowing the profile, I did all of my workouts on the road, and tried finding loops that emulated the course profile. On easy days I would run on dirt roads or trails. This helped my legs recover so that I was ready to go again for the specific work. I started to notice my legs getting stronger and recovering faster during these grueling sessions. My quads were feeling stronger than ever towards the end of the training block.
Having a solid fueling plan if often overlooked. We all hear about the dreaded wall. It's crazy how many people put in months of hard work but tend to neglect proper fueling while training, especially on race day. I really enjoyed using Maurten during my longer trail runs over the summer. The sports drink is highly concentrated with carbs, as it turns into a hydrogel and is easily digested once it hits your gut. Only the invited elites would have bottles at Houston so the sports drink would not be an option. Luckily Maurten recently introduced a gel to the market. It works similarly to the mix, so I started to practice with those early on. This took care of my nutritional needs but I would still be grabbing water and Gatorade endurance cups since that would be the sports drink available on the course. Throughout my build-up I practiced grabbing cups of Gatorade Endurance and water during my Marathon specific sessions. I used several loops where I'd set up a table with cups. I decided to carry the Maurten gels since that's what I'd be doing on race day. It took some practice but I felt confident I could get down enough calories, water, and electrolytes to keep me going for the duration of the race.
Mental Prep:
While preparing for this race I did most of my training alone. Living in Boulder, CO there is always great people to train with. In the past I feel as though I've sacrificed what was best for me in order to have others as training partners. The Marathon is very unique, so I wanted to follow the plan as closely as possible. I would still run with others on some of my easy days, but I started to enjoy getting out on my own. Running is when I'm at my best. Not because I view it as something I've had success at, but because I gives me time to think and be present in the moment. Although I'm competitive and results driven, I've been enjoying the process more than ever.
With that said, there were some really tough moments during this build. I believe you should sign up for races that both excite and scare you. At the beginning of a cycle everything sounds doable, and looks great on paper. Things were progressing nicely at the beginning of the block but things like fatigue, cold weather, sickness, injuries, the holidays, relationships, life stress – all played a role on trying to derail me during this block. This is called life. The better you can handle it, the more you grow, and the more enjoyable the process will be. I try to remind myself that the result – whatever that may be, is the celebration of the process.
Taper Time:
I made it through sixteen tough weeks where I averaged 85 miles/wk and it was now time for a gradual two week taper. Mastering a taper is not not an exact science, but here are some things that I believe work best for me. I like to gradually taper my training instead of really dropping the mileage and intensity over the last week. Now my initial plan was interrupted since I got sick just before racing 5 weeks out in San Diego. So not only did I drop down the week of the race, I had to take another down week to recover from a head cold. I would have preferred to work hard for three weeks then down for two leading up to race day. I also believe in keeping the quality high during a taper. I had a couple of key workouts where the distance was not as long, but the pace was a bit quicker. My last long session was 14 days out from Houston. This session was 10k easy + 8 miles at Marathon effort (avg 5:30/mi) + 4 miles easy. I haven't figured this taper thing out entirely, but I do know that my body likes consistency, so keeping a similar routine seems to work best.
Houston - Prepare for Takeoff:
We pretty much had a seamless trip from Boulder to Houston early Thursday morning. Sarah received some bad news 10 days out from the race. She had been dealing with some calf pain since early November. It was manageable for several weeks, but the pain became worse as the race grew closer. The result from her MRI showed two stress fractures in the tibia of her left leg. This was tough news for both of us. She was prepared to have one hell of a race in Houston. Although she wasn't racing she still wanted to support me and some of our other friends. It was nice to arrive midday Thursday, as this gave us plenty of time to settle and prepare for the race on Sunday.
The time spent over the next few days included some easy running, checking out the city, picking up our race packets, relaxing, laughing, and planning out the logistics for race day. I'm very particular with details, so I like being able to control these situations, or at least having a solid plan of action. We had six of us staying in a Airbnb so that made for a good time.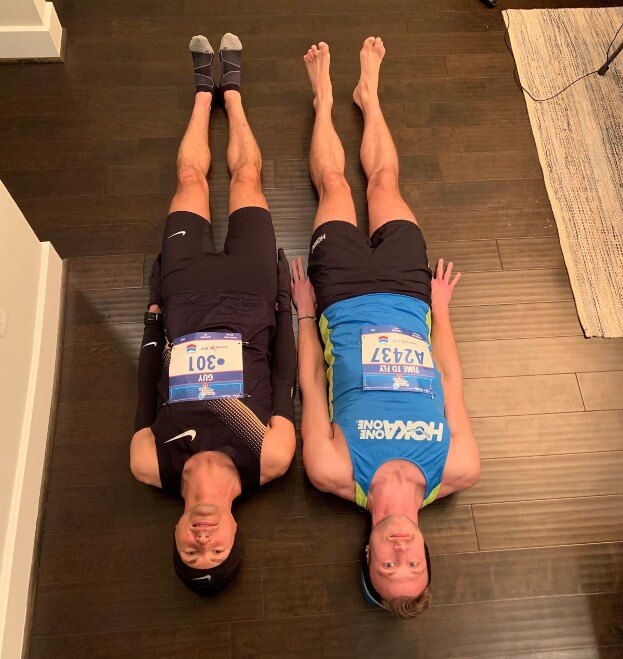 Race Day:
I don't usually sleep all that well the night before an early race start. The starting time was 7 am so I was up around 4. I like to be awake three hours before the race. I had a bowl of oatmeal, a banana, and a cup of coffee first thing. I don't eat this much before shorter races, but I needed to tap off my glycogen stores, as I was going to need every bit of energy to keep me going throughout the race.
Although this was Houston, a cold front moved in the night before so it was going to be cold and breezy for the race. I knew this was a possibility so I was prepared with gloves, a hat, and arm warmers. I had throwaway warms-ups to keep me warm before the start. Matt and Sarah dropped those of us racing off at 6:15. We had to be in the athlete development corral by 6:30. This was the first race I've run where I had to be at the start for such a long period of time. It was cold, so I kept moving in order to generate body heat. The marathon and half marathon runners had the same starting line, which made things a bit more cluttered and unorganized. The invited athletes were just in front of us, and we were eventually moved up just before the start.
Before I knew it we were shuffling up to the start as the gun sounded. The first few miles were very confusing. I had no clue as to which race each person was racing. I tried to relax, letting the pace come as naturally as possible. I wanted to find a pack to run with, but I was only passing runners that were in the half. The course is the same for both races through the first 7 miles. I had lots of people around me, so I just focused on the task at hand. My first 5k was 16:55, which was a little slower then I was planning on going out. I told myself this was fine, as my body needed to warm up on such a cold morning. My legs didn't feel great, but the pace felt relatively relaxed in the early going. Between 5 & 10k I grabbed my first water cup. I didn't feel like drinking, but knew it was important to hydrate early on. My second 5k was around 16:30, which was nice to see. I took my first gel around 7 miles. It went down without any issues. Soon there after the race split, as I went from running with a pack to running alone. This was not what I imagined happening beforehand, but going out much faster could have caused disaster in the later miles.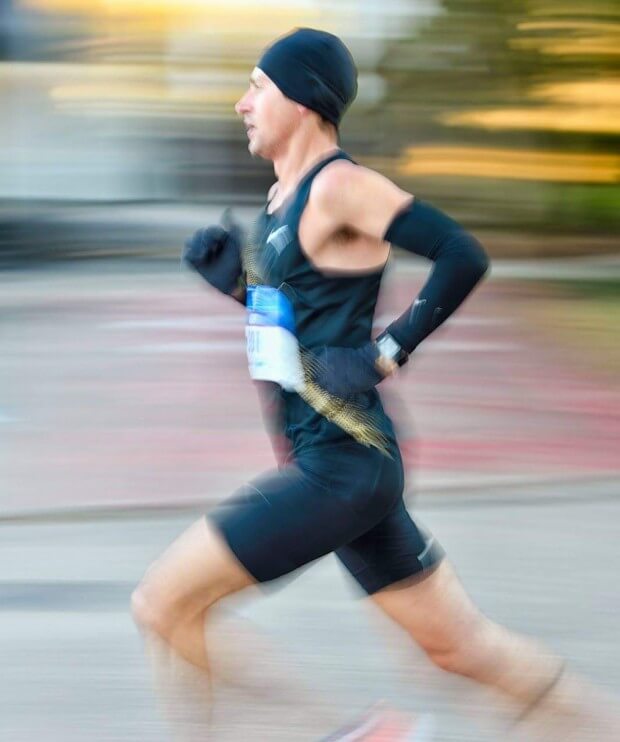 I remember miles 7-14 very well. Over this portion of the race I was focused and aware of everything around me. I continued to run my own race, remembering to grab water when available. I picked off a couple of runners over these miles, but I could tell my body would not be able to handle 5:20 pace much longer. Miles 10-18 are run in a west, northwest direction. There was a steady 10-15 mph wind, and the air temp was in the low 30's. I tried to staying positive throughout this stretch. Around mile 10 a cramp developed in my right calf. I slowed a little and the cramp dissipated. Matt and Sarah were at the half point, offering words of encouragement. This was after cresting a overpass - one of the few climbs on the course. I believe my half split was just under 71:00.
Just after the half was the only u-turn on the course. Before the turn I could see some of the runners heading back on the other side of the road. The next pack was a good 90 seconds up on me. Although I had slowed slightly, my energy was good and aerobically I felt comfortable. Once returning on the same side I looked up and didn't see a runner in sight. There was soon a four-way intersection, and I wasn't sure where to go. After briefly hesitating I was directed to turn left. The next 5 miles were lonely and I experienced moments of doubt. The headwind was cold, and the miles were lonely. I told myself over and over that I had done this many times in training. This was just another cold, breezy day in Boulder and I had prepared myself for this situation. I knew the course changed directions at mile 18, which meant the wind would be at my back or side for the final miles of the race.
I finally made it to mile 18, and although my legs were tired, my energy was solid. My mentality now changed to getting to 20 miles. Once at 20 it changed to getting my last gel down, and then to focus on one mile at a time. I was still moving well, even picking off several runners over the final miles. I saw Matt and Sarah again around mile 21, and my old college roommate cheering me on in the final miles. I remember feeling a lot of emotions. Yes, I was going to finish, but I had moments of disappointment. I knew I wasn't going to break 2:20, which was my goal heading in. I came to that conclusion many miles ago. It was the last 5k where my quads were beginning to go. I had to slow a little, and although my mind wanted to pick it up, I knew this was all I could give. These final miles were a little bit of a blur. Lots of people were lining the streets, which helped immensely. My entire body was in pain as I approached the final mile of the race. The half was finishing on the left side of the road, as I was directed to stay on the right. I found a little bit of inner strength and picked it up a bit as I approached the finish line. I crossed the line in 2:24:31, good for 33rd overall. I was elated to be done, but stopping was just as painful. I kept moving through the finish-line area. I was directed through the convention center, and eventually ended up outside.
After five to ten minutes of walking around, I finally found Sarah. It was great to see her and the timing was perfect because I needed some warm clothes. I kept moving since we were waiting for the rest of our group to finish up. My feet and calves were starting to ache, but overall I didn't feel terrible. Everyone as content with their performances, and happy to be done. We all celebrated with a couple of drinks as we told our own personal stories of what transpired throughout the race.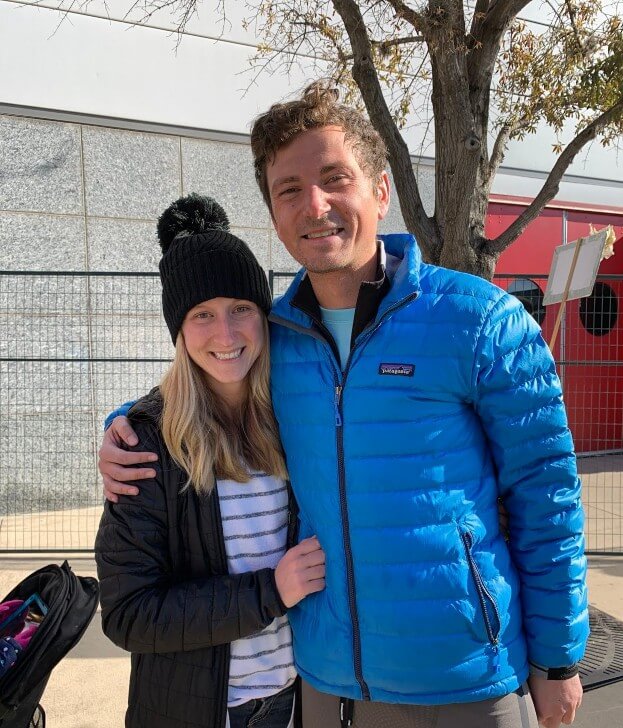 Reflection:
It's been a couple of weeks since racing the Houston Marathon. Since then I've had a lot of time to reflect on my performance. At first I was content, as I knew I gave it everything I had on the day. That part is definitely true. I had nothing left to give, and ran with heart and purpose the entire way. I still feel like I'm figuring out the distance, and unfortunately I didn't feel great on race day. My build-up was decent, but I definitely have room for improvement. Unlike my first attempt at the distance, my body has recovered quickly and it seems to have handled to distance relatively well. So, what's next? Well, after giving it a lot of thought my goal race for the spring will be the Grandma's half marathon, which takes place in late June. Beyond that I'm looking to race the Richmond Marathon in November. I believe in choosing races that excite you. I'm smiling as I write this because my goal is not to only race my hometown Marathon in November, but I want to win and qualify for the Olympic trials in the process! Big goals, but I'm ready for the journey and I'm more excited than ever to continue to learn and grow as both a athlete and coach!