There are races - 5k, 10K, 7-milers, half marathons, fun runs, runs for a cause - and then there are marathons. Finishing a major marathon is a supreme achievement for any devoted runner. Twenty-six-point-two miles of pavement stand between you and the finish line, in the freezing rain or under burning sunshine, up killer hills and through soul-killing walls. And that's after you've managed to secure an entry, traveled to the event, and spent a sleepless night in an unfamiliar hotel room.
Marathons are not for the weak-willed or faint of heart. And if this is your kind of race, then you have earned the right to be reminded of every mile of your accomplishment every day. For you, Gone For A Run has created its Marathon Map Metal Wall Art Collection featuring the routes of the major U.S. marathons.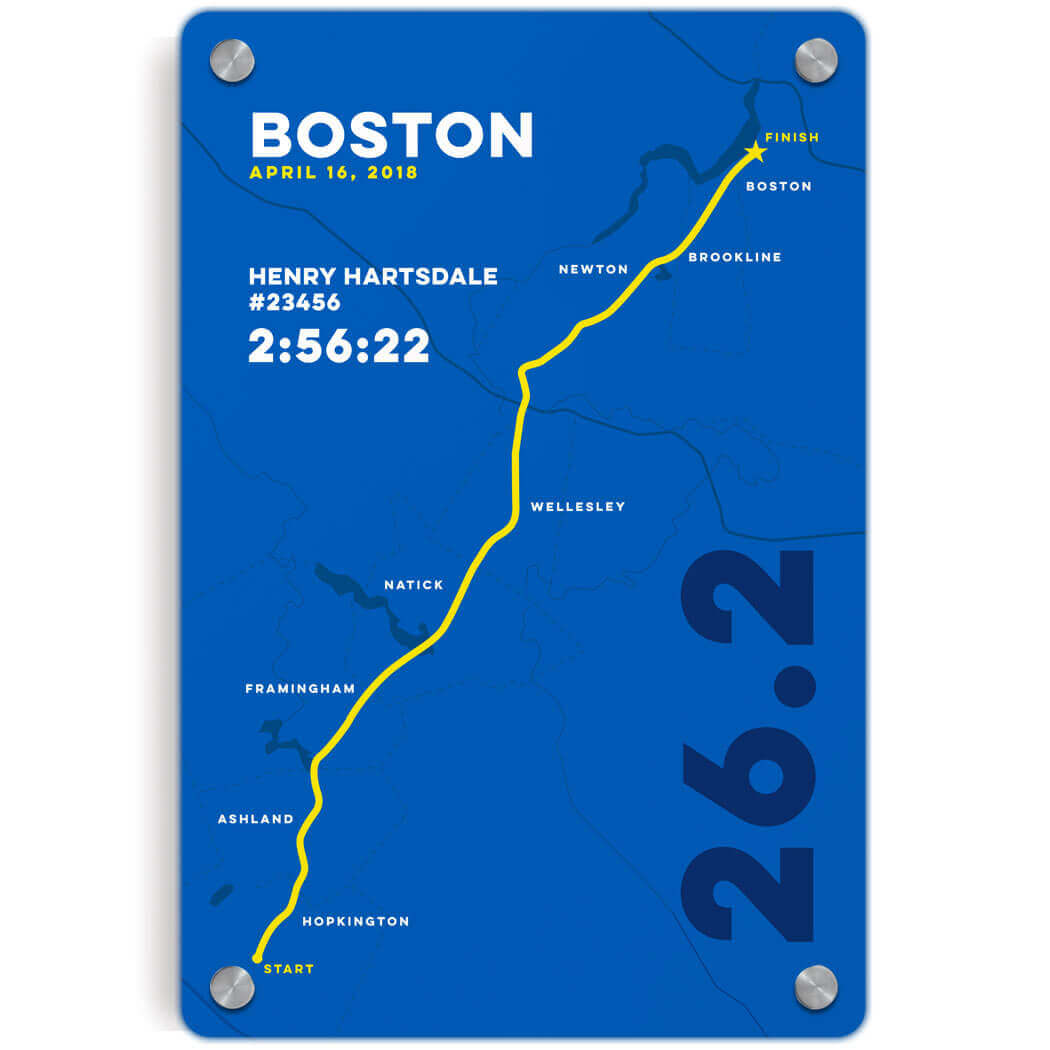 This collection includes nine different marathons, and each one has a bold, stylized design of the race route with the towns, neighborhoods or landmarks along the way. Each marathon route art panel can be personalized with your name, bib number and race stats including your finish time, date of the event and any other personal stat from your achievement. The New York City 26.2 Route shows all five of the boroughs in a vertical design reminiscent of the Statue of Liberty, and the Chicago 26.2 Route finishes close to the starting point, like an exaggerated Loop. Regardless of the location, when you mentally tick off each of the points shown on the route you will marvel at how all your hard work resulted in being able to run through or by each and every one of them.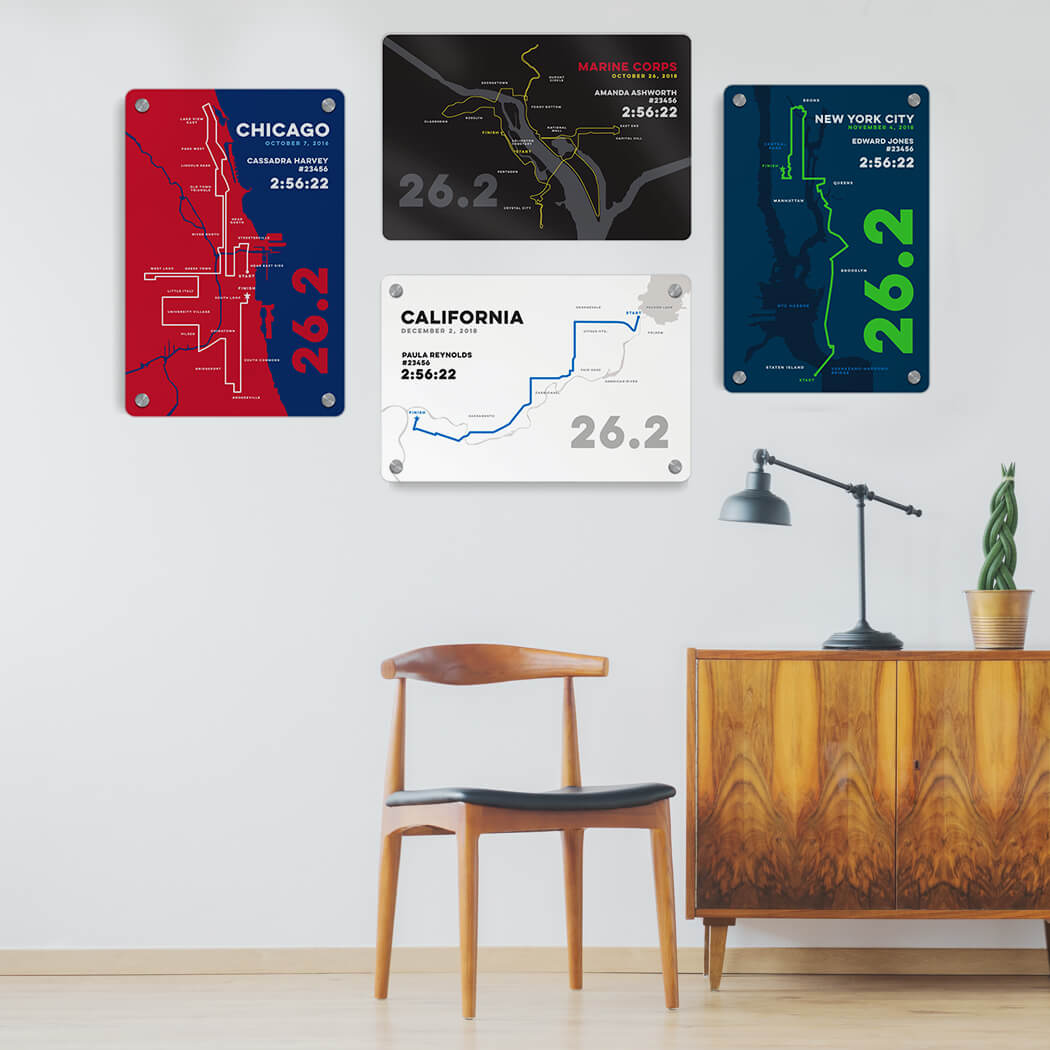 Made from a lightweight aluminum panel with a high-gloss finish, these panels are a piece of modern art. The vibrant colors (the Boston 26.2 Route is available in the iconic Boston Marathon blue and yellow) and understated graphic combine for a sophisticated effect that complements any home décor and makes them suitable for the office. These panels are attached to the wall by stand-off screws in each corner, giving them a three-dimensional "floating" effect.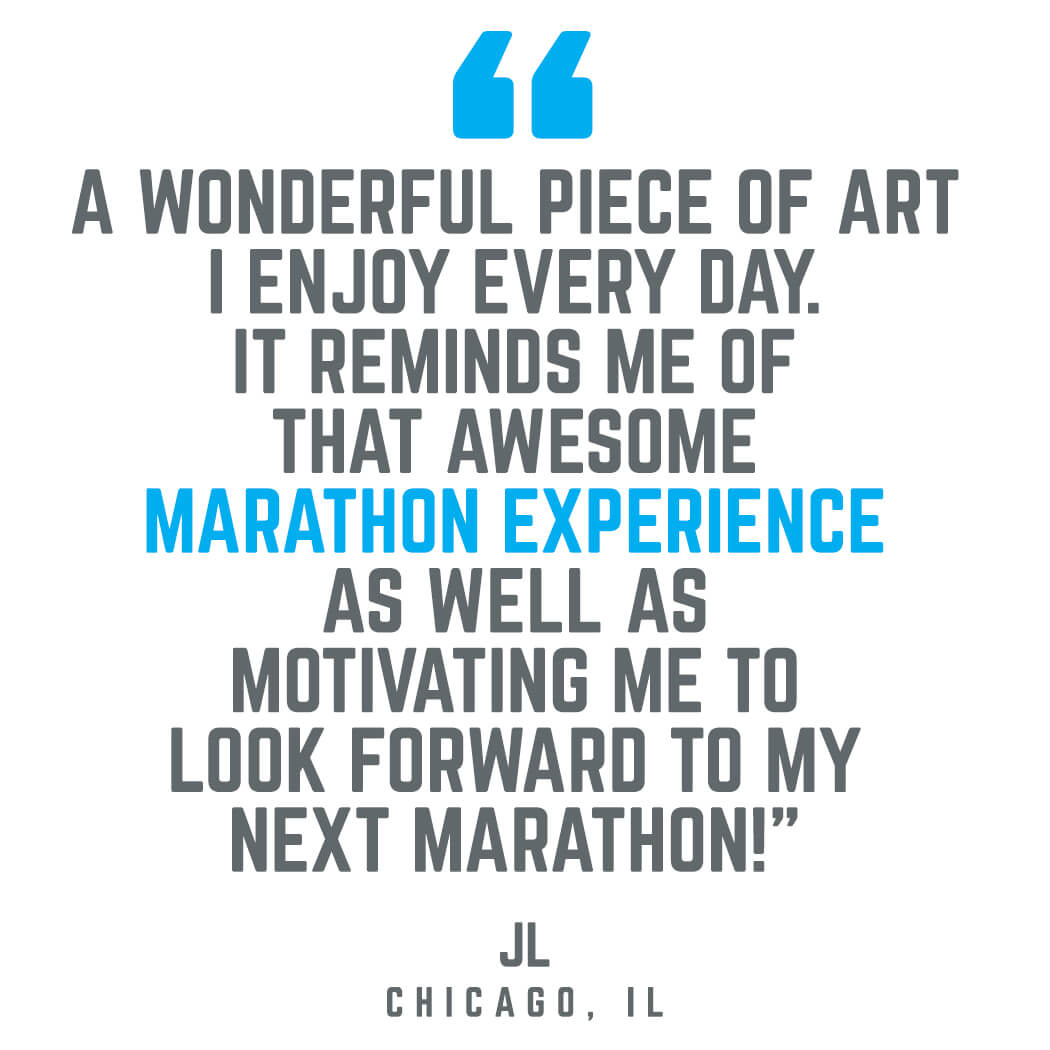 So, after you have had your photo taken at the finish line wearing your shiny new medal, toasted yourself with a fine wine in your 26.2 Math Miles Wine Glass or a cold beer in a Marathoner Pint Glass, and slipped your race bib into its vinyl protective sleeve in your BibFOLIO® Race Bib Album, treat yourself to a Marathon Map Metal Wall Art. It is the ideal reward for your success, and will serve as daily motivation to conquer the next major marathon on your list (and for the seriously dedicated who finish all nine marathons, a complete set of the entire Marathon Map Metal Wall Art Collection will be the ultimate personal art installation). Of course, it also makes a memorable gift for your favorite runner or running partner to acknowledge all the hard work and applaud a truly impressive achievement.