What is a Virtual Race?
Virtual races were founded around the idea of convenience and flexibility! If you haven't run a virtual race before it's a ton of fun! It is a great way to stay motivated, keep active and achieve your running goals. By choosing a virtual race, you don't have to get up at pre-dawn hours to complete your race and you still get the benefit of running a race with 1000's of other runners across the US! With virtual races from Gone For A RUN (GFR), you can connect with other runners through our social media groups and through the Charge Running App (more about that later). With virtual races you can run whenever and wherever you please within the designated virtual race schedule!
Virtual races are ideal for runners with all levels of experience, from new runners all the way to our seasoned marathoners and ultra runners. For new runners, virtual races are a great introduction into competitive running. Gone For A RUN virtual races are designed to motivate and make running fun; it's about completing YOUR goal, whether that goal is simply completing the distance or setting a new PR!
For our more experienced runners, it is an exciting way to spice up marathon training! Many runners will use our races as the last 5k in a training run. It provides something to look forward to and adds excitement to the training, which can get monotonous and dull. It also provides you the opportunity to test out new training techniques, pacing, and your nutrition and hydration plans before the big race day!
Here is what some past runners have said about why they LOVE Gone For A RUN Virtual Races:
Running Together Even When You're Miles Apart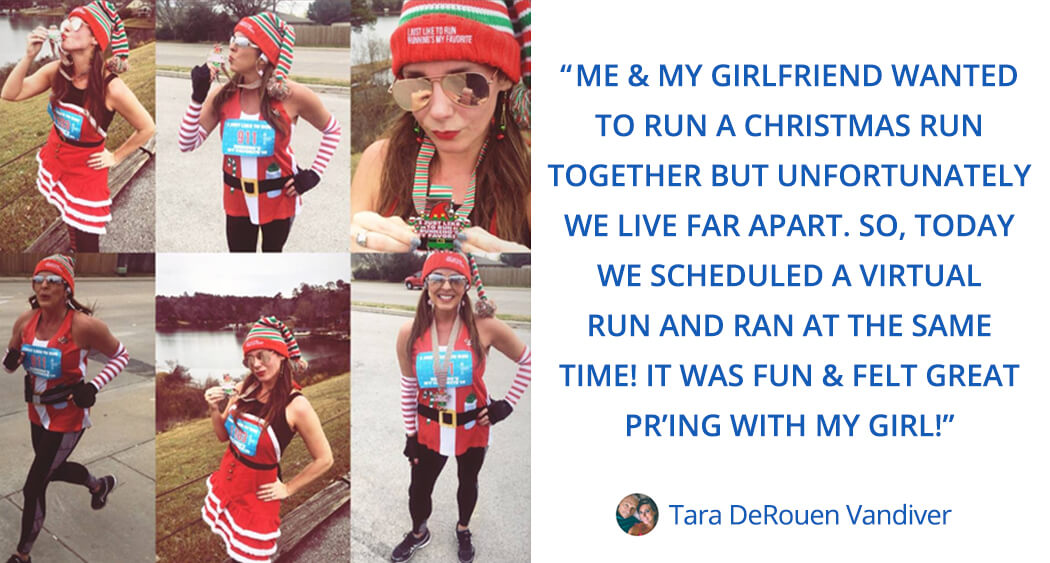 Run It Forward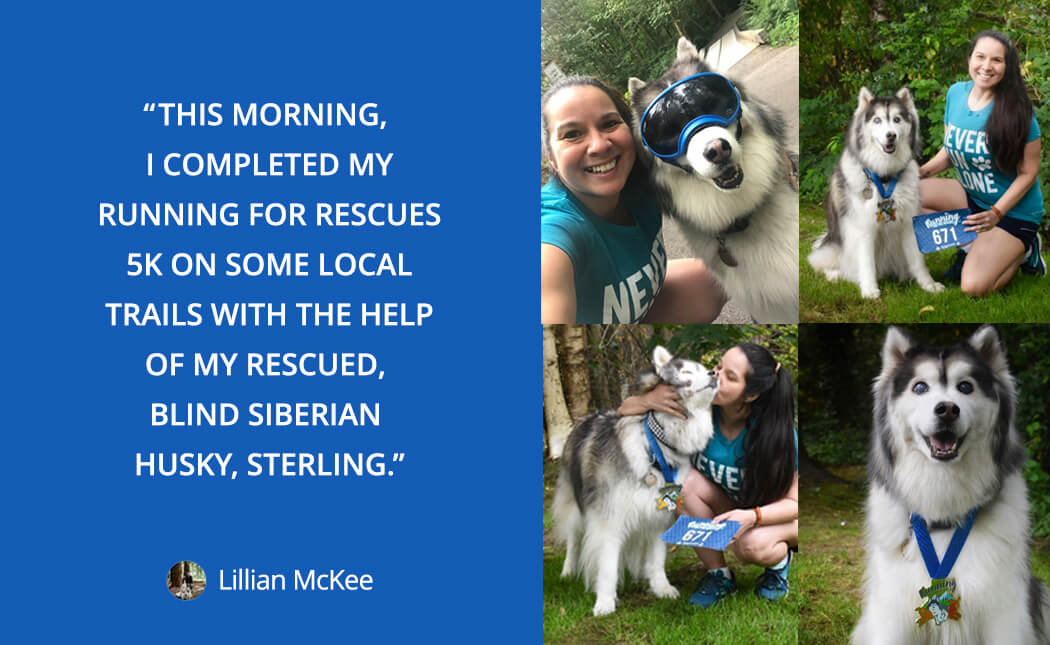 Flexibility to Race on Your Own Time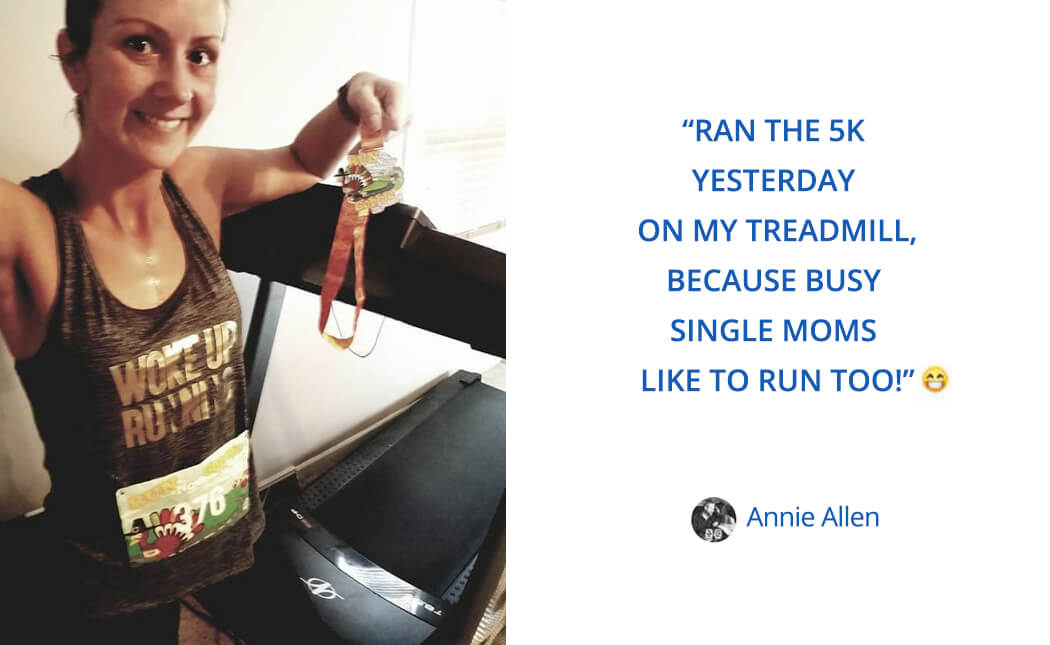 New Fun Family Activity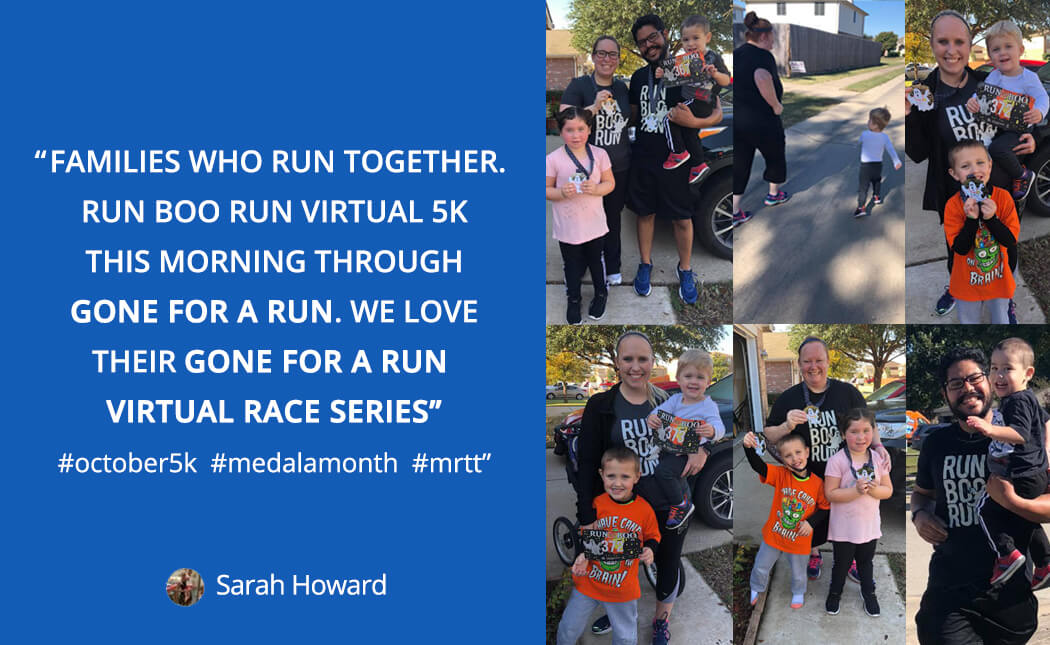 How do I sign up?
Signing up for a virtual race is very simple!
To sign up for a Gone For A RUN virtual race, you select your package preferences (usually shirt style) and then you receive your race package in the mail. The excitement of waiting for your race package is the hardest part (literally)!
View our current Virtual Races!
Run It Forward
All Gone For A Run's virtual races support a charity, so the best part is you are "running it forward". A portion of all race proceeds we collect are sent over to the designated charity. Some of the charities we have worked with in the past include St. Jude's Children Hospital, We Wear Blue: Run to Remember, Children's Tumor Foundation, Animal Hope & Wellness, Achilles International, Run Bella Run.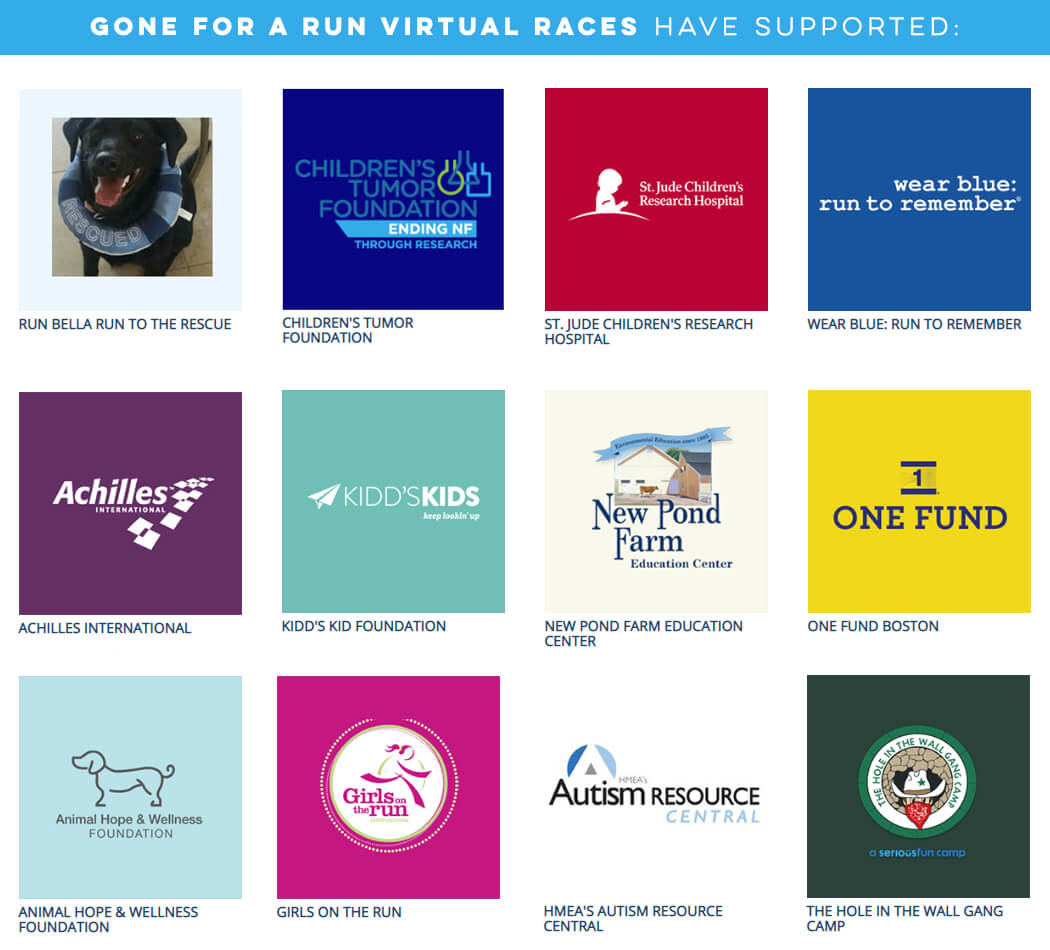 What is in my virtual race package?
When racing with Gone For A Run your race package will always include a real race bib and an awesome finisher's medal as well as other great race items! With all our races, you have the option to choose between an original and exciting running tee or tank. We have also included headbands and other running accessories in our race package. Your race package will also include information cards with contact information to reach out if you have any questions about your race. Our race packages also qualify for FREE Shipping and include complimentary access to the LIVE Race on the Charge Running App (free two-week access). We strive to create the best themes, most unique medals, highest quality items, and best virtual race experience for our runners!
When do I race?
Since virtual races were designed to be flexible the "when" is totally up to you! When virtual racing with Gone For A Run, there is a race window – a two-week period where we suggest you run the race. However, most of our customers are too excited to earn their bling and race on their own time!
An additional benefit to virtual racing with Gone For A Run is you get access the Charge Running app, our exclusive live race partner. You can use the Charge Running App to connect with runners across the nation. Each virtual race has a "Live" race date and time, as a customer you have the option to run the race using the Charge Running App! This is the ideal way to run a Gone For A Run race since it is very much like running a 5K in person. Running live allows you to view your stats in real-time, track progress on the leaderboard, and have a coach with a great playlist in your ear! If you are unavailable for the live race date, you can choose to run the race on-demand. About an hour after the race you can access the on-demand version of the race. This is a recording of the live race that happened and will allow you to run it anytime you'd like in the race window. However, you can still run the race whenever you would like using your own run tracking app or fitness tracking wearable.
*Please note, not all races are compatible with the Charge Running App*
Where do I run?
Treadmill, trails, beach, local park – YOU choose! You can run/walk the race wherever you would like. It is totally up to your personal run preference. For all the runners who solely enjoy the treadmill or have health conditions that prevent them from running in the heat, this is a great way to still get to enjoy the thrill and excitement of a race!
A lot of our runners choose to meet up with a group of friends and organize a group race! We also have customers that run with friends and family who live in a different state! That is another perk of racing virtual, you are not limited by geographical location. You can run whenever, wherever, with whoever you please!
What do I do after the race?
If you decide to race using the Charge Running App, you can track your stats in real time using the app! If you decide to track your mileage using your own treadmill or smartwatch – you can upload your time to the Race Recap Page. Don't forget to share your race pictures on social media – we love to see them! You can post directly on our Facebook page or by using the hashtag #GoneForARun or #GoneForARunVirtualRaceSeries on Instagram. By sharing your photos, you could be featured on our Race Recap page or on one of our social media accounts.
Unlike other virtual race companies, we mail your medal with your race package. We like our customers to see the bling the are working for and to be rewarded with their medal immediately upon completion of their race.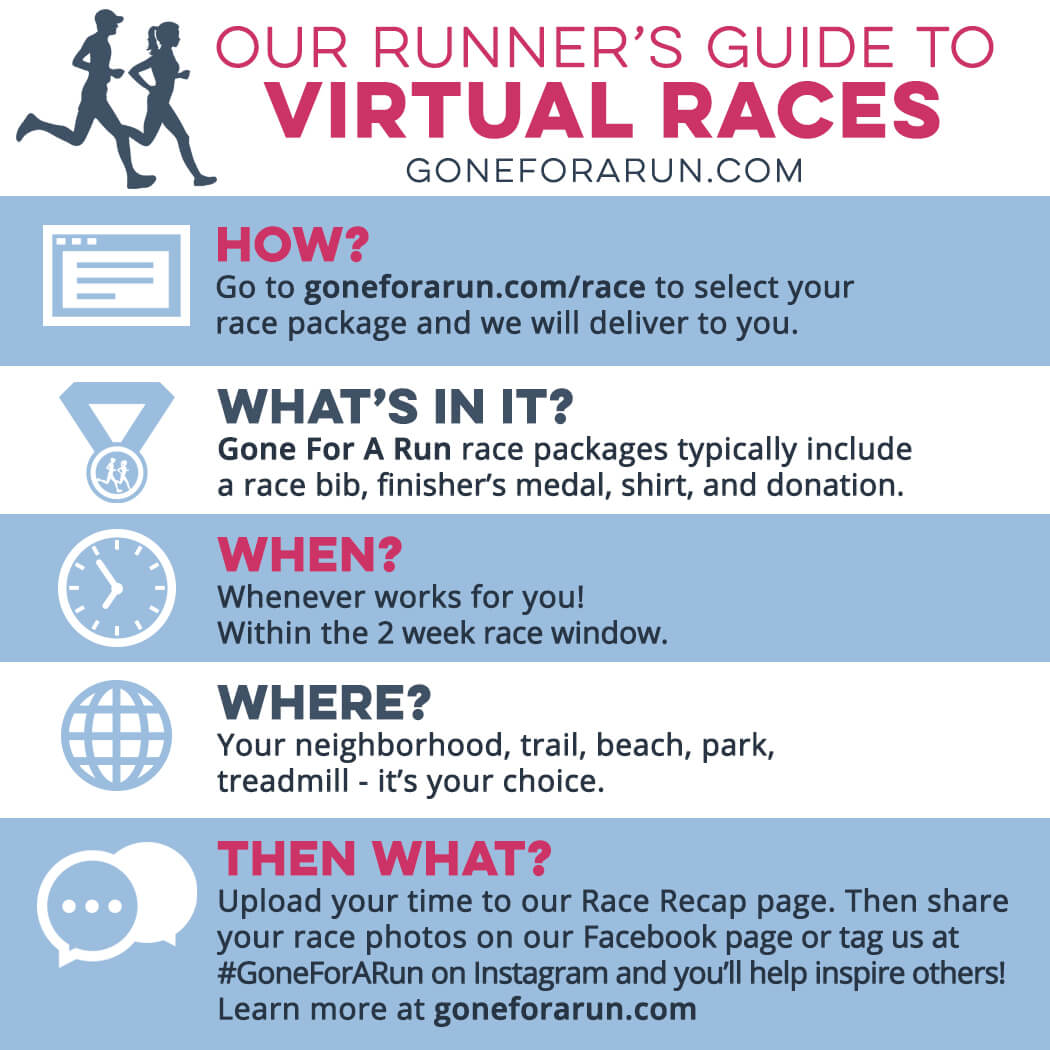 More about Gone For a Run:
Gone For A Run Virtual Races began in 2015, as a way to encourage people to get out and enjoy running, while also benefiting a variety of charitable causes. Gone For a Run donates a portion of every registration fee to benefit a charitable partner. We believe in the commitment to "Run It Forward" and are proud we have been able to donate over $50,000 and growing!
Let's do this! Start training and when you're ready to officially run the race, pin your bib on and head out to complete the virtual race anywhere on the road, trail or treadmill. Once you have completed your race, proudly wear your well-earned race medal and be sure to share your photos and result.