Looking for a gift to give your favorite runner? Something inspirational to show your support while training for a big race? Or to encourage a new runner? Or just because? Preferably practical, but still fun? And not too expensive? Look no further than our inspirational Socrates® Socks! These socks are the perfect combination of inspiration, fun and performance that any runner will love.
Motivation On Your Feet
Let's face it, some days it is difficult for a runner to get out on the road. Too tired, too many miles, flagging confidence, in a slump, dreary weather. That's when a little pick-me-up-and-get-me-out is needed. Gone For A Run's Socrates Socks are the perfect solution to this temporary problem. Each pair of these ankle socks has a different message woven into both the top of the sock and the sole. There are more than two dozen great options; pick one that will have meaning for your runner. If having doubts about ability is the issue, choose the pair with "She Believed She Could" on the top and "So She Did" on the sole. Runner in a slump? The "Run More" has "Be Happy" on the sole and is in a lime green with white that will lift anyone's spirits. Too much bad weather? "Suck It Up" has "Buttercup" on the bottom and is in a cheery yellow to offset the dreary day. For anyone needing motivation to keep training for a marathon or half-marathon there are options just for them, including ones for New York City and Boston so there is always a pair ready to go.
Socrates® She Believed She Could (Fuchsia) Performance Sock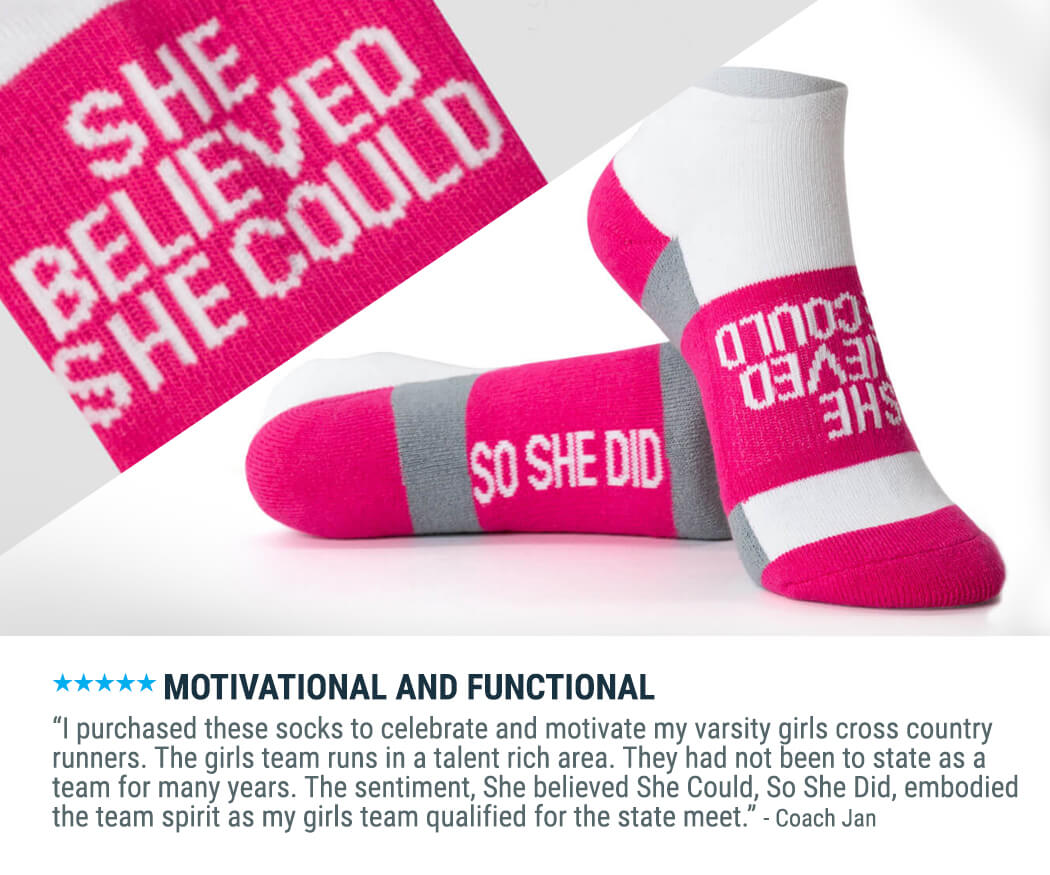 Performance, Too
But these socks are more than just pretty colors with nice sayings. Woven from a moisture-wicking synthetic fiber that keeps feet dry and lessens the possibility of blisters, they feel soft and comfortable. Padded foot contours provide arch support, and terry loops throughout the sole add extra cushioning to help offset the impact on the feet when they hit the ground. The low cut means these socks work well with shorts in the summer or full-length running tights in the winter, and the tab at the back of the ankle keeps the sock in place and has extra padding to reduce irritation from heel friction. Easy care, too: machine wash and tumble dry.
Not Just For Runners
Our Socrates Socks were designed with runners in mind, but these inspirational sayings are ideal for anyone who may need a boost. Friend going to the hospital? Give her warm feet and make her smile with a pair of the "Sparkle" Socks which have the word woven in silver thread on the top and "Wherever You Go" on the bottom. Someone need a little extra love and encouragement? The "Love You" socks with "To The Moon And Back" on the sole is adorable (and the bright red makes it a great Valentine's Day gift, too). And anyone going through one of life's many challenges will appreciate the "Never Never Give Up", the "Courage Strength Resolve" , or even better, the Good Karma Sock Set.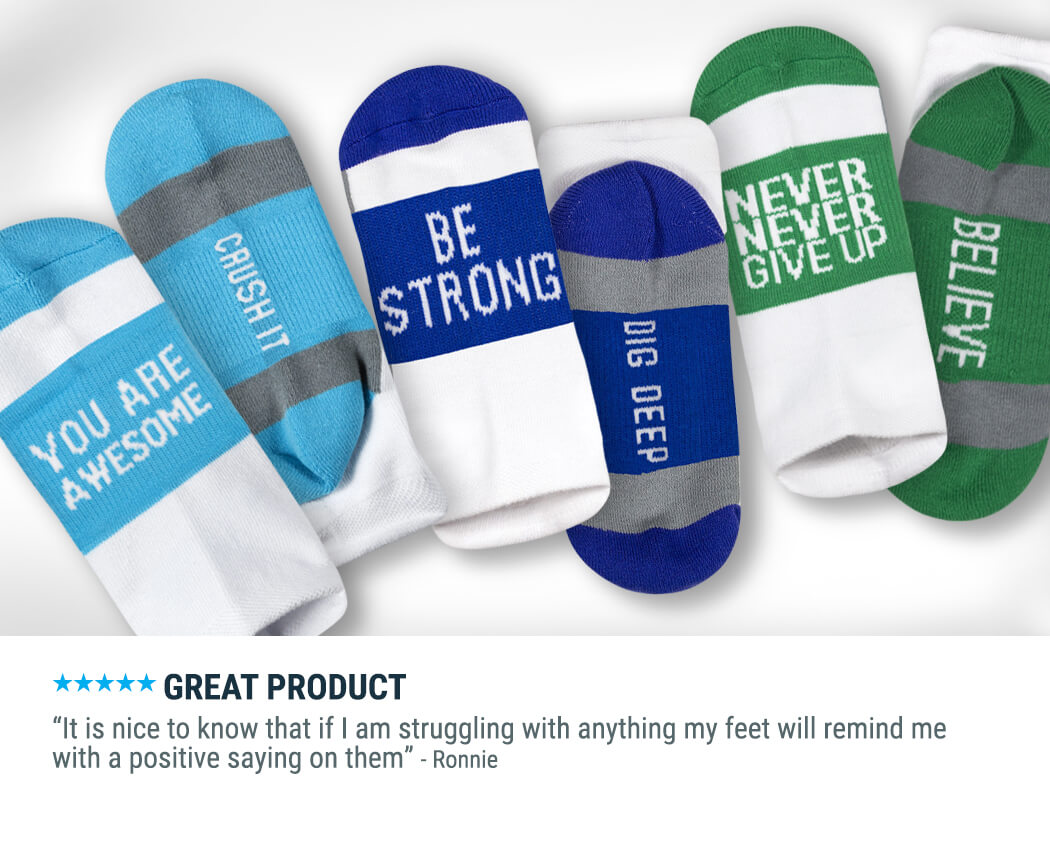 So, give your favorite runner (or anyone else who might need it) the gift of inspiration with these Socrates Socks. They will serve as an ever-present source of motivation, encouragement and support to reach goals while overcoming the inevitable obstacles along the way on the road to the finish line.