Like the road itself, training for a race or event has hills and valleys. On days when those hills feel more like mountains, it helps to have some inspiration to motivate and encourage us to persevere. While we frequently reward ourselves after we achieve a goal, sometimes what we really need is something to keep us going while we are working toward that finish line. One way to be inspired is by wearing an Inspirational Bracelet.
Designed from inception to serve as an ever-present source of inspiration, our InspireME Cuff Bracelets are simple, elegant and available in either a silver-colored or gold-colored finish. Choose one with a personal mantra such as "You Got This", "Enjoy The Journey", "Strength Faith Courage" or "All I Need Is Within Me". Or, our "She Believed She Could", which is one of our most popular inspirational sayings because it applies to other challenges in life, too. Wearing one of these is like having your personal cheering section with you at all times!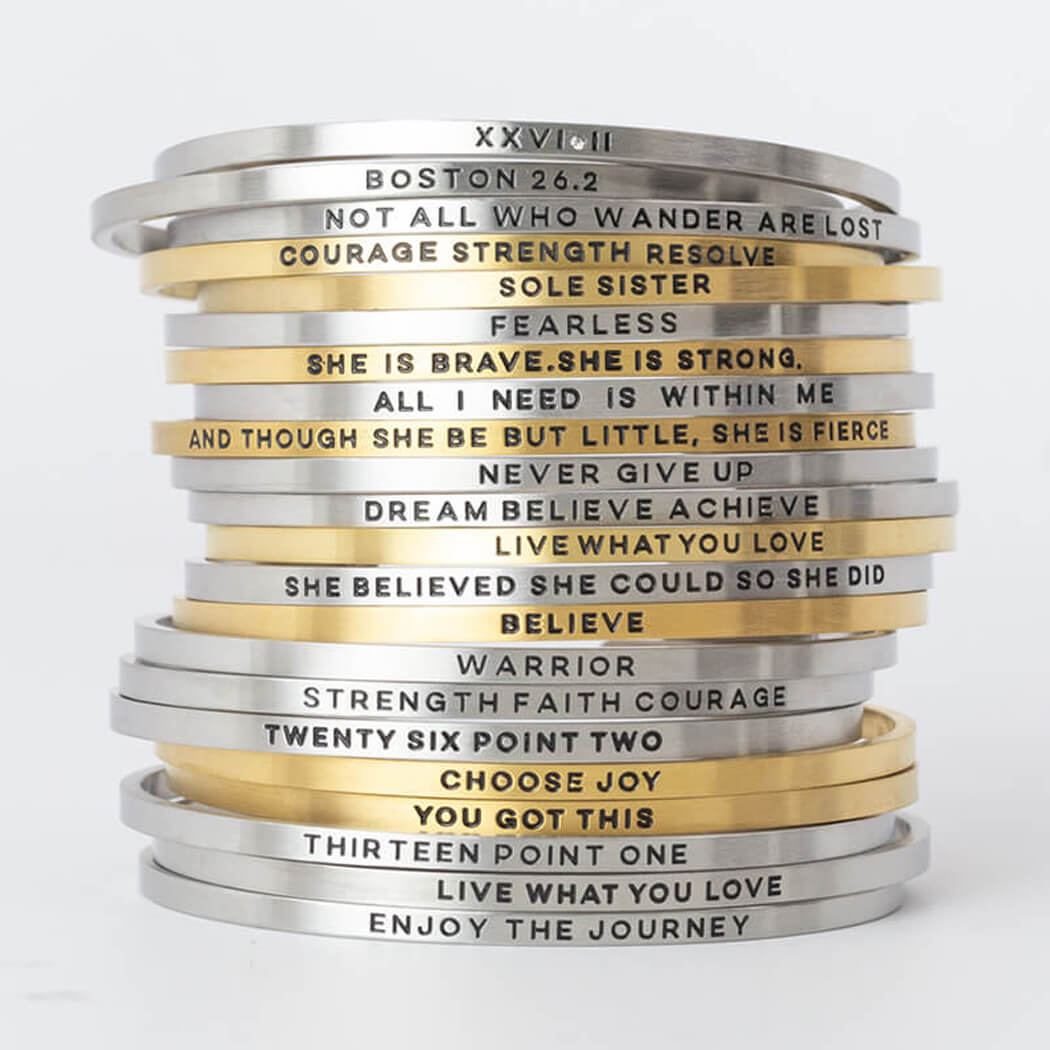 ★★★★★
5 out of 5 stars
Pretty, Practical, and Inspirational
"This is the perfect accessory to wear during my run. I put it on every morning before I head out. The message encourages me to push beyond perceived limitations to my Greatness :) The adjustable band hugs my wrist perfectly and hasn't slipped off once regardless of the sweat. I love this bracelet and have my eye on a few more." - Kelly
These slim cuff bracelets look great worn singly or stylishly stacked, so if more than one inspirational saying speaks to you no need to play favorites - they can be worn together. Tarnish-resistant, they can be worn while running or training in case the spirit is flagging, and a jolt of inspiration is needed to get you through! Anyone training for a marathon (a massive undertaking!) will likely need some encouragement on the road to reaching that awesome goal, and our "Twenty-Six Point Two" or "XXVI.II" design will make a great gift (also perfect to commemorate completing it!). And once you have achieved your goal, another InspireMe Bracelet is ideal as a reward, and will serve as a reminder when working toward your next goal that you really can "Dream Believe Achieve". For runners who prefer a more casual organic look, choose one of our Sterling Silver Cord Bracelets. These bracelets feature an oval-shaped sterling silver plate engraved with motivational words flanked by a delicate yet sturdy adjustable cord bracelet. The She Believed Sterling Silver Cord Bracelet has "She Believed" engraved on one side of the plate and "So She Did" on the reverse. There is also a "Your Text" option that can be engraved with your unique motivational word.
For a bolder look, and perfect to commemorate a major running accomplishment, our Endurance Bracelets are hard to miss. In both cuff and clasp styles, these stainless steel bracelets are hypoallergenic, non-reactive and resist scratches. Two designs really stand out in this collection: our 13.1 and 26.2 Roman Numeral Cuff Bracelets. The Roman numerals "XXX.I" and "XXVI.II" are cut out on three sides of the cuff, giving a sharp, bold design that is suitable for both men and women. With one of these on your wrist reminding you of what you have achieved, you will never lack for inspiration or motivation to pursue your next goal.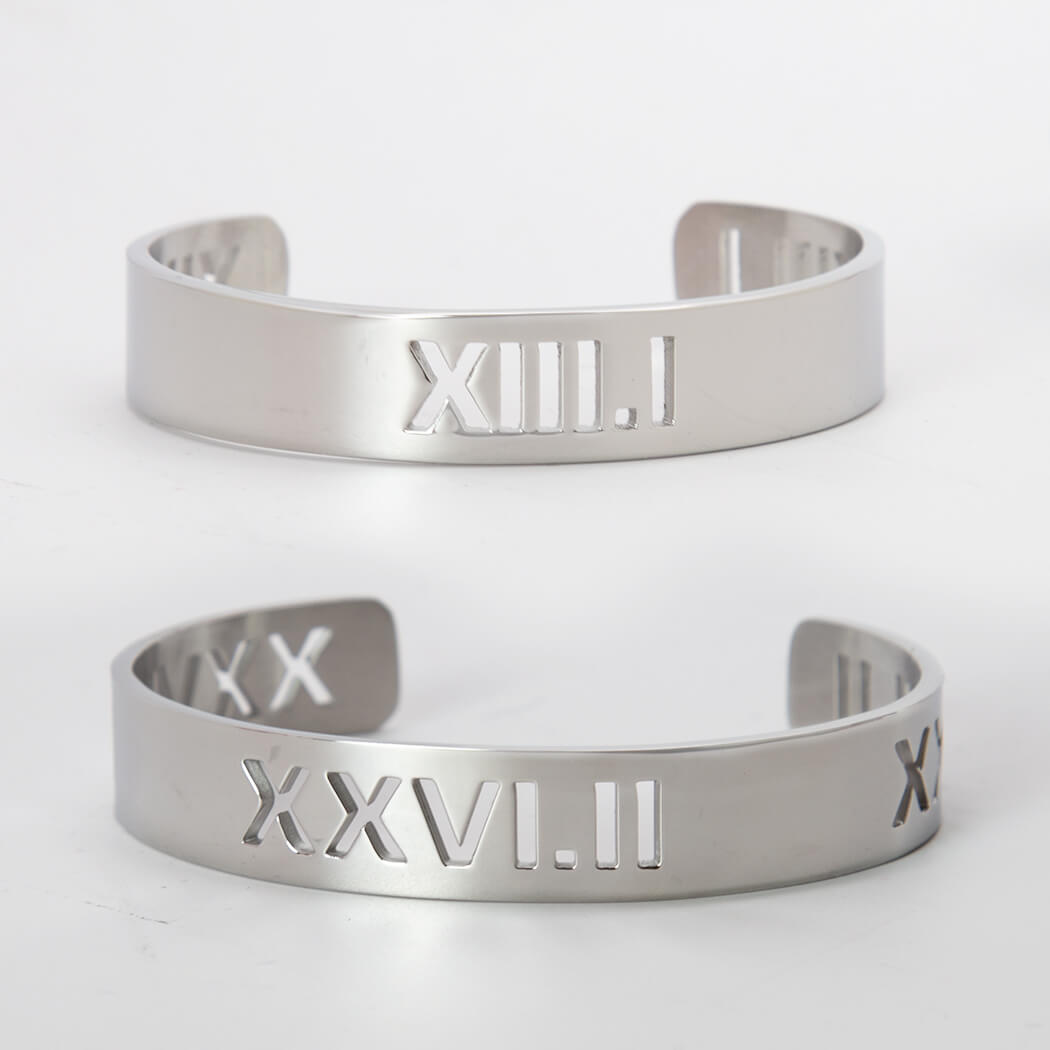 ★★★★★
5 out of 5 stars
Absolutely love it!!
"Bought this bracelet after a half marathon PR and have worn it every day since it came in the mail. Very comfortable and sleek. I wear it for work, for leisure, and even date night. I've gotten complements from many people and many of those have asked where they can get one too!" - Mike
We all need a little inspiration at times so choose a bracelet (or two!) that speaks to you and keep it close by for when encouragement is needed. Any of these bracelets also make a great gift, whether to inspire a novice runner, motivate a runner training for a major event to persevere, or to reward your favorite runner at the finish line. Dream. Believe. Achieve.