No runner likes hair interfering with a good run. Long or short, whether it is in a ponytail or flowing loose, a headband can keep wayward hair off your face and under control leaving you to focus on your running.
With so many types of headbands available, which is the best kind for a runner?
The best kind of headband is one that does not slip when running. This is the number one requirement for all runners and athletes. The headband also needs to be comfortable and, of course, fashionable. A moisture-wicking feature along with a UPF rating are nice bonuses for a runner's headband. When choosing a headband also consider the following factors:
Material – should be super soft to avoid irritation during a long run
Easy care – pick one that is machine-washable as it will be washed frequently
Versatility – look for one that is multifunctional or can be worn with casual outfits as well
What type should I choose if my headband is always slipping off?
The Juliband No-Slip Headband was designed to do just that – stay in place during a run or other physical activity. Unlike many stretchy headbands that rely on compression to keep them in place, this one will not squeeze your head to the point of being uncomfortable.
For the perfect fit and feel, this headband has two different components. The first is a one-inch wide non-stretch band lined with a non-slip fabric that grips your hair without unnecessary pressure. The second part is an elastic back with an adjustable clasp to give you a custom fit. Because of this two-part construction it also won't pull at or tear your hair.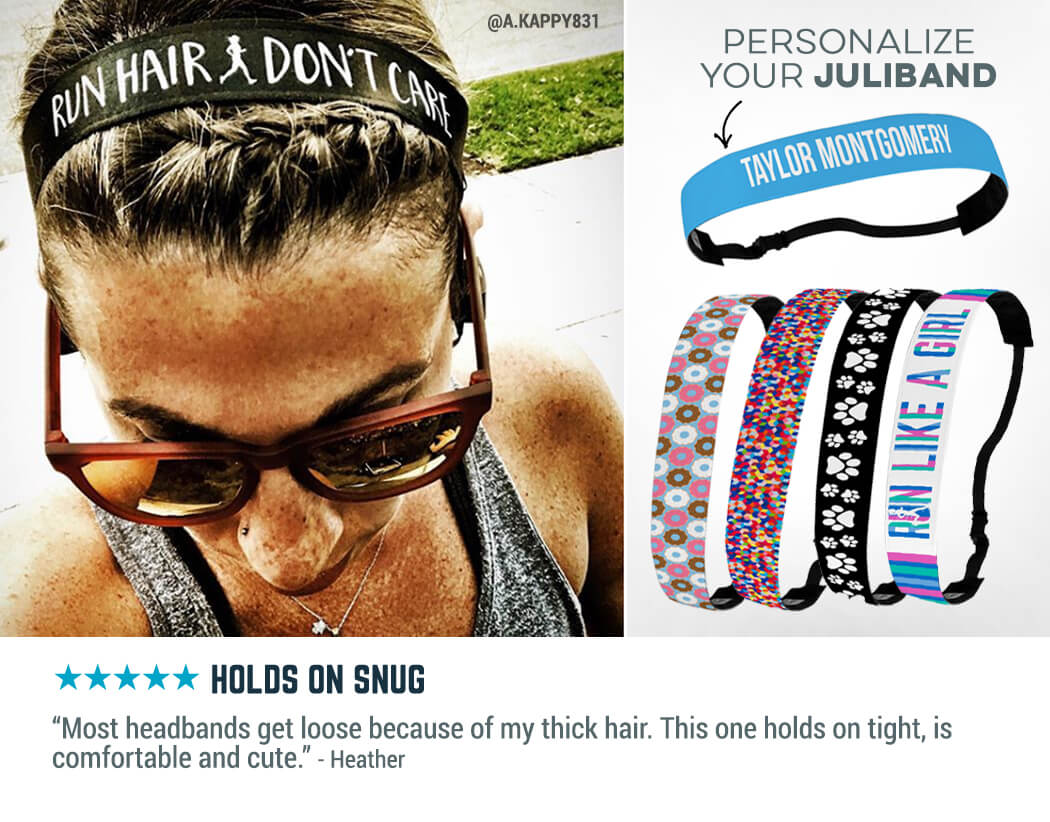 Available in dozens of designs, there is one to suit every taste and for every race, distance, holiday or themed-run. Another feature of the Juliband Headband is that the fabric has a satin finish, making it smart enough for everyday casual wear, too.
Is there a headband I can wear year-round?
The RunTechnology Tempo Performance Headband is made from a high-performance polyester and spandex blend fabric and is fully reversible. It has a perfect 2.75" width so it stays securely in place, and a free-sliding loop that gives you the option to wear it wide, folded or turban-style – whichever works best for you that day.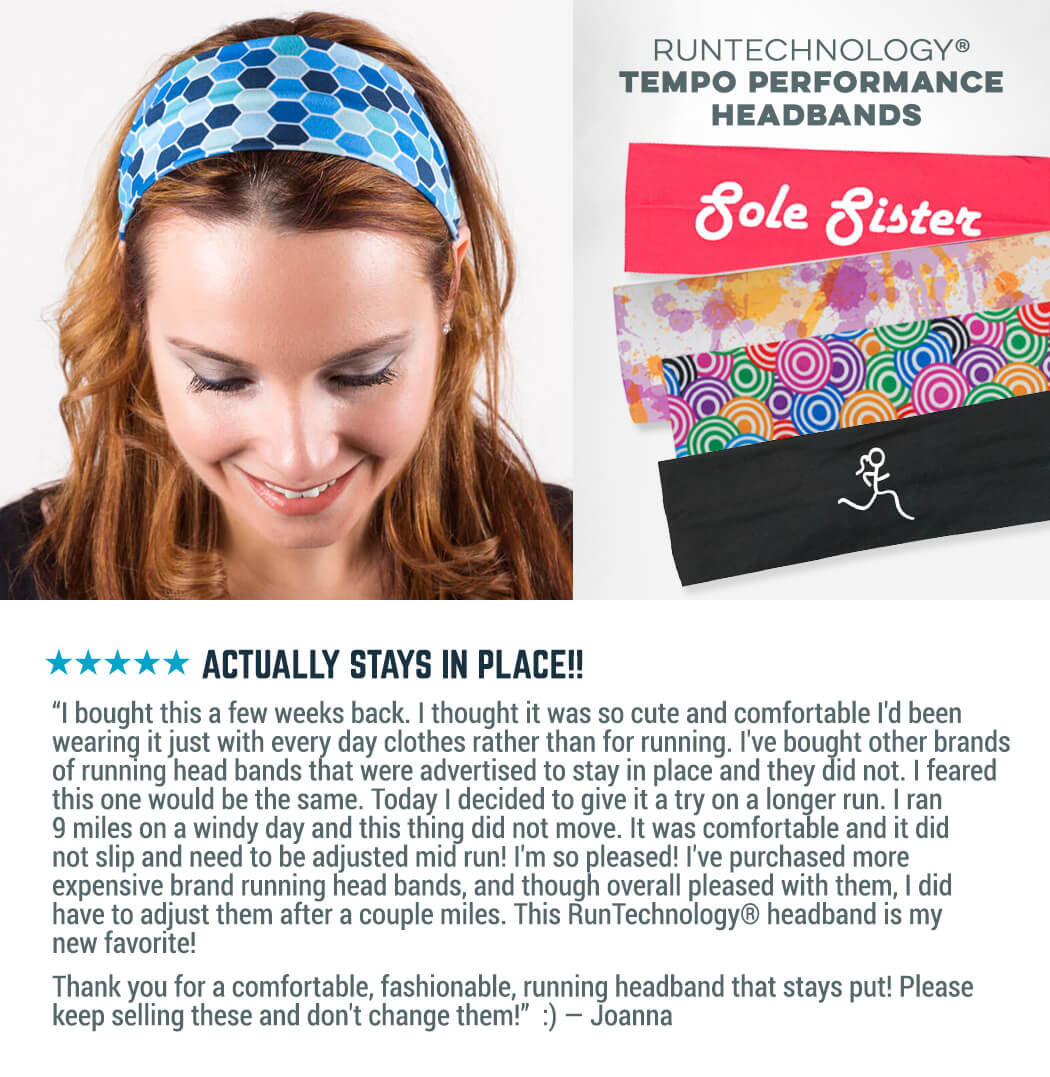 Available in over a dozen patterns and text options, this headband is more than just a pretty face. Not only does it keep sweat at bay in warm weather, it can be worn over the ears on cold or windy days. This is the one headband you will want to wear every day!
And if I need a headband that does more than just keep my hair in check?
For the most versatile option, try the RokBAND Multifunctional Headwear. More than a headband, it is a running accessory that serves a multitude of purposes. Measuring 9.4" x 8.3" it is designed to be folded to the width needed to use as a ponytail holder, face mask or neck protector in cold weather as well as a headband to keep your hair out of your face. The RokBAND Headbands have UV protection, too, with a rating of UPF 19+.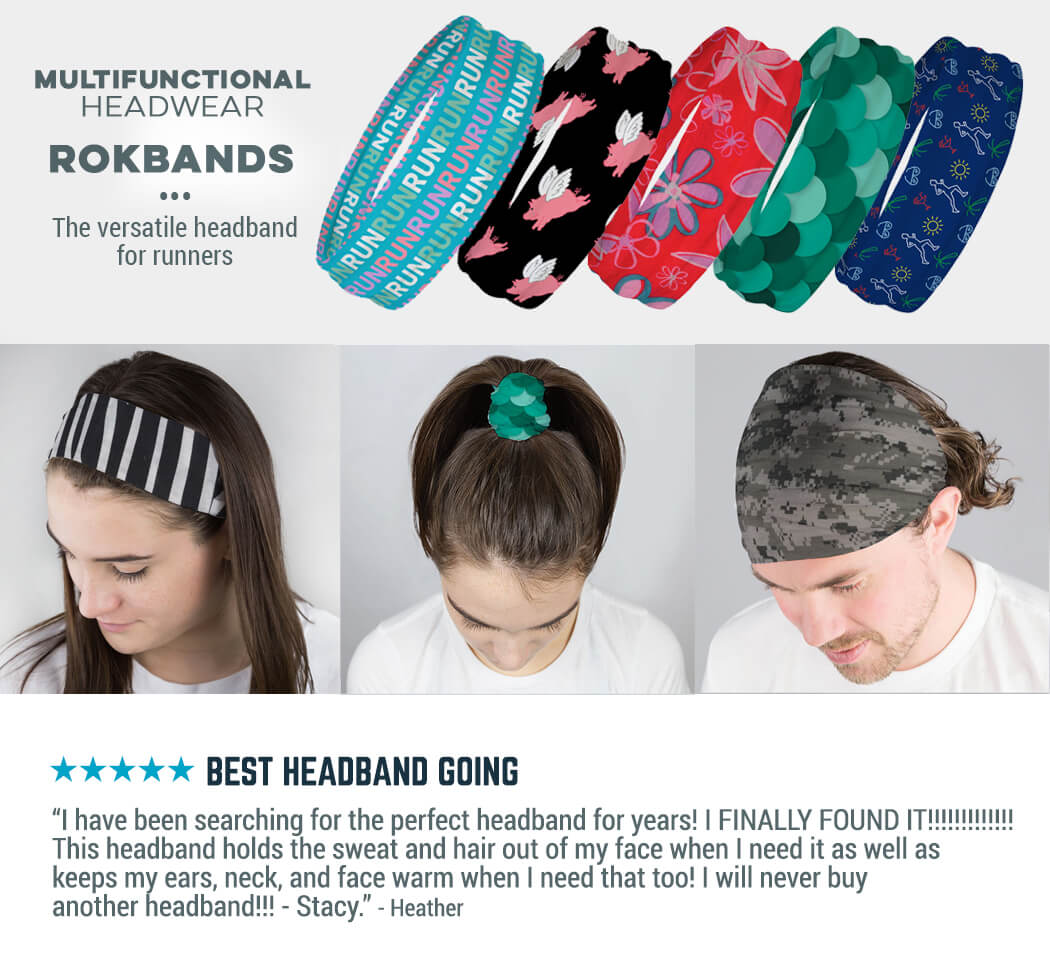 Made from a moisture-wicking polyester microfiber, it performs then washes like a dream! Super-functional, it is great for running or any sport. With dozens of patterns and solids to choose from, it fits most adults and children making it ideal for every member of the family!
Where can I find a headband to wear for a particular event or holiday run?
Both the Juliband No-Slip Headband and the RokBAND Multifunctional Headwear are offered in numerous options for any occasion:
✓ Holidays: including Christmas, Easter, Halloween, Thanksgiving, Valentine's and St. Patrick's Day
✓ Marathons and Half Marathons: 26.2 and 13.1, New York, Boston and Chicago
✓ Themes: such as Patriotic, Magical, and Fantasy
✓ Patterns: for any interest or taste - drinks & treats, tie dye, hearts, animal prints and stripes
✓ Motivational: with sayings: "She Believed She Could" and "Suck It Up Buttercup"
✓ Personalized and Custom: team name, personal motto, corporate logo, even pet photo!
No matter the need, there is a headband that will perform, be comfortable and look great when you are out running, playing a sport, or out and about. In fact, one of each will make a great headband wardrobe so you will always have the perfect one ready when you want to go out and run!