Running a half marathon is a unique achievement that doesn't get the recognition it deserves. Half marathon races aren't the major marathons that get all the glory like New York or Boston, but they are far more than a 5K or 10K. Show your support for your favorite runner completing a half marathon with a special gift designed just for them. With so many options available it can be difficult to choose just the right one, so we have compiled a list of the top 10 gifts that we know will please anyone who ran 13.1 miles to the finish line.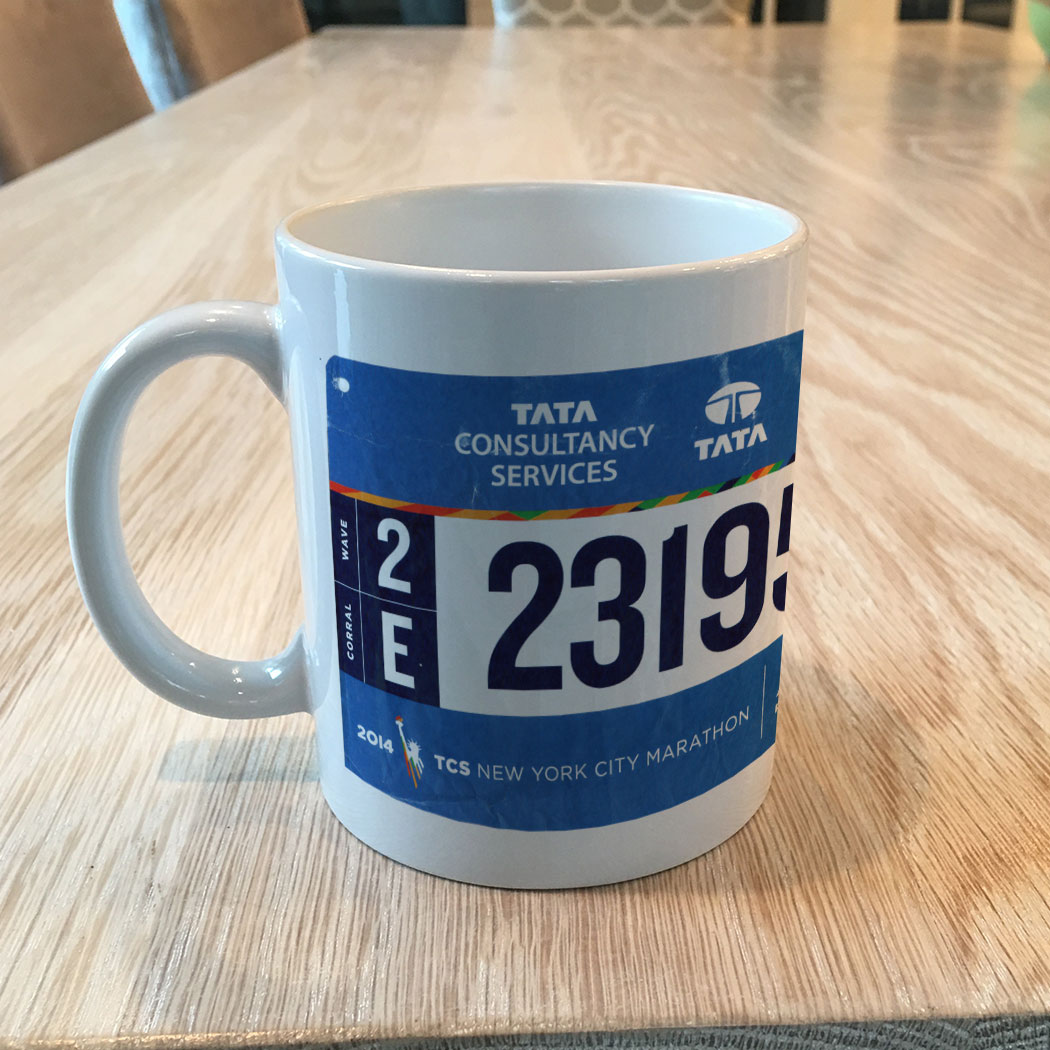 As a daily reward for completing a half marathon, have the race bib reproduced on a ceramic coffee mug. This 11 oz. mug is microwave and dishwasher safe and can be customized with up to three lines of personalization on the reverse. Whether it is used for coffee in the morning or tea in the afternoon, any half marathoner will be thrilled to receive this mug.
★★★★★ 5 out of 5 stars
Wonderful Memento!
"I bought this mug for my running partner as a surprise with her bib on it from our most recent half marathon. It was such a sentimental reminder of our trip and race. The turnaround was great, and the quality was wonderful!" – Kat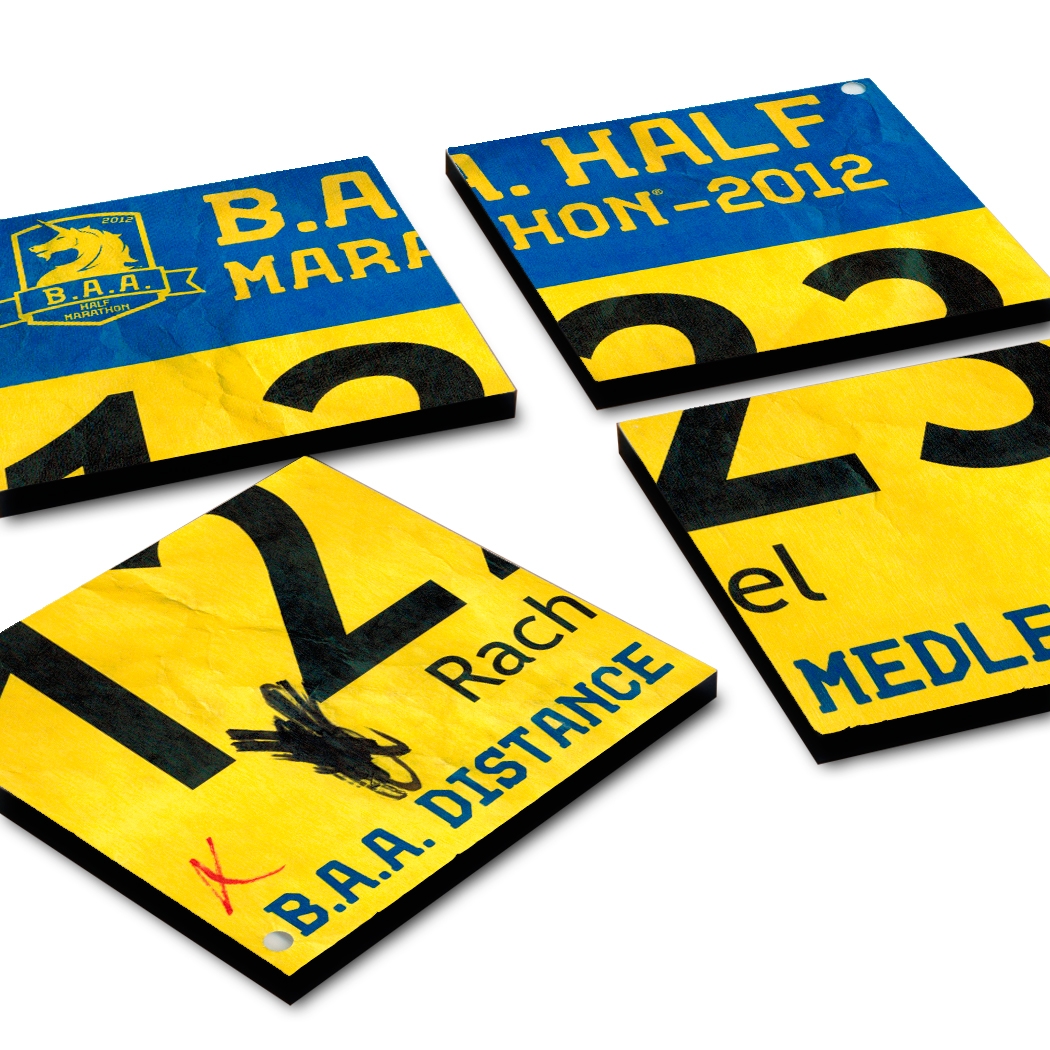 For the half marathoner who already has a favorite mug, have the race bib printed on a set of four coasters. These glossy tiles are backed with cork to protect the surface, are practical and double as a decorative accessory. Our BibCOASTERS Set is one of our most popular items and LOVED by runners!
★★★★★ 5 out of 5 stars
Bib Coasters! Best gift ever!
"For a runner, this gift is a very unexpected & sentimental surprise! Everyone that I've made a coaster for has loved the product! Quick & easy design process (including amazing delivery around holiday season)! Two thumbs up!!" - Alysen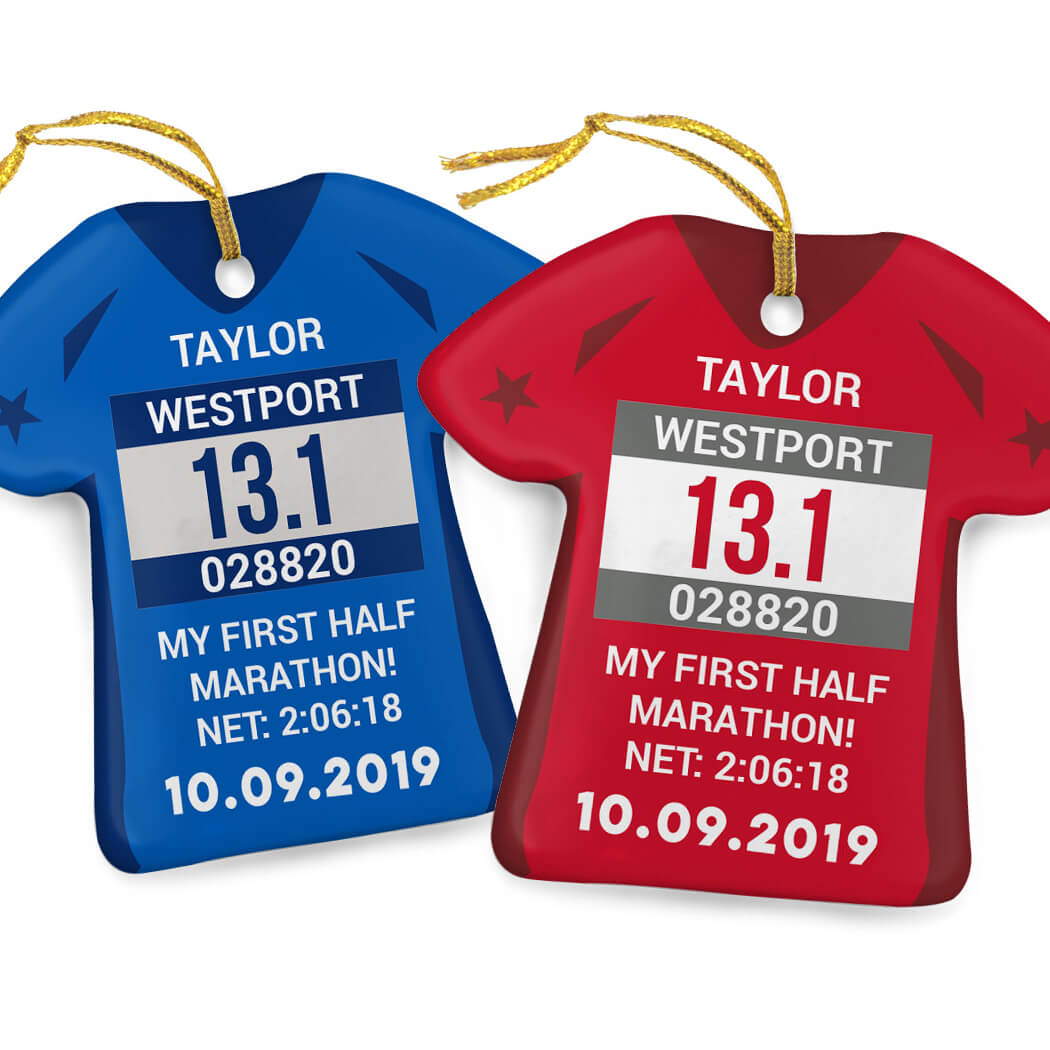 Ideal as a holiday gift but a unique gift any time, this high-quality porcelain ornament in the shape of a running jersey is personalized with the half marathoner's name, race name and distance, bib number (on the bib!), date and 3 lines of custom text which could include race stats or a special message or personal motto. In a choice of vibrant colors, it can be hung from an ornament hanger and displayed on a desk or shelf any time of year, and then on a tree at the holidays.
★★★★★ 5 out of 5 stars
The Perfect Gift!
"I had this gift customized for a friend who ran her first Half Marathon. It was perfect. It was quick to get to me after I ordered it and it looked great. When she opened her gift she was so excited to have something to remember her first Half Marathon." - Moni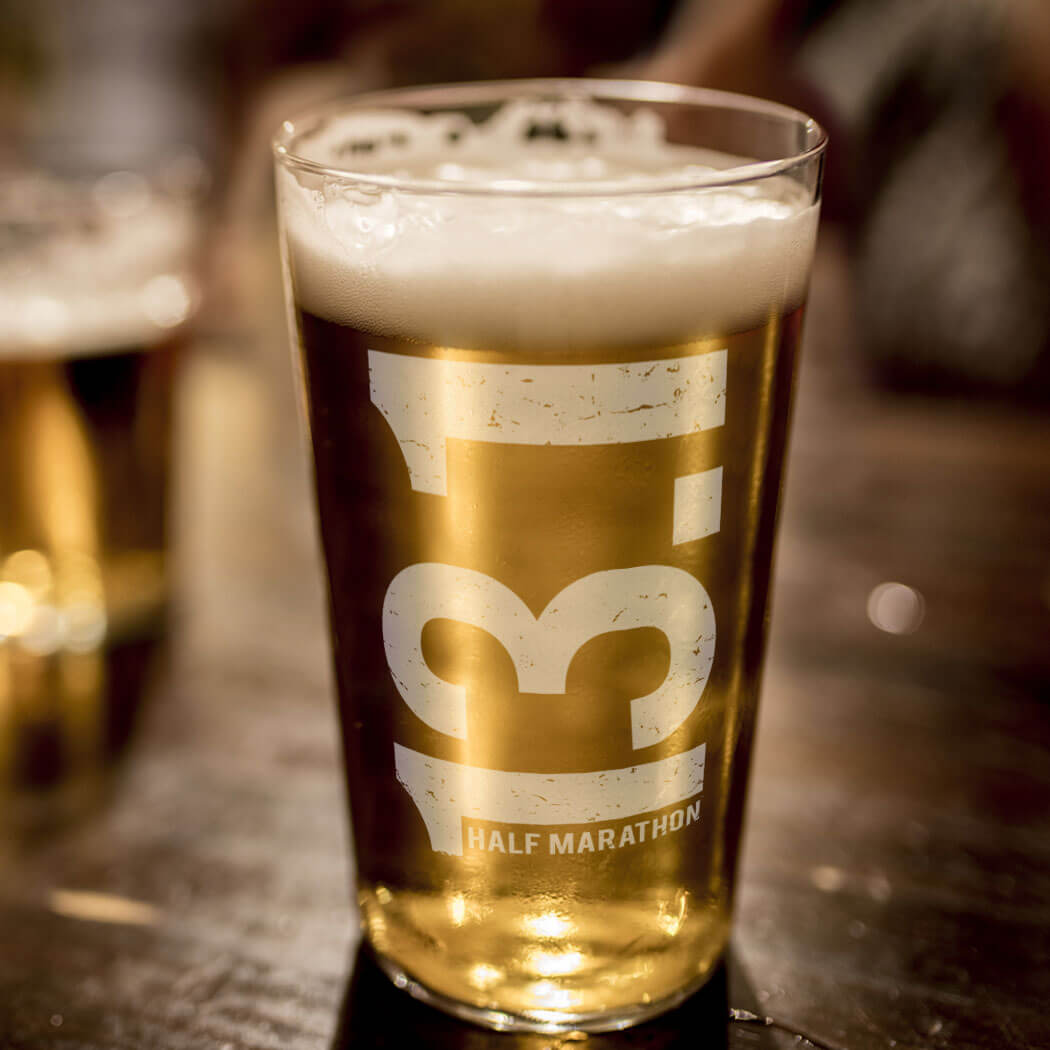 Not only is this beer pint glass the perfect way to toast completing 13.1 miles with a cold one, but it makes a great everyday glass, too. There is a bold "13.1" with "Half Marathon" engraved on one side, and an option to add personalization on the reverse such as the race name, date and finishing time. Dishwasher safe, it will be an instant favorite
★★★★★ 5 out of 5 stars
High quality, good gift
"I bought this as a gift. The etching is of good quality, and the recipient has enjoyed using the glass! I'd buy again." – Amy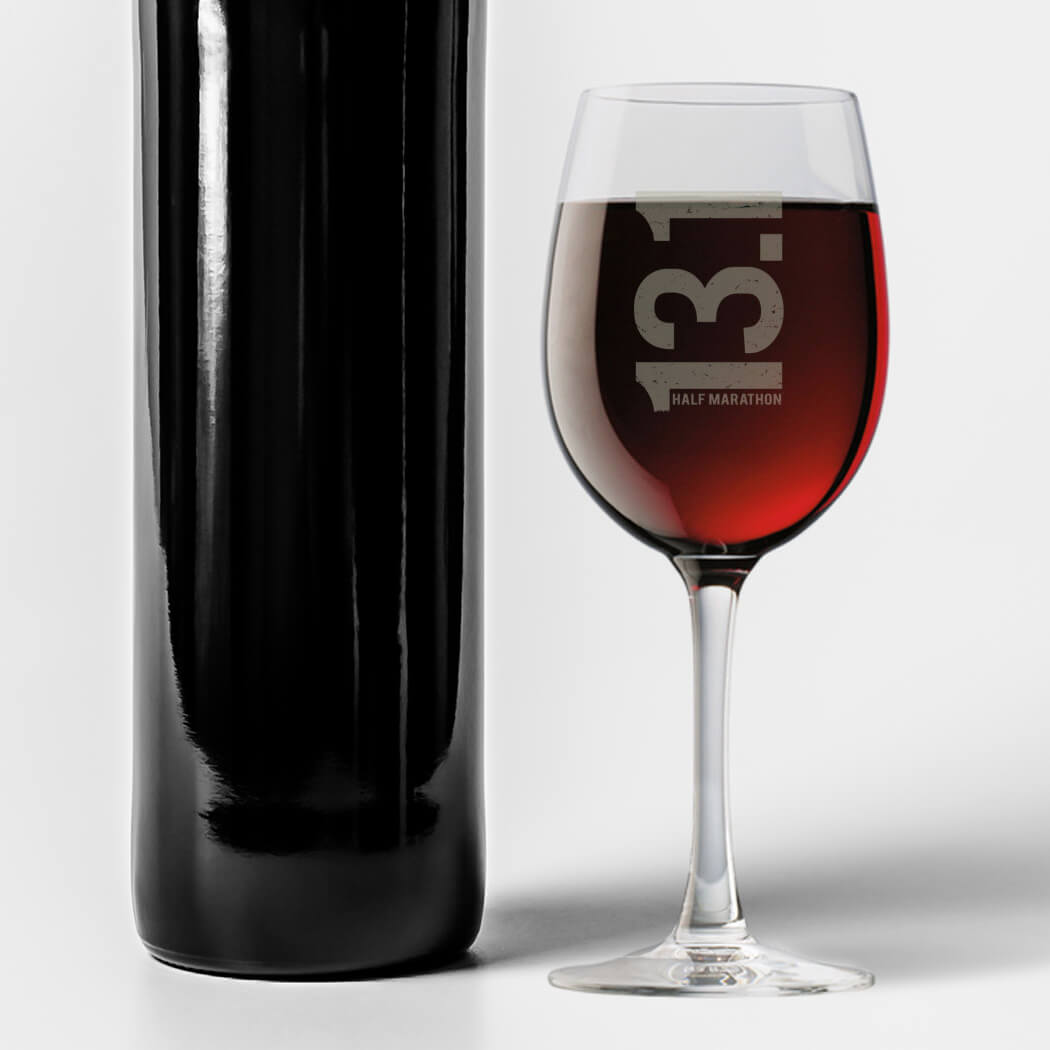 For the half marathoner who prefers a fine wine to beer, this elegant wine glass is engraved with an original 13.1 wine label design. For a special touch, choose the reverse personalization option and have the runner's name, race name and date engraved on the other side. Better than a trophy, it is ideal for raising a glass to a runner's impressive achievement.
★★★★★ 5 out of 5 stars
Great Gift
"Got my girlfriend this after she completed her first half marathon and she loved it! Great idea for any runner who enjoys their wine!" - Conner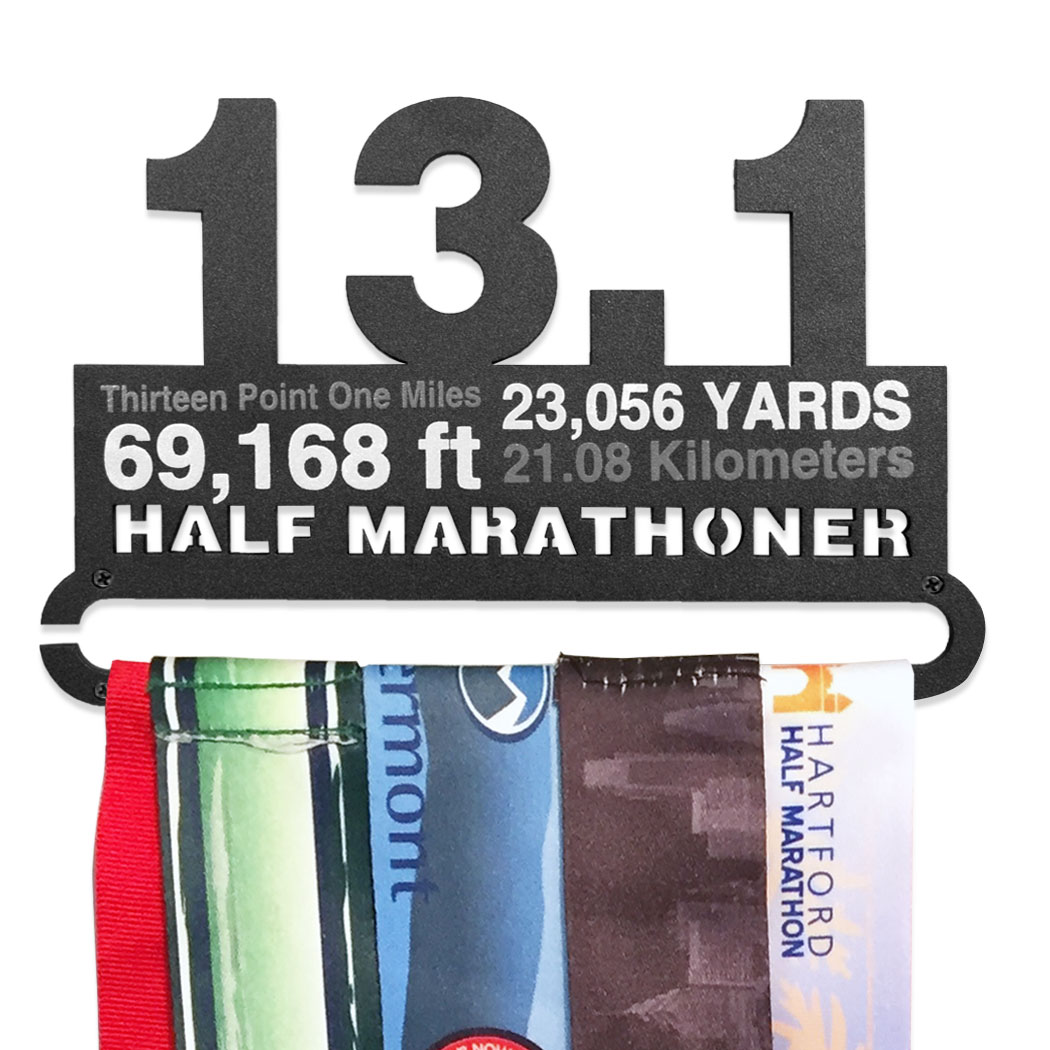 ★★★★★ 5 out of 5 stars
Nice sturdy medal hanger
"Bought this for my wife after her first half, she loves it and really showcases her medal." - Glenn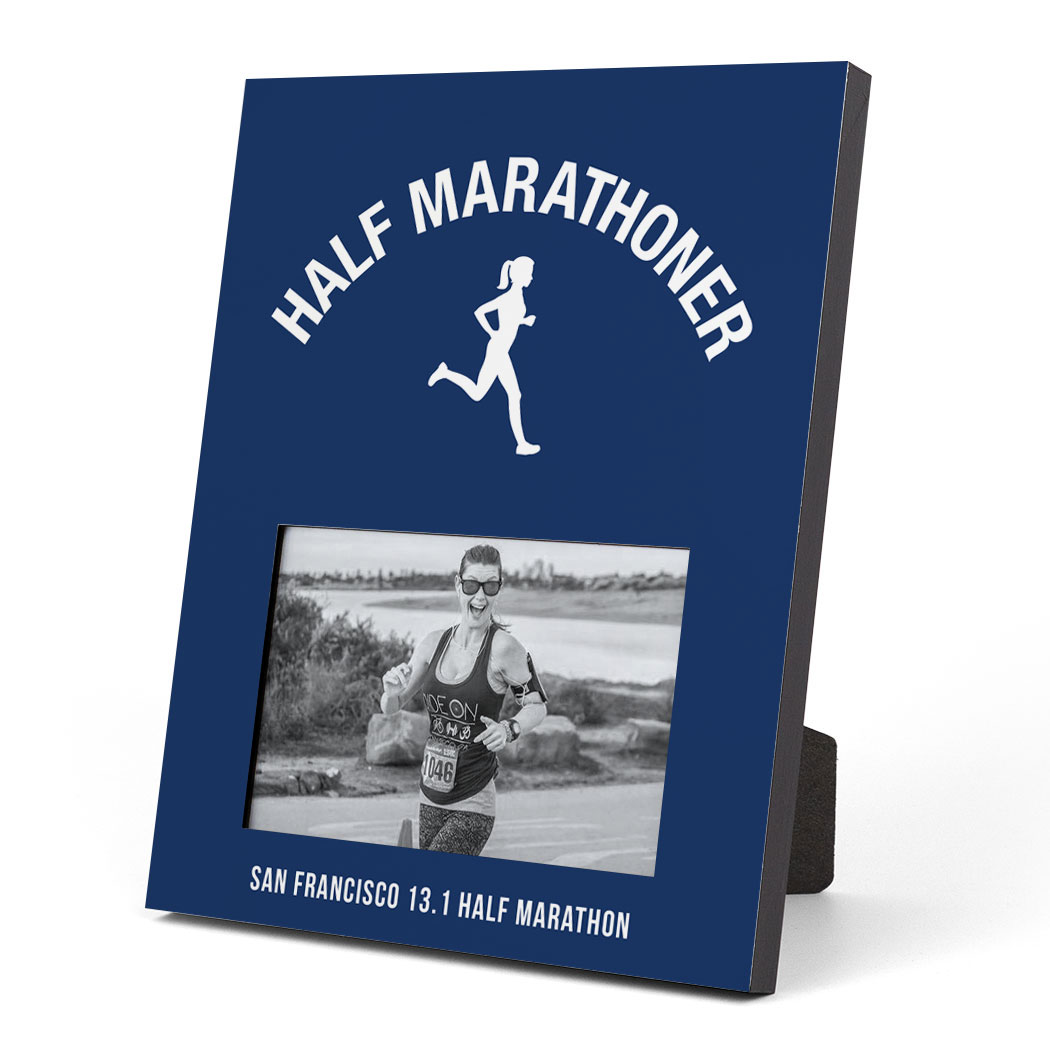 Perfect for that finish line photo, these Running Photo Frames have a crisp, modern look ideal for home or office. Measuring 8" x 10" and sized to fit a 4" x 6" photo, they can stand on a table, desk or shelf or hang on a wall. Choose from several designs just for half marathon runners, and have it personalized for a truly special gift.
★★★★★ 5 out of 5 stars
Personalized Frame
"This frame is awesome! What a great gift. My husband and I ran a half marathon together and took a picture after. The frame was perfect and looks great engraved!" – Michele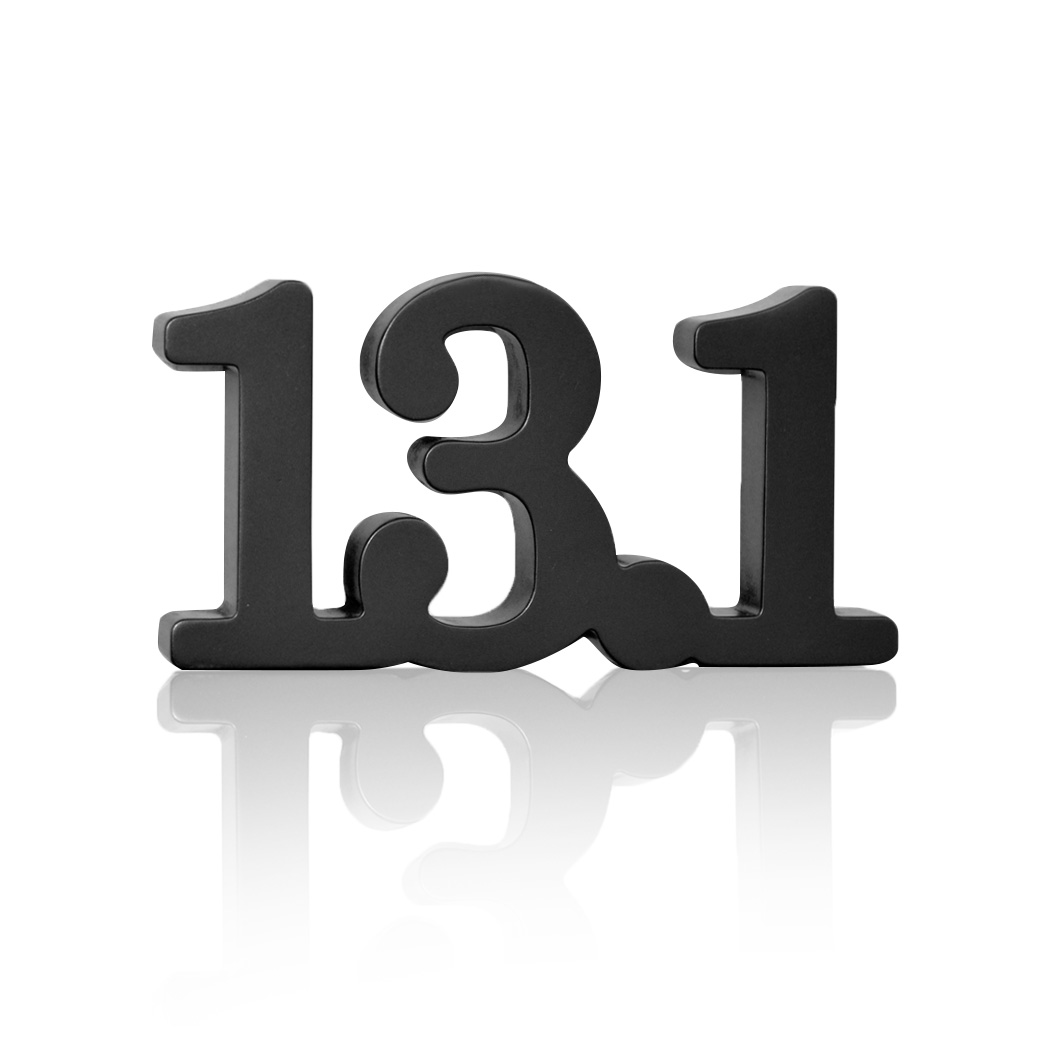 A great addition to any décor, this 13.1 room accessory is carved wood and finished on all sides in black. Modern in sensibility using a classic font, any half marathoner would be pleased and proud to display this on a desk, table or shelf.
★★★★★ 5 out of 5 stars
Great gift
"I bought this item for my wife in celebration of her completing a half marathon. It now holds a prime spot on her dresser. Great item!" – Ben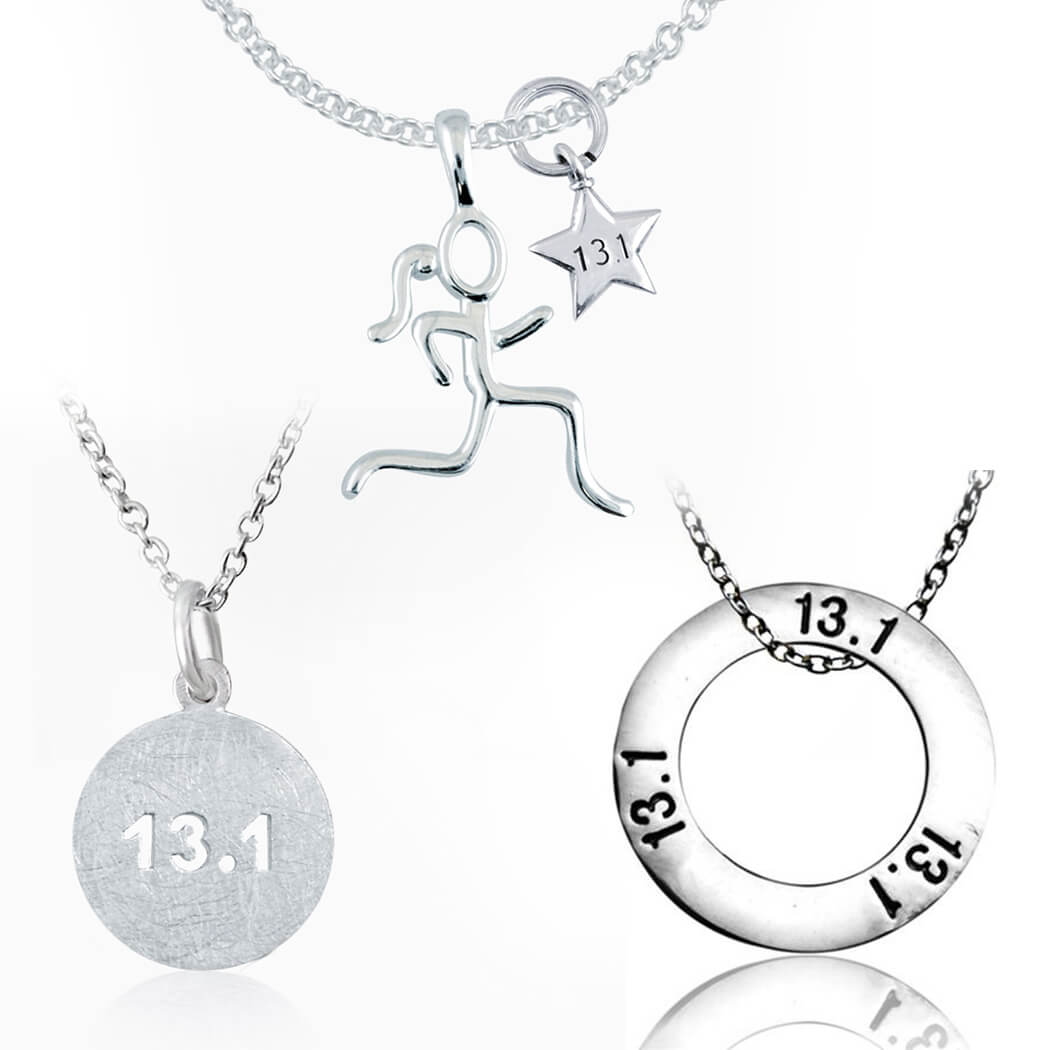 For a gift that is sure to be treasured, consider a sterling silver 13.1 necklace. Each of these necklaces hangs from a choice of sterling chains or a black leather cord, has the option to add other charms to make it one-of-a-kind, and are 5 star rated:
Sterling Silver Stick Figure Runner with Sterling Silver 13.1 Star Necklace
★★★★★ 5 out of 5 stars
awesome product
"the necklace was exactly what i was looking for. I bought one for myself and my running buddy for completing our first half marathon!" - Christina
Sterling Silver 13.1 Half Marathon Message Ring Necklace
★★★★★ 5 out of 5 stars
Great necklace!!
"I am running a half marathon with my 16 year old daughter in two weeks. This will be her first and I am so excited! I purchased this necklace to give her after the race and it is perfect!!." - Liz
Livia Collection Sterling Silver Matte 13.1 Necklace
★★★★★ 5 out of 5 stars
Great necklace!
Love wearing it. "This is a great, affordable necklace and looks very nice on! So far I really love it!" - Erika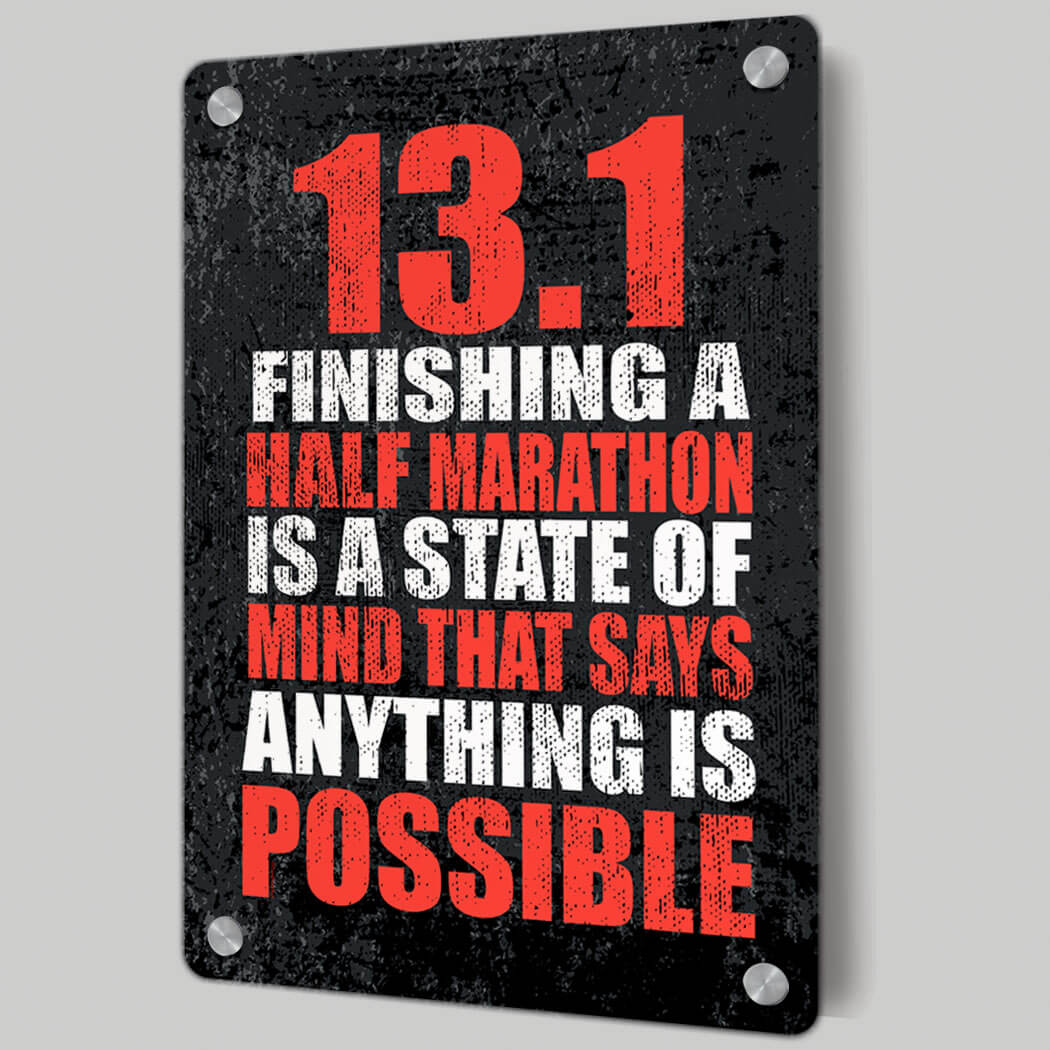 Created exclusively for half marathon runners, each one is available in a choice of color combinations. Featuring vibrant designs and made from lightweight aluminum, they have a professional, glossy finish and are attached to the wall using four decorative standoff screws – giving them the appearance of floating on the wall. These bold pieces of graphic art are a can't-miss for your favorite half-marathoner!
Any runner who can endure 13.1 miles and complete a half marathon should be acknowledged for all the hard work and dedication it takes to be able to cross that finish line. With lots of gift options available, you want to be sure to choose one that is both unique and has meaning for a half marathoner. You can rest easy that any one of the items on this list is sure to be appreciated. Check out all of our half marathon products, here!