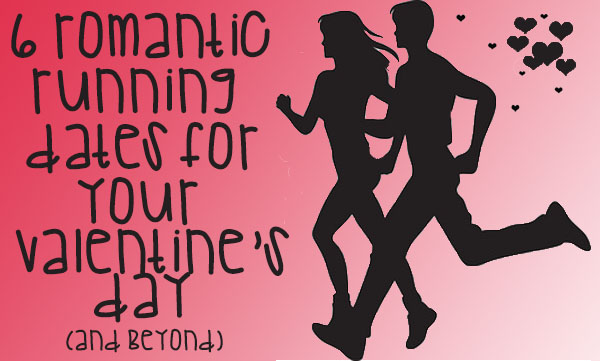 Valentine's Day sneaks up on you when you least expect it, no matter how fast you run! As such, we are presented with the challenge of creating the perfect day. Don't fret – you can turn your Valentine's Day into the most romantic run ever.
01. The Marathon du Medoc. We realize there is very little chance of people registering for, and heading to, the near-fabled, but assuredly real, Marathon du Medoc. But there's no way we couldn't include it. In a stunning combination of running with fine French cuisine and wines, it is an endurance test in more ways than one – and the ultimate romantic getaway for any couple who loves to run together.
This year, the marathon will be held September 10, 2016 and, as is customary, will have a theme – "Tales and Legends." The runners in the races wear special kits that relate to the theme (with many who have dared to take on this challenge advise you do do some trial runs in what you plan to wear. That corset may look phenomenal, but how are you going to feel in it at mile 20? Or even mile 10?
Although the race is not until September, space is extremely limited, and goes on sale in February 2016. It's a Valentine's gift you have to train for! If you have the time, the money, and the ability? You may be in for the most romantic getaway ever. Marathon du Medoc's official site.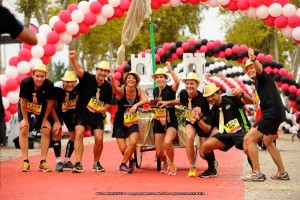 02. New Orleans, Louisiana. So, maybe going to France is a bit much. How about New Orleans, Louisiana? Whether you call it Crescent City or The Big Easy, there's no shortage of places to run in this historical, beautifully designed city. For example. along the scenic Bayou St. John, there is a 1.7 mile running (and biking – so beware) path that runs through City Park and treats runners to the sights of some historic and exclusive homes that are just across the bayou. And since you're in the park, it's the perfect place for a post-run picnic for you and your sweetheart. If that doesn't do it for you, though, the city is full of amazing places to run, such as the Levee Path, which is a 22 mile path that was paved on top of the Mississippi River levee, designated for runners and people on foot only. And of course, there's a town favorite, Audubon Park, which runs from Magazine Street to St. Charles Avenue, and not only wraps around a finely manicured golf course, but is also full of old moss trees and lagoons, both home to native birds. Bonus: should you decide your romantic run needs more romance and less running, there are many places you can rest and recharge along the way. New Orleans may be one of the most perfect cities for runners looking to combine the passion of running with the passion for their partners!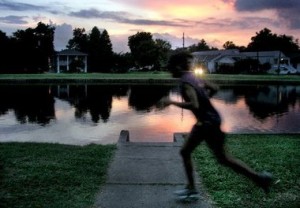 03. New York, NY. Perhaps you live in, or are thinking of heading to New York City. While the city is in no way lacking romantic places to go, where are the best places for runners? Many natives and visitors alike rave about the Hudson River Greenway, although as is often the case in NYC, it can get crowded and is often shared by runners, bicyclists, and walkers. Nonetheless, this path offers two options – the full path, which is nearly 9 miles, or the shorter one, which is a little less than three. It's not a marathon, but sometimes, when you're looking for romance, it's more about the setting and the activity than the actual time spent.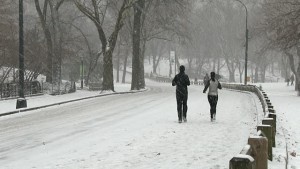 If that doesn't work for you, there are myriad other options in NYC – what could be more quintessential than Central Park? For the more seasoned runners, there is the 6-mile Central Park Loop, which has a few steep inclines and a lot of other runners (as well as some cars coming through, so be careful!) but is something that everyone should at least experience once. If that sounds like a bit too much, head to the center of the park and enjoy a (respect the rules!) counterclockwise run around the 1.6 mile Jacqueline Kennedy Onassis Reservoir. With no inclines, it's a nice, brisk run that you can't do anywhere else.
04. Denver, Colorado. When people think of Denver, Colorado, they tend to think of skiing and snowboarding, but the Mile High City has so much more to offer! The Cherry Creek Path is a favorite among locals, as it follows both the Cherry Creek and the Platte River. The beauty of this path is it is flat – which is probably the best way to keep your run light and romantic in a city best know for its high altitudes. There's nothing romantic about oxygen masks and hospital beds, so take it slow if you're not familiar with the terrain. Depending on how you are feeling, you can see all sorts of sights while running, not limited to the Denver Aquarium and the world famous Sports Authority Field at Mile High Stadium. (Just don't try to run on the field… I am pretty sure they don't allow that unless your last name happens to be Manning.)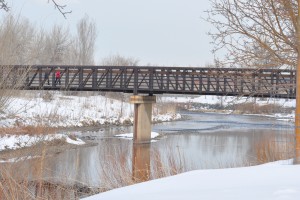 05. Washington, DC. If you can wait until April (and who can't? You get a few extra training weeks in!) there is always the Cherry Blossom Ten Mile Run in Washington, DC (which also has a 5K Run/Walk for those who aren't up for a full ten miles.) The reason this is so romantic is in April, the cherry Blossoms that Washington, DC is known for are in full bloom, and all participants are running enveloped in the sight and scent of the falling pink cherry blossoms. While Washington, DC is a romantic sight to behold on its own during this time, adding a 10-mile race to this beautiful backdrop may be one of the most romantic races I can think of.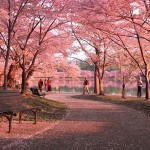 06. A Virtual Race at Home . We make it easy for you and your love to have your own Valentine's Day Maraton by competing in our Run Virtual 2.14 Miles Race. You do it in your time, where you're comfortable, and celebrate the win with this package that includes a t-shirt, medal, and bib – like any other marathon, only this one is all for you. You can customize the package, and really go all out for a personal and unforgettable Valentine's Day romantic running experience. You can try using Map My Run to look for new and romantic running routes in your area – go ahead and see what kind of romance you can make for yourself.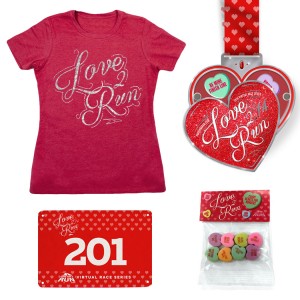 If you find a great way to make the most of a running experience with a partner this Valentine's day, I'd love to hear about it and see pictures! Send it to us and see if your romantic story makes it into a future blog! Happy Valentine's Day!