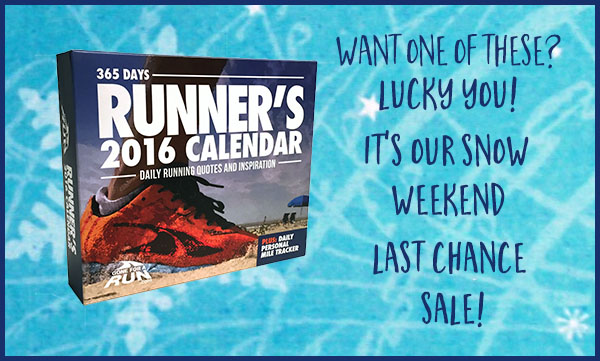 If there was ever a weekend to start dreaming about those early spring outdoor runs, it's this one, considering half the country is expecting some sort of snow, ice, or generally extreme weather. Everyone stay safe – even if that means just running on the treadmill in your house, or doing some extra-vigorous pre-spring cleaning (you'll thank us in April!) At the same time, we're not totally killjoys and know you'll be planning for your 2016 goals, runs, races, and marathons – even if you can't actively do anything about it this weekend. Or can you?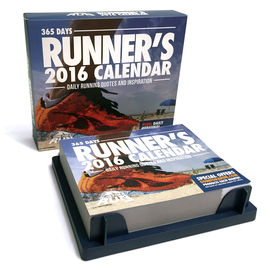 Yep… I'm going to tell you about something you can buy. But not just because that's my job, but because I really care. We're currently having a last chance sale on the few remaining 2016 Runner's Desk Calendars (now just $9.99 – it was originally $14.99)! This calendar is full of images and inspirational running phrases to get you going – and it has a little box in the corner to record your miles for that day. Lots of people are already saying, "oh man, I just can't put a zero in there today… I'm going for a run" – talk about a great motivator, just sitting there on your desk, saying, "you know you can do it today…"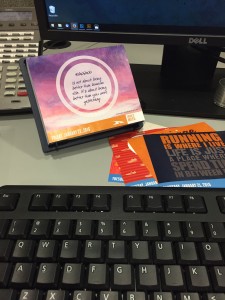 We only have a few of these calendars left in stock and it's your absolute last chance to get your hands on this full-color calendar that is a great starting point for the novice runner but equally effective for the full marathon runner who needs a little push every now and then. Don't let another month pass you by – the rule is, you can call January a "practice month" and start over in February, but you only get to do that once!
If you live in an area affected by the storms this weekend, stay safe and warm – and use the time to get ready for running in the inevitable thaw. It's coming… trust me!