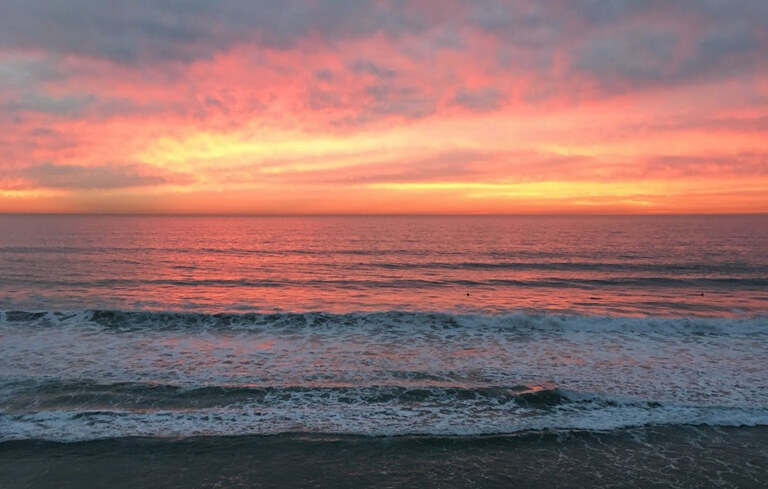 Sunset from Moonlight beach in Encinitas, CA
Introduction
This year was the 6th running of the Holiday Half Marathon in San Diego, CA. The point to point race starts northeast of San Diego and finishes at the beautiful Torrey Pines State Beach. The course is run primarily on the route 56 bike path and Carmel Mountain Rd. It's known to be quick since it has a 711-foot net elevation drop along the rolling bike path. San Diego probably has some of the best weather in the world, especially during the winter months. The fast course, ideal conditions, and escaping the cold mornings in Boulder put this race on my radar when constructing my racing schedule earlier this year.
When I decided that the Houston Marathon was going to be my goal race for this training cycle, I then needed to find a few key races to test my fitness along the way. My first race of the cycle was the Richmond Half, which took place last month. If you have not checked out that race report, I highly recommend you doing so. A few things go into the races I choose throughout the training cycle. First, they need to be specific to the ultimate goal–in this case, the Houston Marathon. Second, they must be planned with the goal race in mind. For example - The Richmond Half took place 8 weeks into the training cycle, the San Diego Half took place 5 weeks later, and the Houston Marathon will take place 5 weeks after that. Of course, it doesn't have to be that exact, but you don't want to race too often in the middle of Marathon training. It's important that the training is absorbed properly, and although races like the Half distance are great workouts when building for a Marathon, they also take some time to recovery from. Lastly - I have to be excited about the race as well as the destination. I've raced in San Diego on two other occasions. Not this race specifically, but I've had a lot of success. Not to mention that it's a great place to visit, especially during the winter months.
Race Week:
Race week had finally arrived and I was ready to get a solid race in, as well as take a short vacation with Sarah. Our friends Lindsey and Tre were also joining us for some warm weather fun in Cali. I won't take a deep dive into the specifics of my training leading up to the race, other than things had been going really well. There are tough days and even weeks throughout a training cycle, but I was able to pretty much stick to the training schedule, with only slight modifications. I am a very self motivated person so coaching myself works really well. This doesn't mean I don't have moments where things get tough, or moments where I question my own training. If anything I can overdo things, and that's where Guy the runner and Guy the coach have a realistic talk with each other. If you'd like to follow my training check out ​my training log.​ If you have questions please feel free to reach out. I love talking running, and living a healthy lifestyle.
When races take place on Saturday's I tend to only schedule one short workout on Tuesday or Wednesday. I was feeling a bit off to start the week so I did not run on Tuesday and did a short session on Wednesday. This was only my second day off from running since starting the cycle back in mid-September. I wanted to make sure my legs were under me since they felt a bit sluggish during the Richmond Half. Things were going according to plan, as we were heading to San Diego early Thursday morning.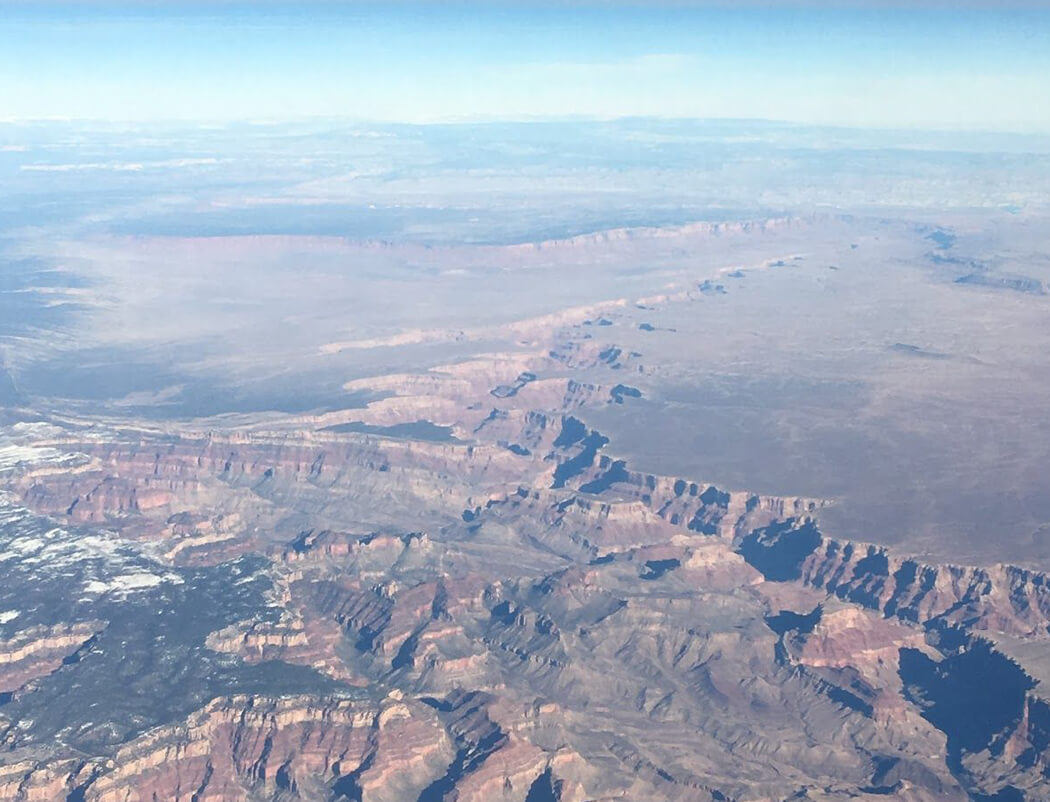 Aerial view of the Grand Canyon
Bad News:
I woke early Thursday for our scheduled flight from Denver. The first thing I noticed was a scratchy throat. Not exactly what I was hoping for as I'm about to fly out for a race. I tried not to think much about it, other than doing the little things to take care of myself. A few hrs later we were in sunny San Diego and the dramatic change in temperature was much appreciated. The first thing we did was run some easy miles along the beautiful coastline near Del Mar. It felt good to sweat and feel the warm sun against my chest. We were staying in my favorite beach community of Encinitas. In a perfect world, I'd live here 3-4 months out of the year, and Boulder during the other months. Later that eve I was very tired and could sense something was not right. I've become very in-tune with my body over the years, and something was definitely wrong.
I woke the next morning with a full blow cold. There is never a ideal time to get sick, but this was the least opportunistic timing possible. It wasn't terrible so I spent the day resting, trying to decide on whether to race or not. I told myself not to worry, and to base my decision on how I was feeling the morning of the race. I've been running and training competitively for 20 years, and this was the first time I had developed a cold just before a race. Not to mention a race that I had traveled to. If it were a local race the decision to not race would have been pretty easy. My energy was feeling decent by Friday afternoon so I was optimistic that I'd be ready to go the next morning.
Race Morning:
After a decent night's rest I felt good enough to give this thing a go. I was in San Diego, fit, the course was fast, and the weather was perfect. See what I did there...I stayed positive and controlled what I could. I reiterated that running is what I do everyday and today was a opportunity to overcome adversity and become a stronger minded runner. Now, I don't recommend racing, or even running easy if you have more than a head cold. Each individual has the come to that conclusion and do what's best for their overall health. We arrived at the start about an hour prior to the race. Since it was point to point, Lindsey drove us to the start and would be at the finish line as well. This was great as we didn't have to worry about a shuttle from the finish back to the start. Although I didn't feel great, it was a perfect Southern California morning. A lot of the locals were complaining, saying it was too cold. Funny, as it was around 55 at the start. As with my usual routine, I warmed up with easy jogging for 20 minutes, went through my drills, laced up my racing shoes, stripped down to my singlet and shorts, and finished up with a few strides before the start.
Go Time:
Bang! The race was off and my goal was to settle in and let the pace come naturally. If you're forcing things early on in a half Marathon then you are in big trouble. I found myself in 7th place, coming through the mile in 5:03. This felt relaxed and was about what I expected for the first split. The race was already stringing out, but fortunately I had a guy a few meters ahead to key off of. The next several miles had more downs than ups, making for a quick pace. I tried not to think much, just focused on the path, and que's such as quick cadence, relaxed arms, running tall and powerful. I came through 10k in 31:20, which is 5:03/mi pace. I was on pace for a massive PR. I typically race conservatively over the first half of races, so I intuitively knew I could have a special day.
Somewhere between mile 7 & 8 that feeling of excitement was soon replaced with pain. My legs began to feel heavy, and my energy was fading fast. It was like a switch had turned. There is typically more of a slow transition of fatigue in longer races. My theory is that my body was overcompensating for being sick, and now I was paying interest on the loan I took out. Although things were going downhill, I told myself to stay tough, and focus on one mile at a time. A PR was still possible, and although the guy I was running with started to disappear, two other guys were coming back. My 10 mile split was 5:24, so I was definitely hurtning. Miles 11, 12, & 13 were in the 5:15-5:20 range. I managed to pass two runners within the final miles, but they both fought back in the last half mile. I had nothing left to give as a crossed the line in 7th place with a time of 68:08. Although I'm happy I finished and gave it everything I had, I was immediately down on the fact that I had run another 68 minute half. I've been working so hard, and although I was sick, I lined up to race and was confident in my decision.
After gathering myself from the tough effort, I waited for Sarah to finish up. She's been training well, but I knew another PR would be tough after running a PR by over a minute in her last race. She's definitely capable, but the Houston Marathon is the focus and great races in the build-up are icing on the cake. She finished up in 5th place, running 76:11. She didn't look thrilled so I waited a minute to approach her. It can sometimes be challenging being both a significant other, as well as a coach. I have to make sure I'm wearing the right hat when dissecting the situation. She was not happy with her place or finish. I thought she ran a solid race and gave her some time to put things in perspective. She's a competitor and wanted more from herself. I completely understand that, and respect that she's so driven. Unfortunately, running, like life is not a linear progression.
Post Race:
We spent the rest of the day eating, relaxing on the beach, and reflecting on our performance. It was great having Lindsey and Trey along on the trip. I was enjoying the day, but my body was not happy with the decision to race. Although we kept things low key, I wasn't well, and had a tough time fully enjoying myself. I kept telling myself that at least I was sick in a beautiful place, with great people, and warm weather. Over the past week I've missed a few days of training, and I'm still having a tough time fully recovering. The Houston Marathon is just over 4 weeks away. I've put in a lot of amazing training, and I'm confident that this is only a blimp in what will be an amazing race. I'll leave you with one of my favorite quotes. "Hope is a good thing, perhaps the best of things, and no good thing ever dies."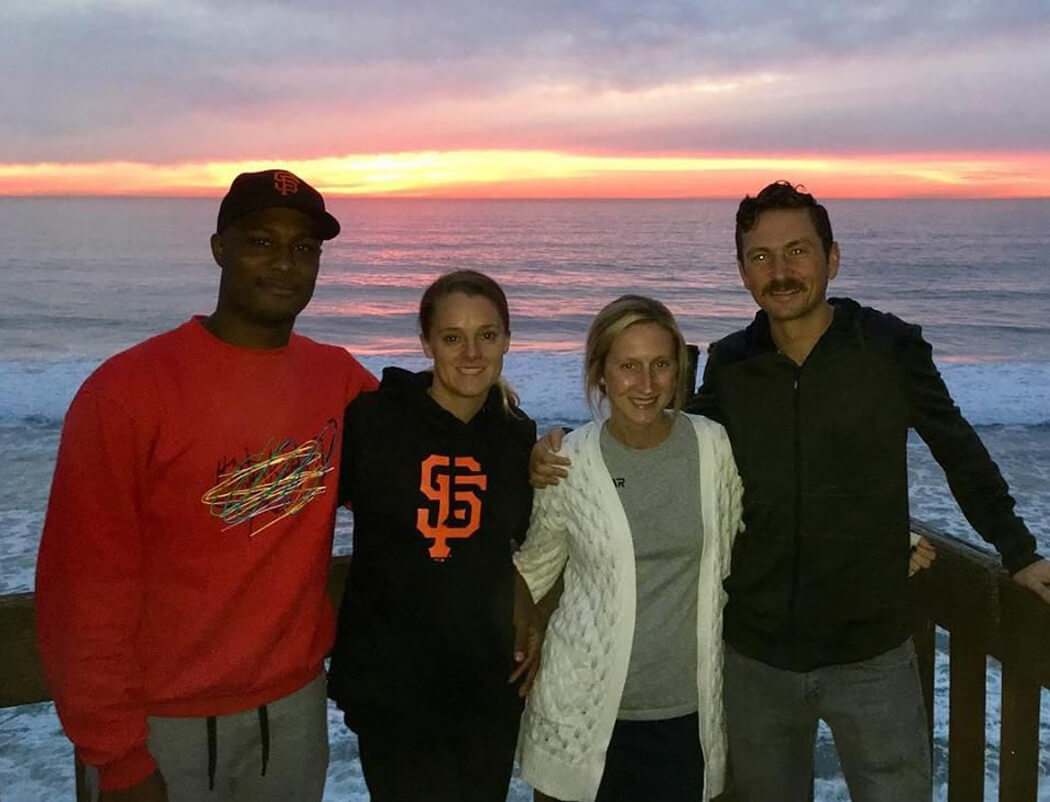 Trey, Lindsey, Sarah, and me the eve before the race