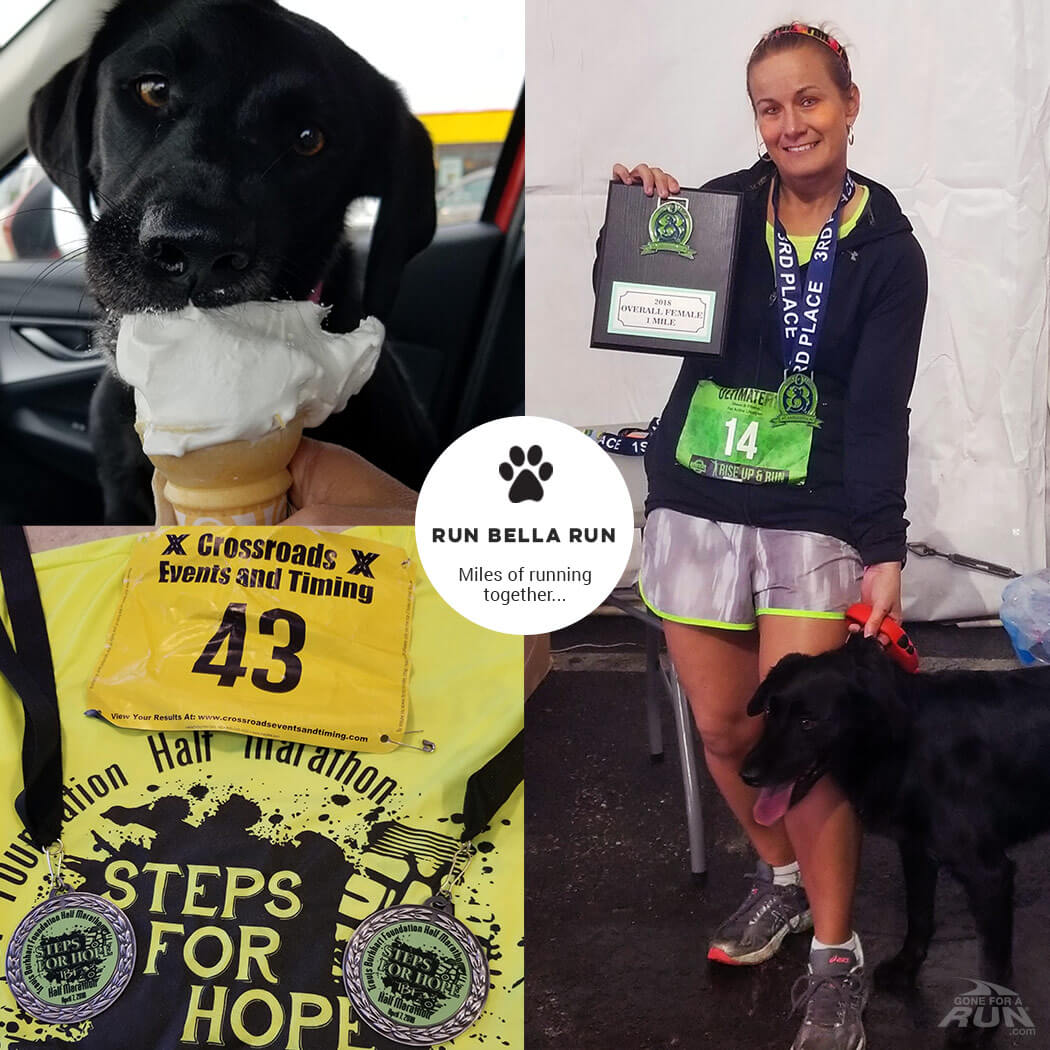 Bella has been busy these last six months and we wanted to catch you up on her accomplishments. Her running partner, Elizabeth Morgan recapped several of her races that were completed earlier this year!
Bella has completed 1 full marathon and 12 half marathons! She hit her PR with a time of 1:43:01 and was featured in Geist Magazine and soon to be Lab Magazine (coming out in September!). Bella is spending her summer training for her 2nd full marathon scheduled on October 27th in Shawnee, IL Sponsored by Jeff Galloway.
Stay tuned for more updates coming up this summer! Additionally, for every item purchased in our Running With Your Dog category using the code RUNBELLARUN, 20% will also support Run Bella Run.
Travis Burkhardt Foundation:
Steps for Hope Half Marathon
Plainville, IN
4.17.18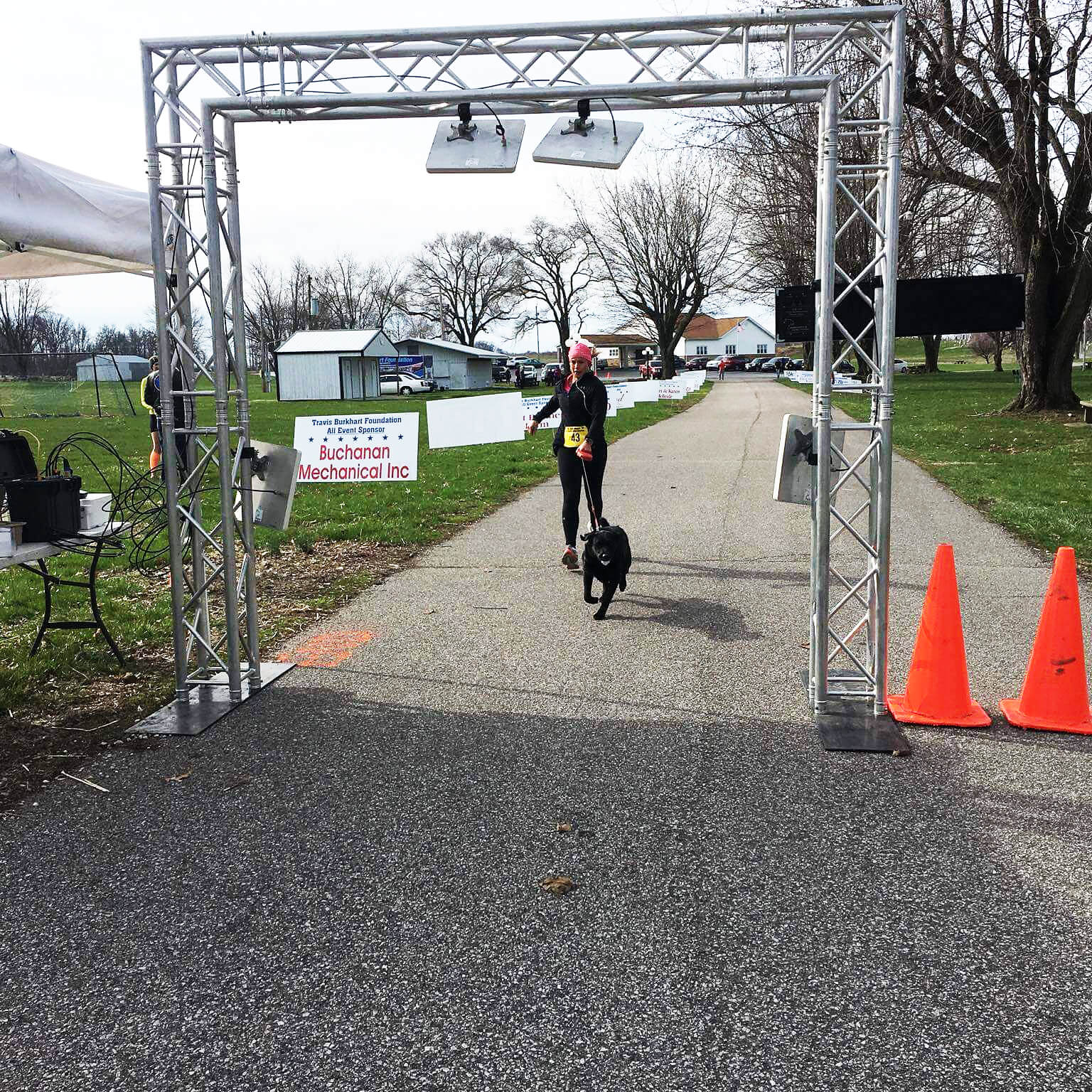 "This half-marathon was about an hour away from Evansville in Plainville, Indiana. We got there only five minutes before the start, so I quickly rubbed some Musher's Secret on Bella's paws and we rushed to the line. At 8:30 the gun went off and we started Bella's 11th half-marathon. The first three miles were fast, at 7:28, 7:20, and 7:26. Since it had not rained, there was no standing water on the course for Bella. We had to stop at every water stop to make sure she was getting enough water. The weather, however, was very cool at 30 degrees, so this made it pleasant otherwise. At the half way point we have been on the road for fifty-two minutes six seconds and we had only encountered two cars.
We stopped at this point to get some water. Water stops at this race had small cups with small amounts of water or bottled water. Since the bottles had much more water we chose them, but this made it harder for Bella to get a drink. For her to get enough, I had to slowly pour the water directly into her mouth. This took lots of time and as we were stopped a female runner passed us by to take the overall women's lead. It was okay. Keeping Bella hydrated is most important and having someone in front of us gave us a goal for the second half. Miles 7, 8, and 9 went by in 7:56, 7:44, and 8:22.
We started to pick up the pace, but we made a turn for the finish that placed us in a strong headwind. Now, with the wind in our face, we had a hard time picking up the pace for a hard last three miles. Mile 10 was 8:01, mile 11 was 8:46, and mile 12 was 8:29. I realized our pace was not what I had wanted but now that we were in our last mile I thought we would dig deep to finish. I told Bella, "Run Bella Run! We got this; we can do it." We were both worn down from the wind pushing against us, but we struggled through for an 8:15 last mile. Our final time at the finish time was 1:43.19. Even though it was difficult towards the finish this was still Bella's second-best time for a half-marathon. We didn't catch the woman that had passed us, so we finished second place in the category of Overall Female. All in all, it was another successful race day with my faithful companion, Bella." - Elizabeth Morgan.
Run/Walk for Children: Half-Marathon
Bowling Green, KY
3.24.18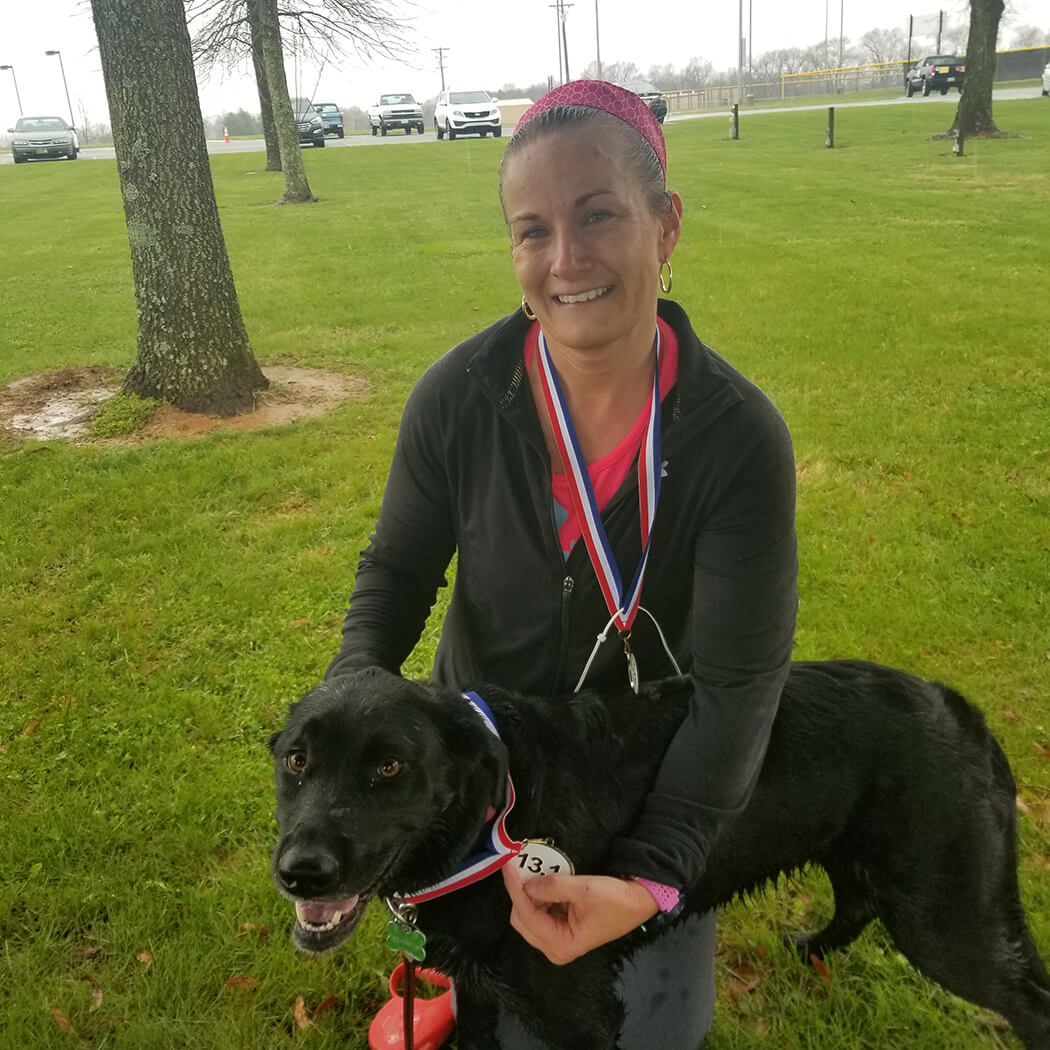 "This weekend was a half-marathon in Bowling Green, KY. Bella and I had run this race last year and we had not done very well. Of all the half marathons we had done, this was the only one we had finished over 2 hours. When the race was about to start, Ms. Kentucky, the race ambassador, talked about The Family Enrichment Center. This was the charity that the race was benefiting. After she got done, the gun was fired, and the race began.
The first two miles were on a gravel path inside the park. Bella seemed to like the crushed gravel and there were also plenty of grassy areas for her as well. This is important so that her paws don't get irritated. Bella was lapping up water from puddles as we ran along so when the first water stop came up at mile one-and-a-half we just ran right on by. After exiting the park, we had completed the two miles at a pace of 7:50. Our pace was quick and steady, and we soon passed a few male runners. Miles 3, 4, and 5 went by in 7:50, 7:49, and 8:01. Mile 6 was at 7:58, mile 7 at 7:45, mile 8 came in at 7:46, mile nine arrived at a pace of 7:44, and the tenth mile clocked in at 8:05.
We had completed ten miles and all but two were below eight minutes. Even the two that were above were only above by a few seconds. We were having a great race. However, at mile eleven we encountered some hills and a little fatigue caught up with us. Her instincts turned out to be true as we located the finish without any diversions and won overall female by a lead of 13 seconds. This had been Bella's tenth half marathon and she came out with a personal record of 1:43.01. She beat her previous PR by forty seconds. Great job Bella!!!" - Elizabeth Morgan.
Tell City Half-Marathon
Tell City, IN
3.10.18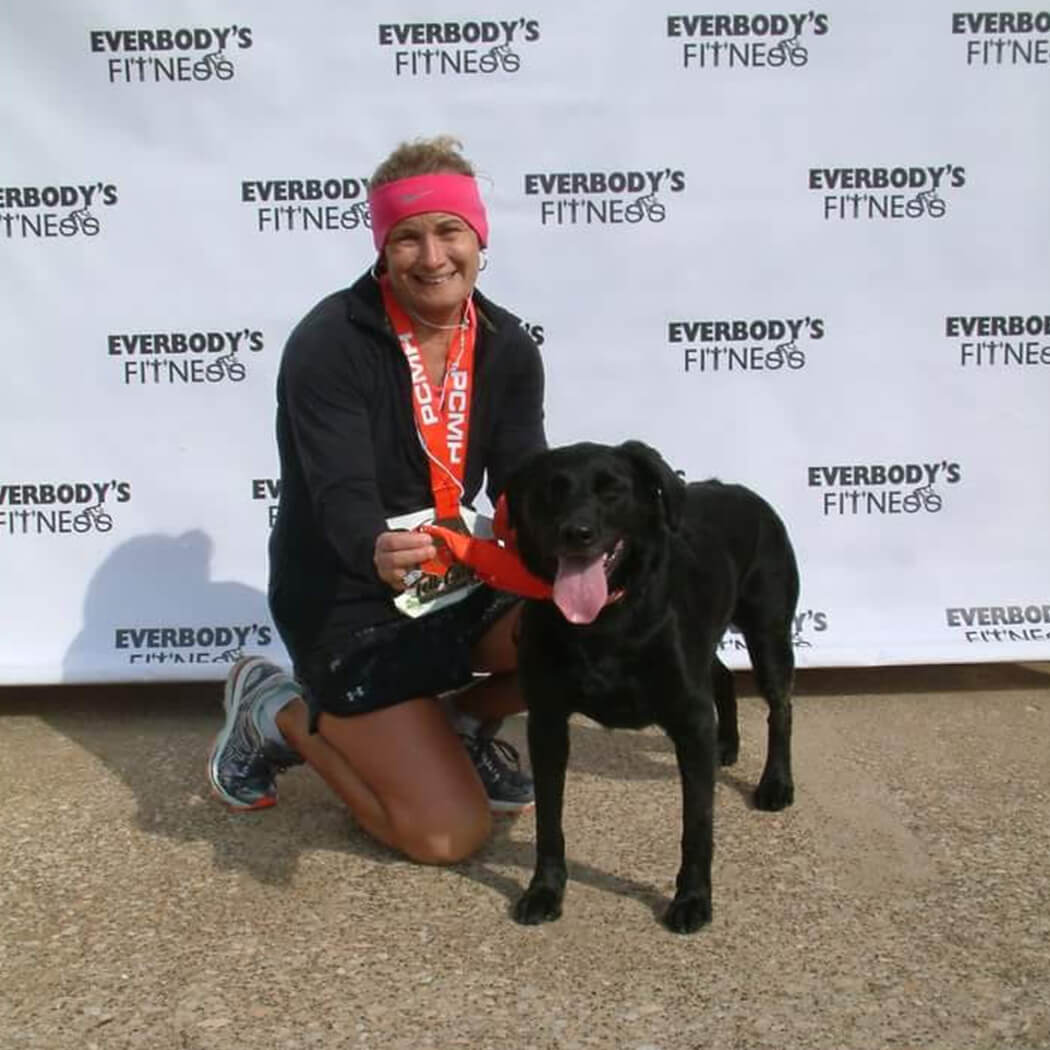 "This was the first annual running of the Tell City Half Marathon and 5K. As such, I didn't know what to expect. I had run one other shorter race in Perry County and I knew that area was very hilly. The journey away from town was accompanied by an elevation climb of 200 feet over grades of 2-8%. This mostly occurred on what was described as the "infamous Mozart Hill". The media attention and marketing of the Run Bella Run campaign has made Bella recognizable at local races so it seemed like everyone knew Bella. A runner we had never met approached us and told us she had set out water and made a sign in front of her house for us. It warmed my heart to have the running community supporting us. She was anticipating the start of the race. As we started I was a little unsure of how the race would unfold. I knew there were going to be some challenging hills and Bella and I struggled going up hills at times. We ran the first mile in 7:27 and it was mostly flat. Mile two came around in a time of 7:34. At this point in the course, we were running with some new friends we had met. They were asking me what it was like running with Bella, if she kept a steady pace, and about the Run Bella Run campaign. When we are on courses that are well marked she know how to read the markings. In this race there were cones at every turn so as we would run by Bella knew to run by the cones to turn. I didn't have to tug or tell her anything. She just knew. By mile 4 we had started the hill and it wasn't over until mile 5. Our times reflected the challenge we faced as mile 4 was at 8:25 and mile 5 had slowed to a 9:07. The hill was tough, but Bella and I had each other for support. I would say, "Bella, get me up the hill" and she looked back at me as if she needed encouragement. Mile 6 was a lot faster at 8:11. The hill was behind us, so our pace was faster and steadier. Mile 7 at 8:23, mile 8 at 8:25, mile 9 at 9:05. It was around this time I noticed I had lost the racing fuel from my pocket. Mile 10 was at 8:41 pace, mile 11 at 8:31, mile 12 at 8:46. The last mile or two are always tough and with no energy boost from my racing fuel I was struggling. I think Bella was anticipating the finish line and was getting tired as well. She looked back at me as if to say, "Come on, mom, we can do this!" We pushed through together with a finishing time of 1:50.18. This was good enough for 4th place in the category of "overall female"." - Elizabeth Morgan
9th Annual St. Mary's Mardi Gras 5K & Kids Fun Run
Evansville, IN
2.24.18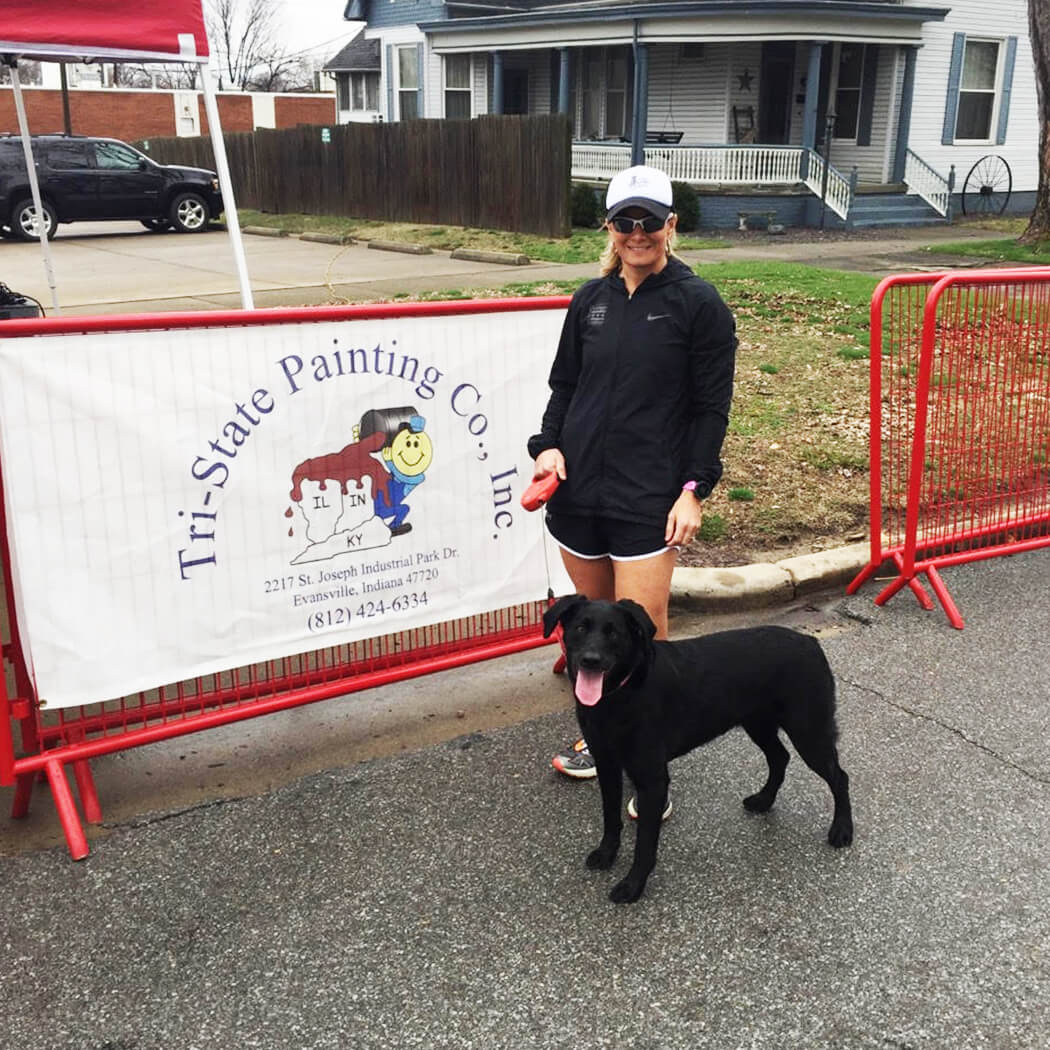 "This weekend's race 5k was the St. Mary's Mardi Gras in Mt. Carmel, Il. Bella had missed a 2 miler in the morning because dogs were not allowed to run. This race was to benefit a kid's charity to like other races there were a lot of kids present. Bella loves kids and kids are always excited to see her. The gun went off and everyone took off at a good clip. Since there were so many kids at the front Bella and I started passing them up. As we went by them I heard them yelling, "Look at that dog"!" and "Wow, that dog is fast!". Once we passed by all the kids we settled into steady pace. This race was divided into a 10K and a 5K. The two courses started off together and then split from one another after the first mile. At the first mile, our time was 6:55 so it wasn't long after this we split away from the runners competing in the 10K. As we followed the markings we hit mile 2 at a 7:32 pace. Bella and I both felt pretty good, so we kept going at a strong pace. Bella was getting plenty of water from the puddles and this was only a 5K so there was no need to slow down for the water stop.
We were approaching the end of the third mile and it looked as if we were going to win this thing. I was gaining confidence we would get 1st place at the pace we were on. However, suddenly, Bella decided she needed to go to the restroom. As she slowed down and stopped I knew we were losing time. It wasn't long before another female runner passed us by. After Bella got done, I encouraged her to get moving so we could go catch back up. It wasn't too long before we had caught up to the other runner but at the very end of the race there was a big hill; hills are not our greatest strength. As we ran up the hill the other runner started to pull away. Although we didn't come in first we were happy to cross the line in 23:09 and 2nd place." - Elizabeth Morgan
Frostbite Half Marathon
St. Louis, MO
1.27.18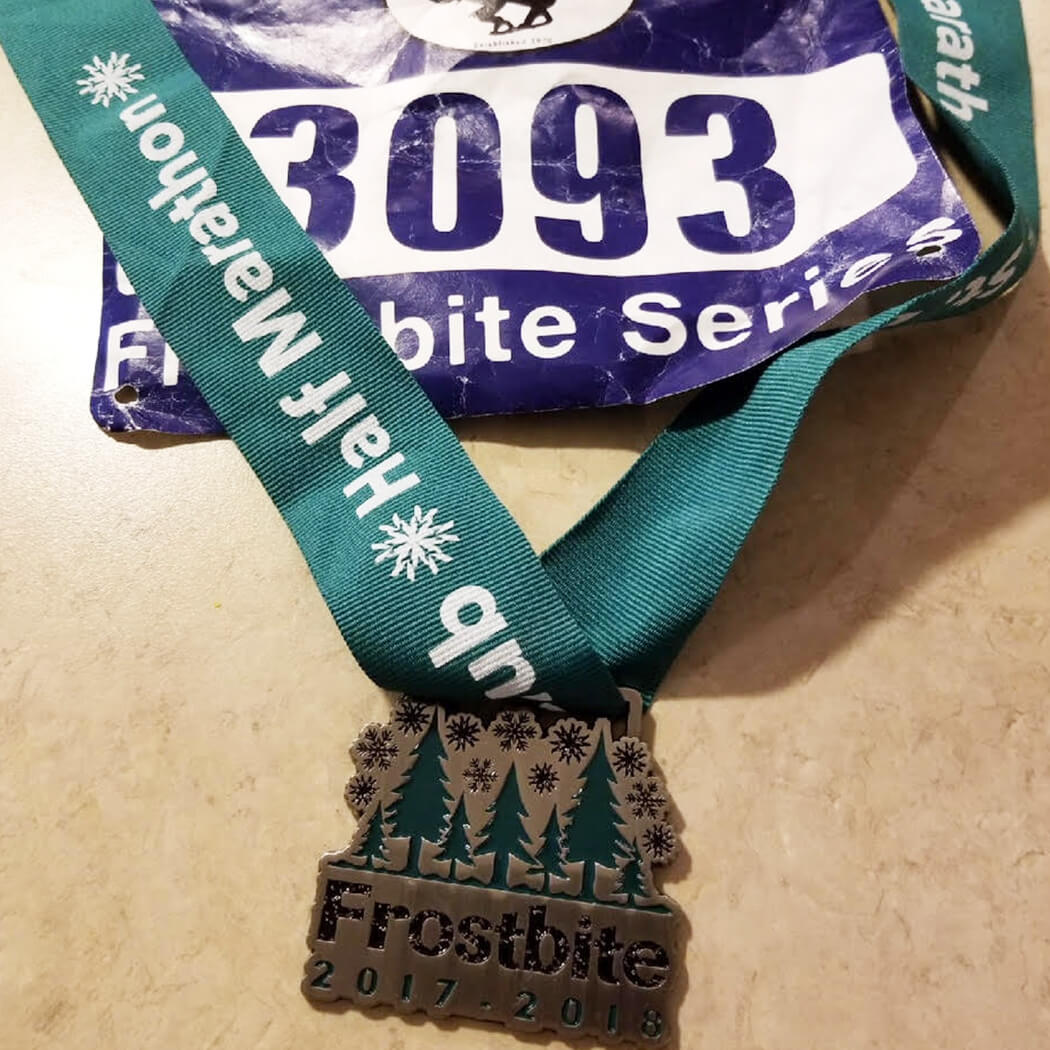 "On Saturday January 27th, Bella and I drove 2 ½ hours to the Frostbite Half-Marathon in St. Louis, MO. It was an early morning but Bella, as always, was happy and bouncing around when she saw me putting my race gear on. Lately, Bella and I have been running 5k races and I have not been able to figure out a way to tell Bella if a race is shorter, like a 5k, or longer, like a half-marathon. So, as usual, she took off on a frenetic pace. At the same time, the start was crowded. It took at least the first mile for the crowd to thin out and Bella to calm down enough for us to get into a comfortable pace. The major challenge of this course were the hills. As can be seen by our first three splits, the hills started around mile 2.5: mile 1: 7:46; mile 2: 7:57; mile 3: 8:37. Hills are a challenge for everyone; Bella is no exception. When things are tough, and Bella starts to look back at me occasionally I know we are both getting tired. As we continued the mile splits kept coming back: mile 4: 8:45, mile 5: 9:04, mile 6: 8:35. Somewhere in mile 6 the hills were over, giving us a little break. Even after meeting only briefly before the race, I was encouraged and warmed by all the support. "Go Bella"! "Good Job, Bella"! Bella usually doesn't respond but I know she hears them. I bet this is part of the reason she thinks races are so great. Miles seven, eight, and nine come and go as we have settled into a comfortable space: 8:55, 8:59, and 9:18. I stop at each water station to make sure Bella gets enough water. Miles 9 through 12 come in: 9:22; 10:27; 9:16, 9:20. By this point we are both very worn down. The weather being so warm is taking its toll. All our daily runs have been in temperatures below freezing. At 50 degrees, we are both feeling hot and fatigued. We started the final mile and Bella began looking back at me more often. This means she is wondering if we are about done. I let her know we are almost there and start to yell "Let's go Bella!" After pushing through our collective discomfort to finish, we cross the line at 1:57.06. I would like to dedicate all hill miles (miles 3,4,9, and 10) for the Hills for Holt campaign. This is a campaign started by the running community to honor the life of Bailey Holt, who was tragically killed in the senseless school shooting in Marshall County, KY. My thoughts and prayers go out to all those effected, and may we bring awareness in combating and preventing senseless acts of violence such as this in the future." - Elizabeth Morgan
For more information on Bella and her running Partner, Elizabeth Morgan click here. Additionally, for every item purchased in our Running With Your Dog category using the code RUNBELLARUN, 20% will also support Run Bella Run.