Runners work hard and long to achieve their goals and a special gift is the ideal way to acknowledge their dedication to their passion. No matter the occasion – birthday, holiday or anniversary – or the achievement – completing a first marathon or setting a new PR – there is a unique gift to commemorate it. Even if your favorite runner already has everything a runner could want, there is always something new and different to give. Below is a list of the most popular gifts for runners right now.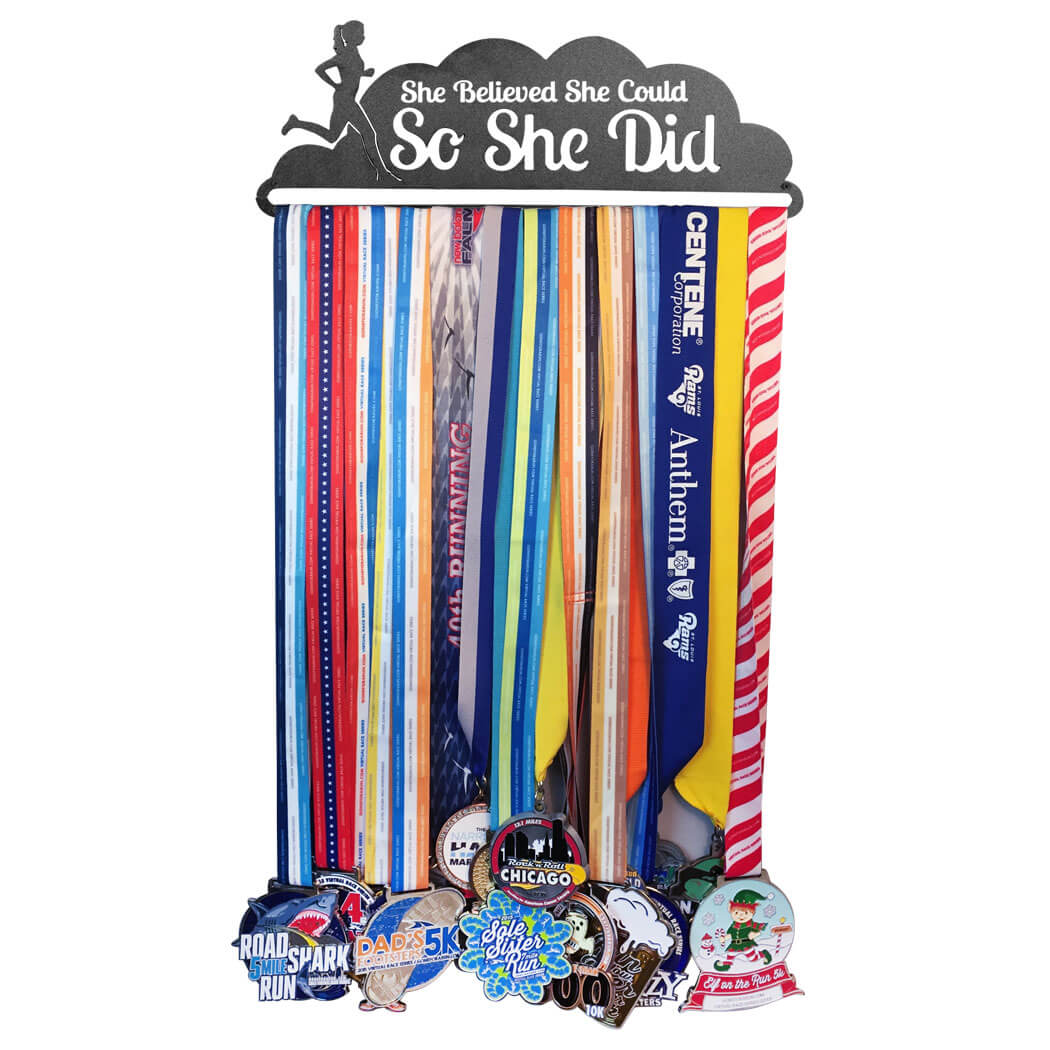 Medals are the tangible reward for completing a race and deserve to be displayed on a medal hanger, to serve as both a reminder of an achievement and a motivator to pursue the next goal! There are a variety of types of medal hangers and displays, from the minimalist all-steel MedalART Hangers to decorative RunnersWALL Displays that offer personalization options, and holders designed for both race medals and bibs, such as our Hooked On Medals and BibFOLIO Plus Displays. Any one of these holders are a great-looking and practical way to display race medals.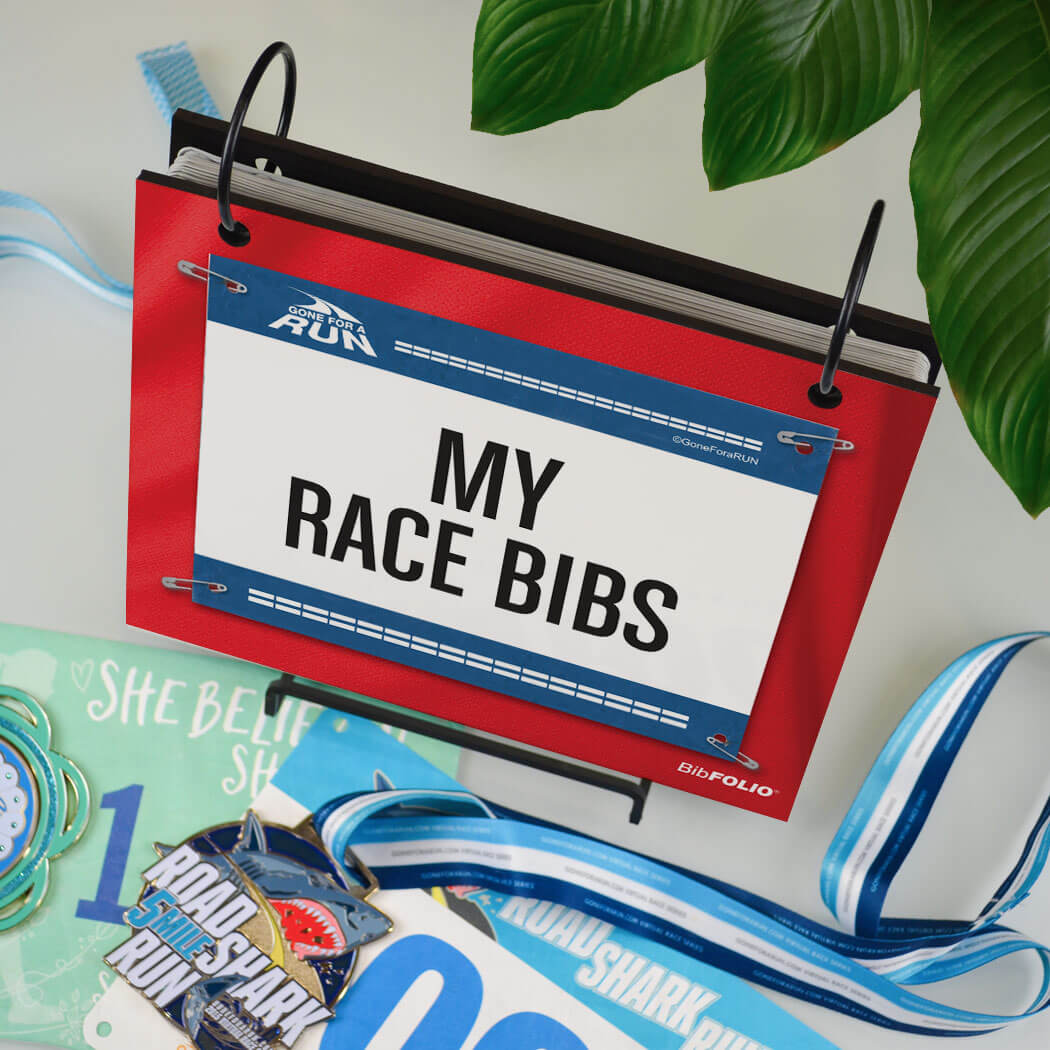 Race bibs demand pride of place in a runner's home, too, and the BibFOLIO® Race Bib Album is the ideal way to store and preserve all those precious bibs. This is the original running bib album and is available with a range of cover designs and customization options to express any runner's personality. This binder-style album looks great sitting on a table or shelf, making it easy to flip through anytime to relive all those race memories.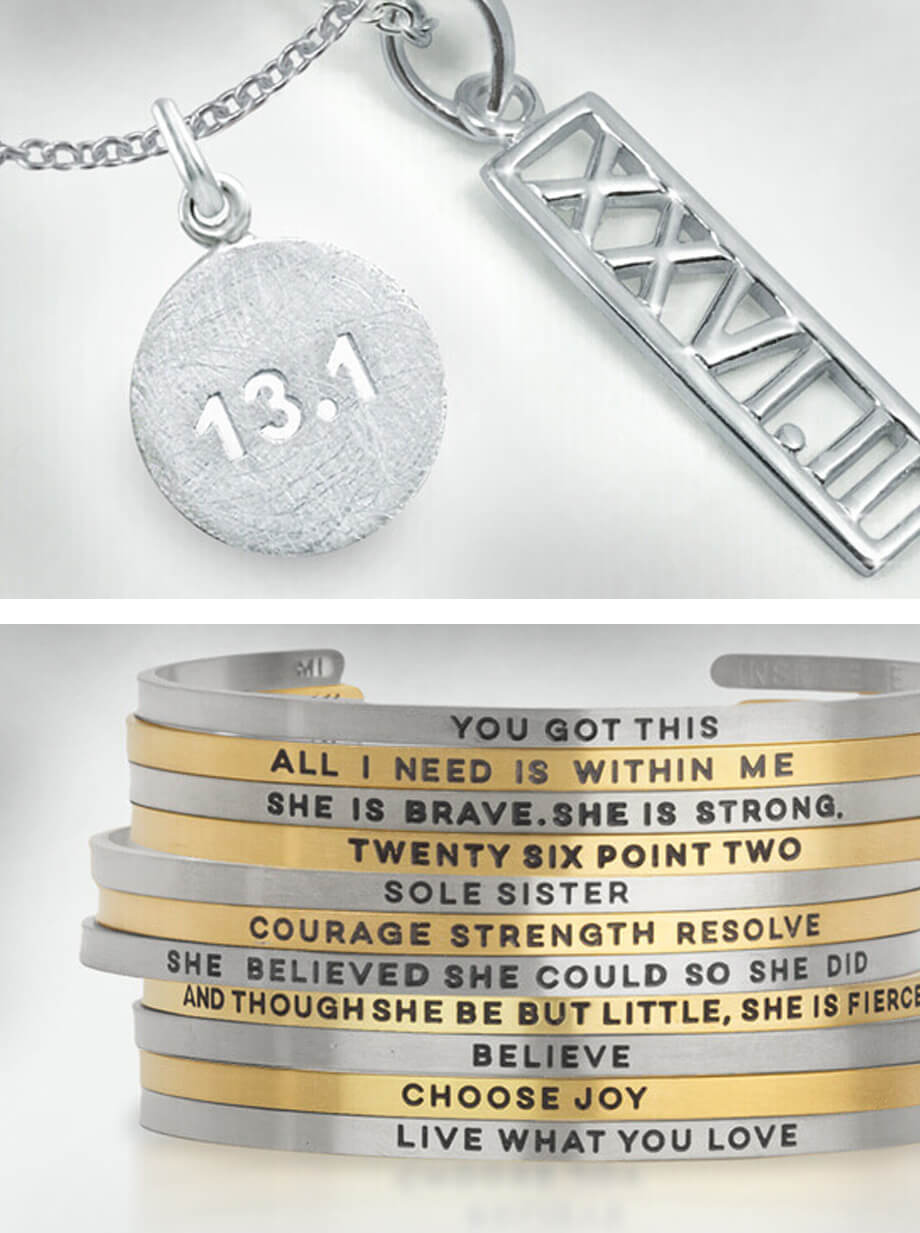 Whether a necklace, bracelet or earrings, a piece of shiny jewelry is a great way for a runner to show love of the sport every day. From a motivational InspireME Cuff Bracelet with a favorite mantra or a charm on a silver chain to celebrate a particular race distance or location, this is a perfect gift to reward your favorite runner or running partner with at the finish line. And much more practical than wearing that medal!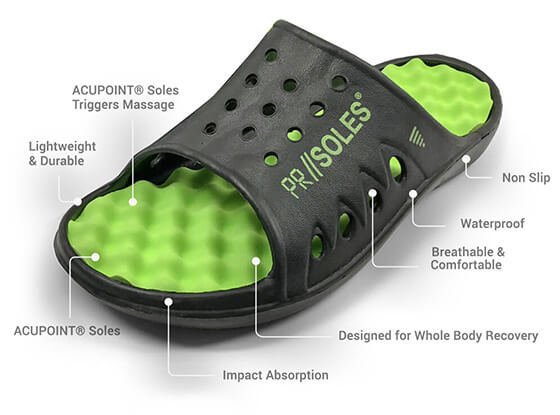 The running recovery sandal has become a necessity for any runner who wants to recover faster and improve performance. Available in both slide and flip-flop styles, the PR SOLES® Recovery Sandal features an ACUPOINT® sole that mimics the pressure points of a reflexology treatment, to both massage sore and aching feet and deliver healing benefits throughout the body. Just by walking, these sandals help the body recover faster, and may alleviate common foot problems for runners – or anyone who stands for long periods - such as plantar fasciitis, neuroma, or tendonitis.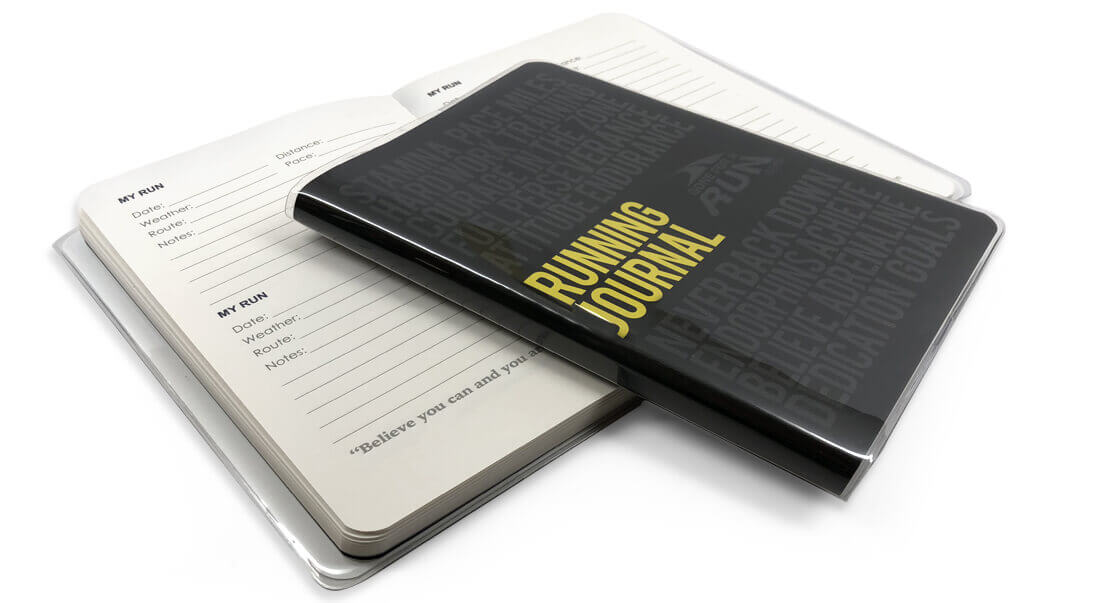 For runners who like to keep a record of their training, a running journal makes a perfect gift. The Gone For A Run Running Journals include pages for goals, PR's, weekly and monthly mileage summaries and a race log along with inspirational quotes, all in a convenient size to take to the next destination race. Choose a cover design you know will motivate your favorite runner and consider personalizing it to make it one-of-a-kind.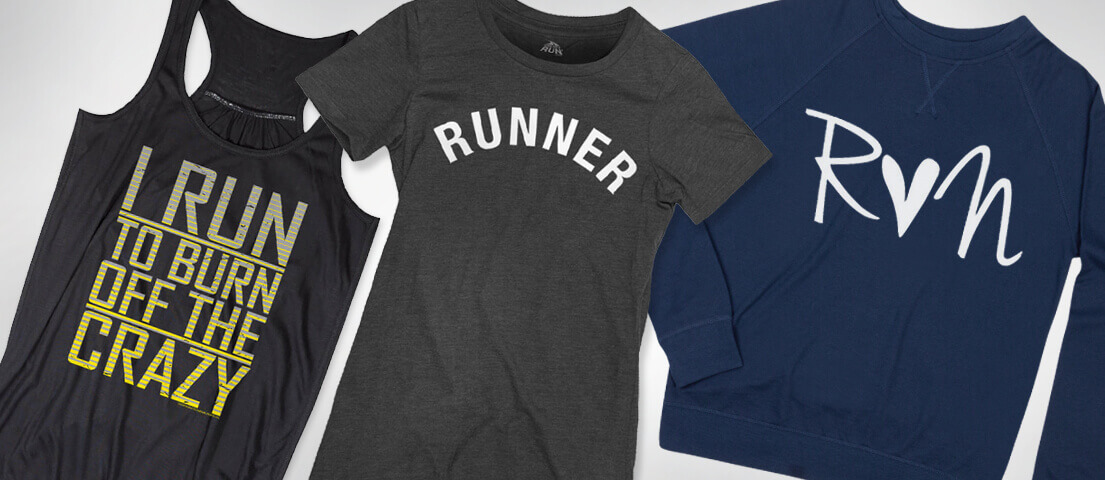 Running is more than a workout, it's a way of life. Rather than giving another ordinary tech tee to wear while running, choose a stylish sweatshirt or tee with a unique design that can be worn when lounging at home or out and about. The lightweight Raglan Crew Sweatshirt has a relaxed cut that is ideal year-round to keep warm on a chilly evening at the beach or a cozy evening by the fireplace. Or, choose a fitted Everyday Runners Tee that looks great paired with jeans or shorts and is available with dozens of unique designs. And check out the #runlife Collection for a tee with a fun and sassy saying every runner will appreciate.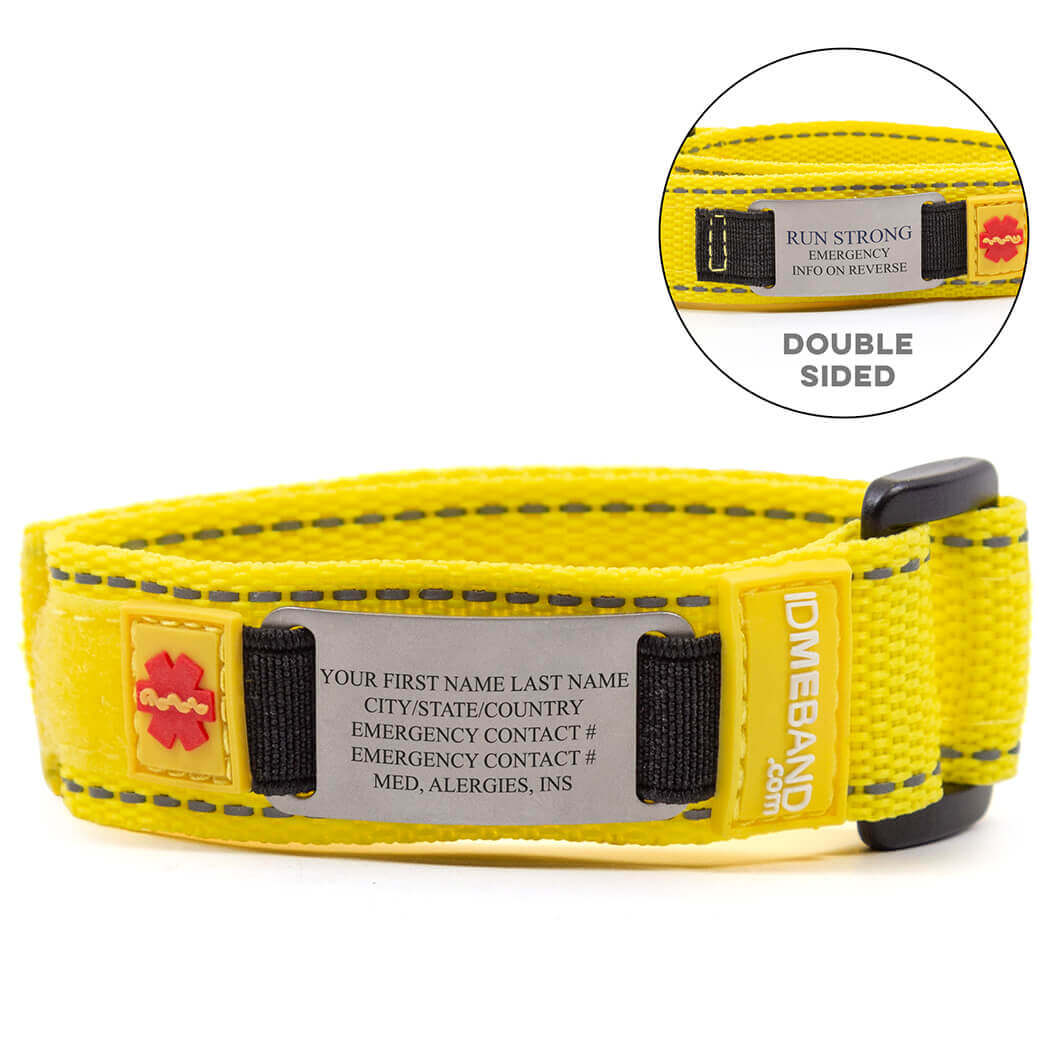 The most important piece of equipment for any road-running warrior is not the perfect shoe, but the potentially life-saving ID bracelet. Essential for anyone with a medical condition, it is smart-thinking for every runner, just in case. The plates on these bracelets can be engraved with a name, emergency contact information, blood type, medications and any other information that will aid responders in an emergency situation. They are also ideal for swimmers, cyclists, sailors or any other athlete.
Add some inspiration to home or office with a unique piece of Metal Wall Art or a Room Sign. These lightweight panels can inspire, motivate, or just add a decorative touch to any runner's wall. Featuring artwork, a favorite saying, the route of a recently completed marathon, or a photo crossing the finish line, these unique items make a big impact that complement any decor and are sure to be appreciated.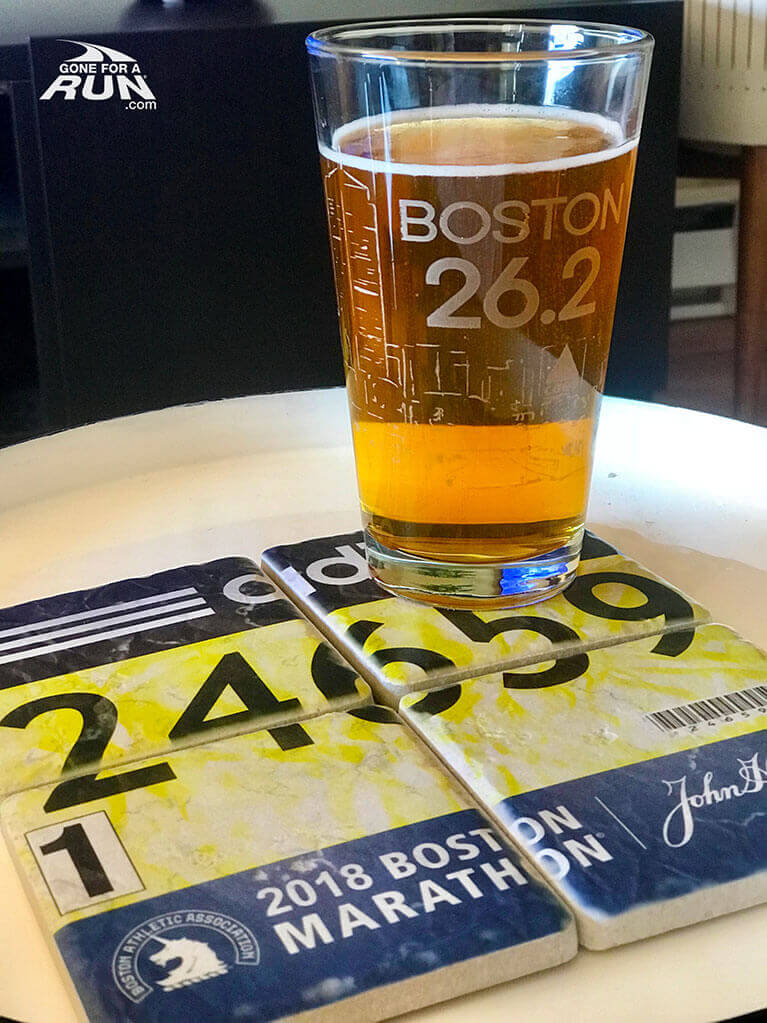 For a one-of-a-kind gift that is also useful, a custom BibCOASTER is perfect. Featuring an image of the runner's actual race bib on a natural stone or glossy tile coaster, it will work well in any décor. This is a great way to acknowledge and preserve the memory of a major race or a favorite running bib.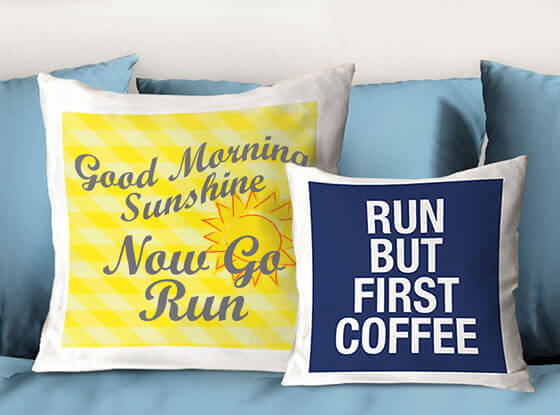 For a runner who likes relaxing at home or lounging by the pool and on the beach in between runs, consider a Decorative Pillow, a Sherpa Fleece Blanket, or a Beach Towel. Both the soft pillow and the cozy blanket are stylish room accessories for any runner's home – they look as good as they feel. When a day by the water is calling, the super-soft, quick-drying microfiber beach towel is a must. The vibrant colors and unique designs are ideal for runners and triathletes.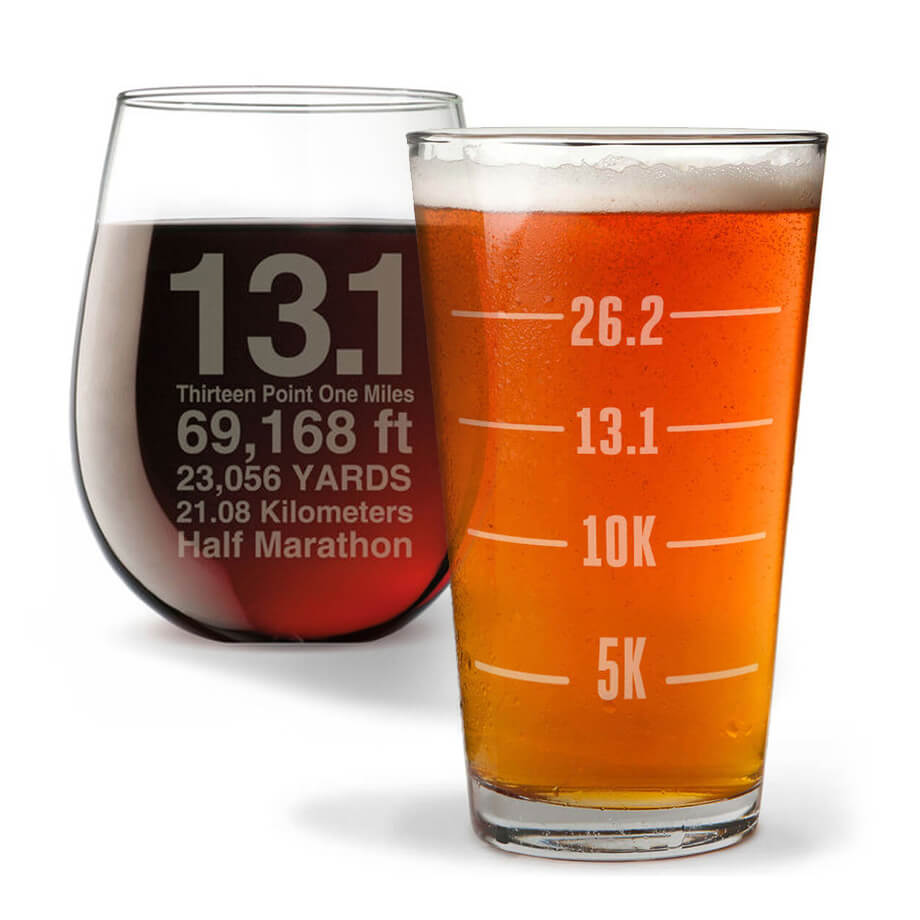 What better way to celebrate crossing the finish line than with an ice cold beer or a special wine, especially when served in our Beer Pint Glasses or Wine Glasses. Engraved with running designs and sayings, most offer a personalization option on the reverse, ideal for including a race name, date and time for the ultimate post-race reward.
For a really special runner or occasion, a Tabletop Medal Display Lamp is a practical way to show off those hard-earned medals! The ideal solution for any runner who doesn't want to mar the wall with a hanger, this functional lamp can hold 90 race medals. Not only does it light the space, it shows off all the shiny race bling to its best advantage.
Whether for your favorite runner, your best running buddy or even yourself, these gifts are sure to please and inspire anyone living the running life!