5 Unique Ways to Celebrate Your Boston Marathon
The Boston Marathon is one of the most in-demand races in the country. With its strict qualifying times, many runners dream of the day that they will hit the coveted BQ mark. If you're one of those lucky select few who get to run the streets of Boston on Patriots Day, you deserve to celebrate and commemorate the big day in a special way. Because we love to celebrate a 26.2 finish, we've pulled together our Top 5 Ways to Celebrate Your Boston Marathon!
#1 Post Boston 26.2 Drinks!
You've crossed the finish line, and now it's time to celebrate! You should definitely hydrate responsibly first but when the time is right to kick off your post-race party we've got some creative ideas to kick it up a notch.
Presenting our Boston 26.2 "Seeing Unicorns" cocktail!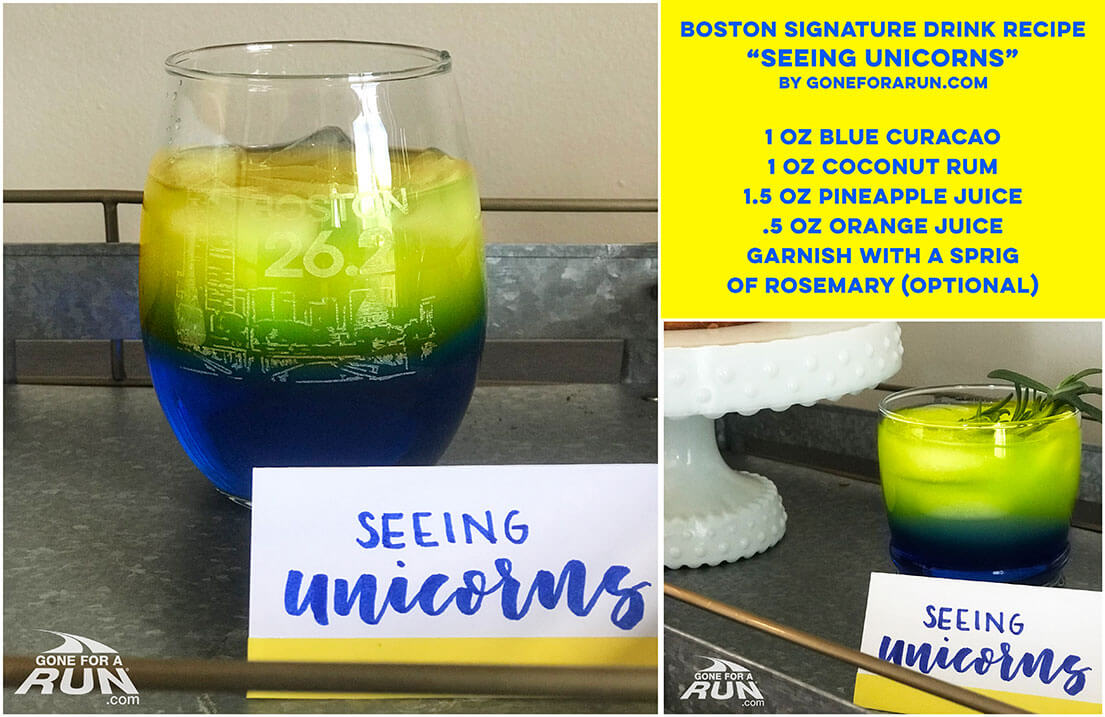 We've mixed up this tasty blue and yellow Boston-themed Signature Cocktail that your guests will love! By the end of the night, you and your guests will definitely be "Seeing Unicorns"!
BOSTON SIGNATURE DRINK RECIPE
"Seeing Unicorns"

1 oz Blue Curacao
1 oz Coconut Rum
1.5 oz Pineapple Juice
.5 oz Orange Juice
Garnish with a sprig of rosemary (optional)
CHEERS TO YOU 26.2! BOSTON 2018 WINE OR CHAMPAGNE BOTTLE LABELS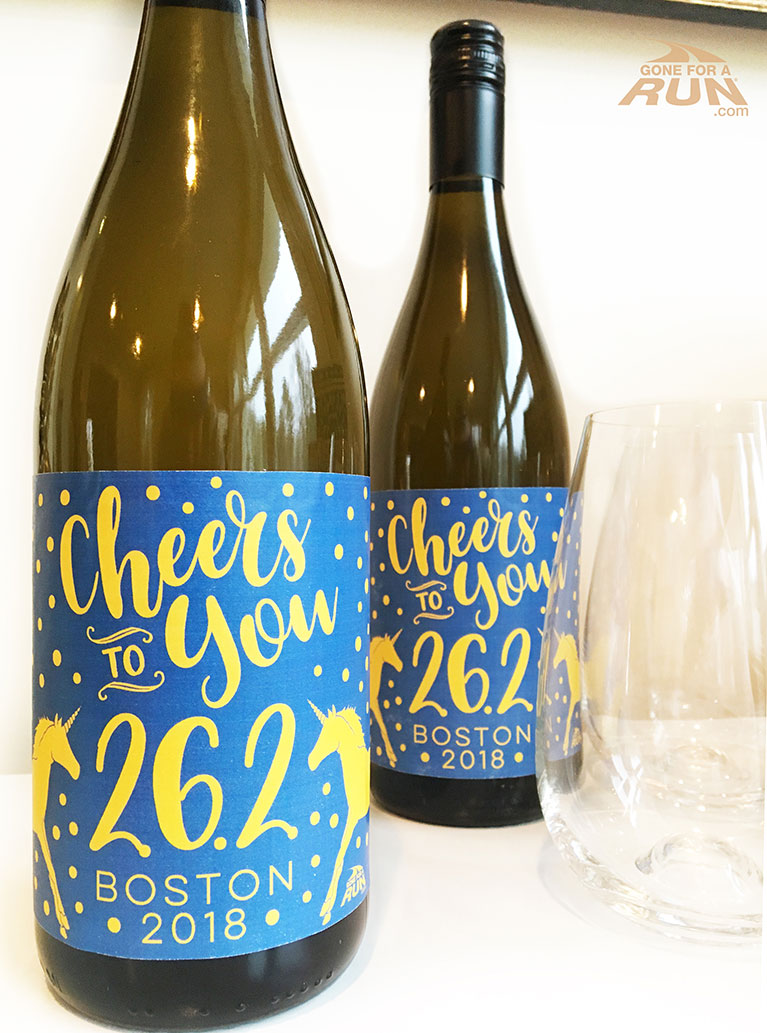 If vino or a glass of bubbly is your post race drink of choice then we've got a great idea for you! Our talented design team has created some amazing wine bottle labels that are super easy to download and print on sticker paper (available at any office supply store!)
To download and email your free Boston 26.2 Wine Bottle Labels
CLICK HERE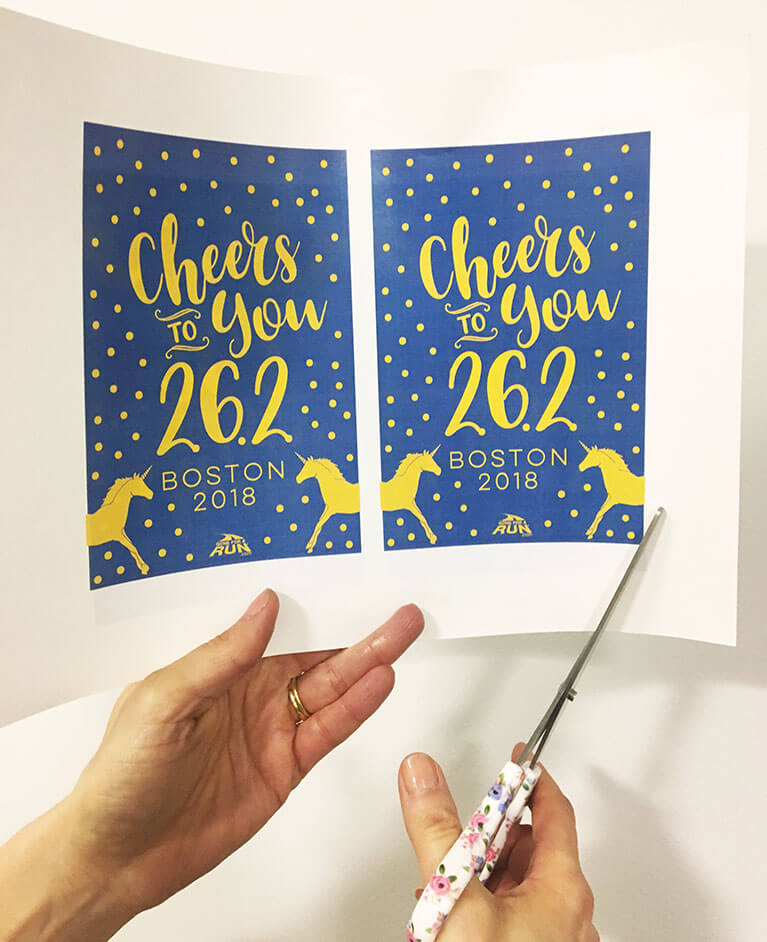 Know a runner who'll be running Boston but can't be there to cheer them on, these labels would be a cute way to send them a congratulatory gift! If wine isn't right for your gift, we have some more creative gift ideas below!
BOSTON 26.2 GLASSWARE
No matter your beverage of choice make sure you raise a glass (or two) that's worthy of a marathoner! We've got some great options for you below and even more at the link below: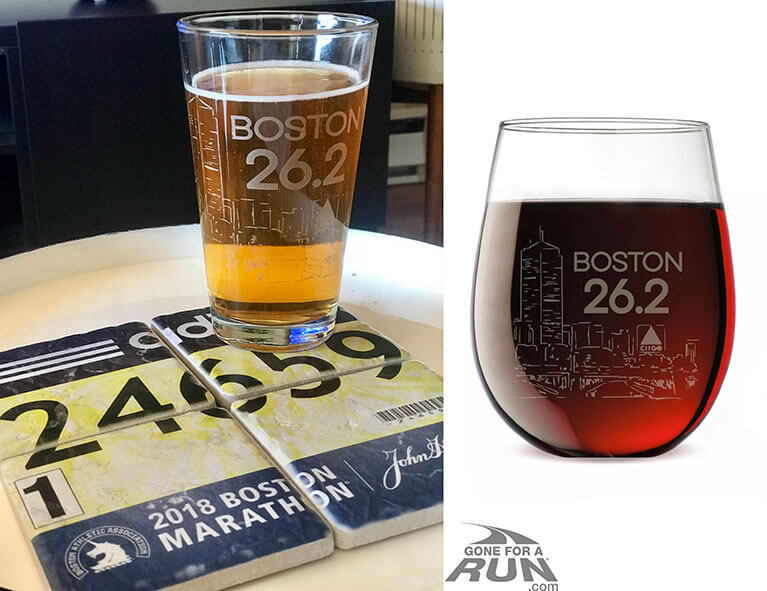 #2 Sweet Treats
After months of training miles and a strict diet, you deserve to indulge a bit and eat those sugary treats you've been dying for! A lemon cake is the perfect way to keep in theme with the blue and yellow Boston Colors, but if you're feeling crafty, take it up a notch with an easy DIY topper made of cardstock paper. We'd say this is definitely an Insta-worthy cake! For those who might be interested in testing out this fun dessert, we've included a recipe below!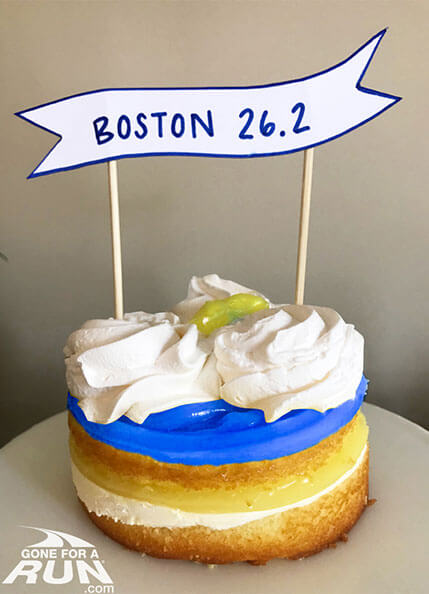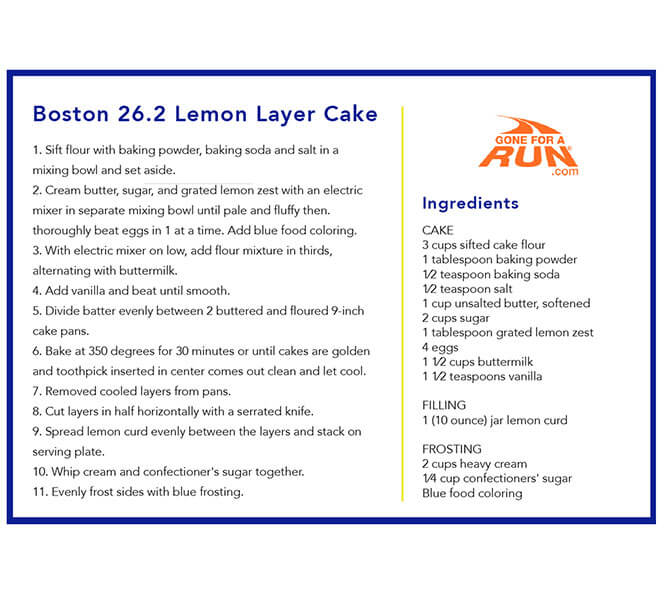 #3 Recover Time - Treat Yourself!
On your run from Hopkinton to Boylston St your two feet have traveled over 138,435 feet - exhausting!! Kick up those tired feet and get some R&R while wearing our PR Recovery Flip-flops. With ACUPOINT soles designed to massage your tired feet and its light and durable weight, these shoes are designed to help your whole body recover after your long runs. If you've tried squishy post-run footwear, now it's time to put on recovery post-run footwear! While you're at it, book a spa day to reward yourself for those hard earned miles!
Still in the mood to treat your feet? Our Boston 26.2 Socrates Ankle Socks are incredibly comfortable. With the words "Run Strong" imprinted on the bottom, they are the perfect way to keep you inspired!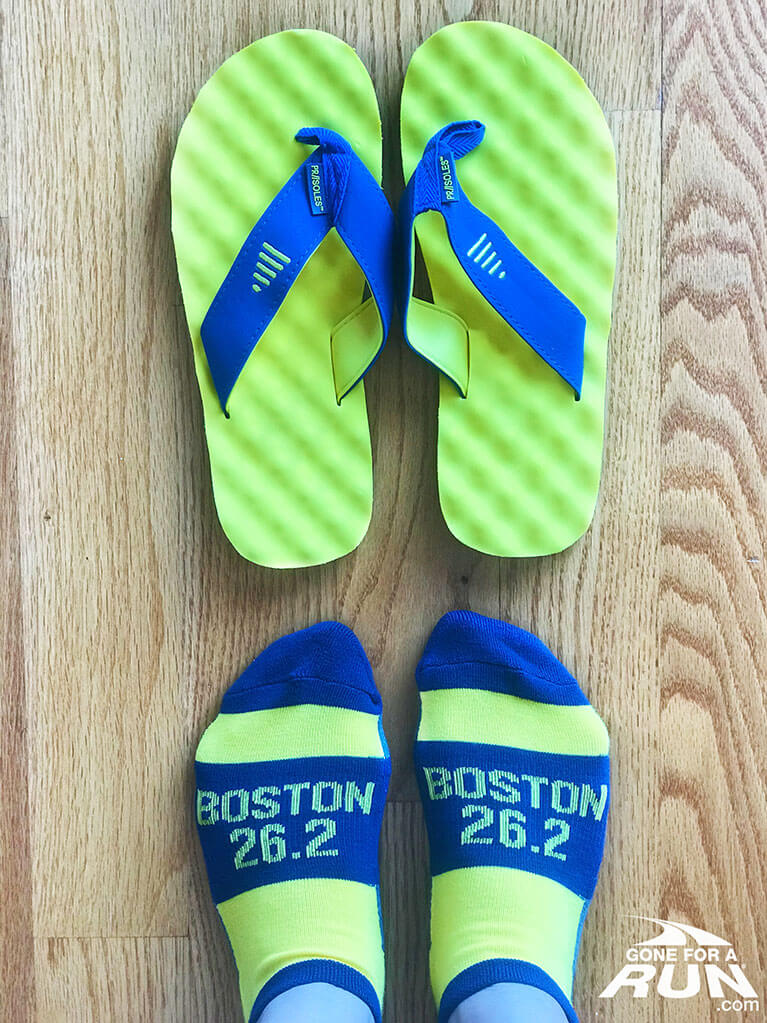 #4 Get Your Swag On
YOU are a Boston Marathon finisher! You've earned the title and the right to rock any gear that celebrates this special race! Here are some of our favorite Boston 26.2 apparel items. These make great gift ideas or the perfect treat for yourself!
Our Wide Neck Sweatshirts are a GoneForaRun favorite perfect for throwing on after a run, or pair with jeans for a cute, casual look. Our Boston-themed crew socks are a great way to show off your Boston pride on your runs, complete with a unicorn design for that perfect Boston iconic moment. You can deck yourself out from head to toe for that post-race party and flaunt your accomplishment in style.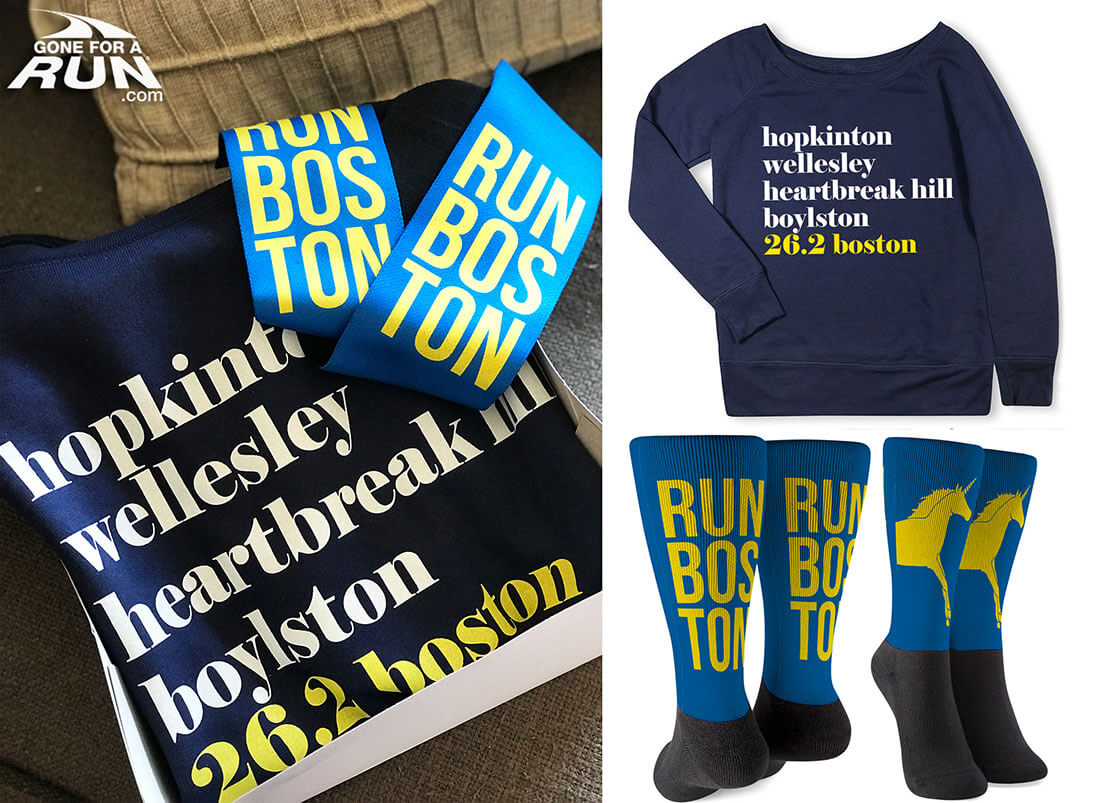 Shop: Wideneck Boston Mantra Sweatshirt, Boston Unicorn Mid-Calf Socks
Another favorite is our Boston Beanie! Perfect for next year's Boston Build-Up winter months!
This item was a super popular this year, here are just a few of the many runners who shared their Boston Beanie pics with us!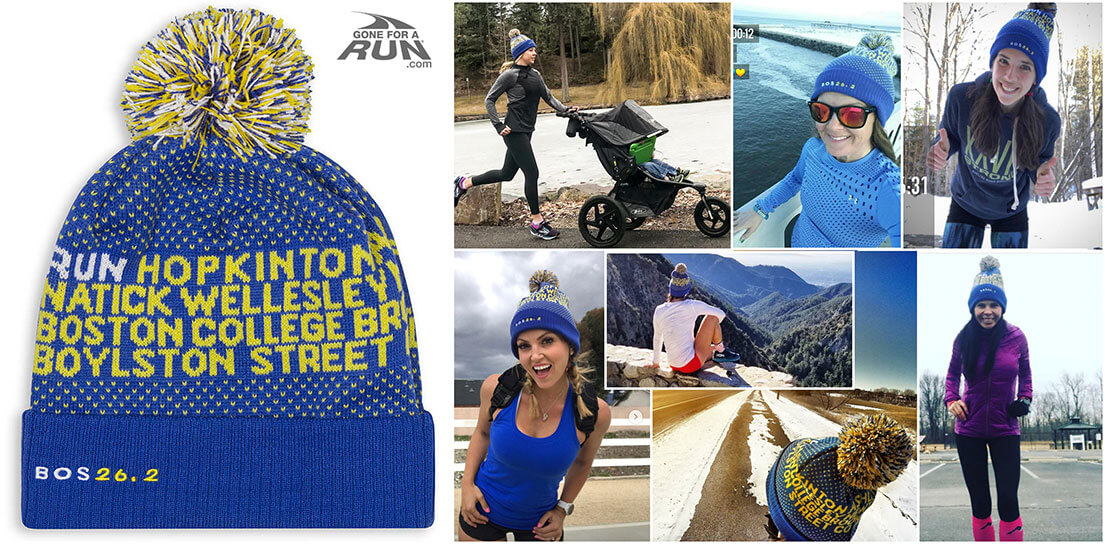 #5 Finisher Gifts
A Boston Marathon finish is a huge accomplishment, and your friends and family will want to celebrate this important time in your life. We've compiled our list of our favorite gift ideas for every Boston Marathon fisher! All of these gift ideas are unique ideas that commemorate the accomplishment in a special way! More than a couple of these items are from our custom race bib gifts line! With these marathon gift ideas you can use just the image of your actual race bib to create a functional and lasting it custom Boston gift! Simply place your order, email us a photo of your bib, and we take care of the rest! Having a little piece of your marathon in your home is a great reminder of your hard work and how far you've come.
Here is our full list of Boston 26.2 Race Marathon Gift Ideas: