Whether it is a first marathon or the twenty-first, completing a marathon is the culmination of hundreds of hours of training and die-hard determination. Such an achievement deserves a special gift of recognition and reward. There are so many options available that it can be difficult to choose. Below are the top 10 gifts that we know will please any marathoner.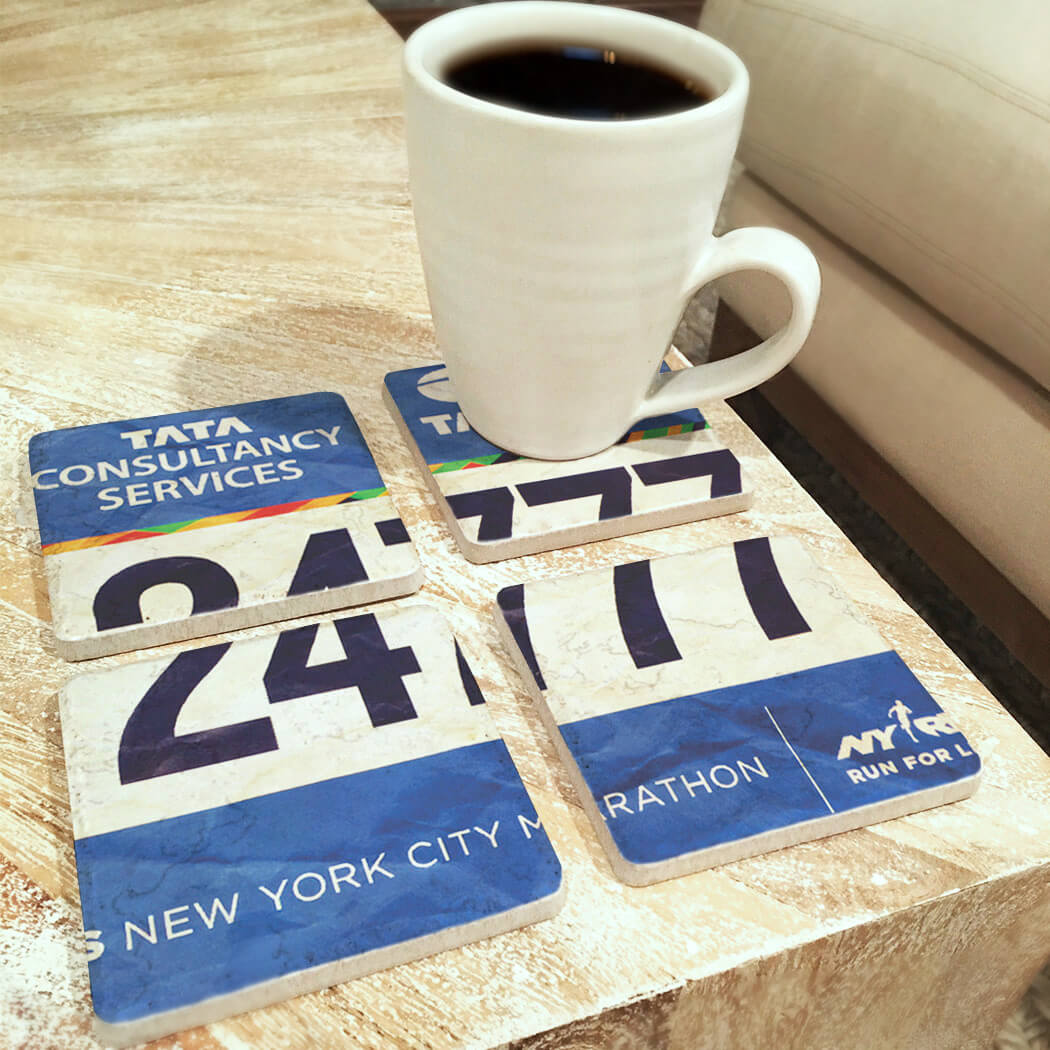 For a really special gift, have the marathoner's race bib reproduced on a set of four stone coasters. The natural stone has a beautiful texture and is backed with cork to protect the surface. Our BibCOASTERS is one of our most popular items and LOVED by runners!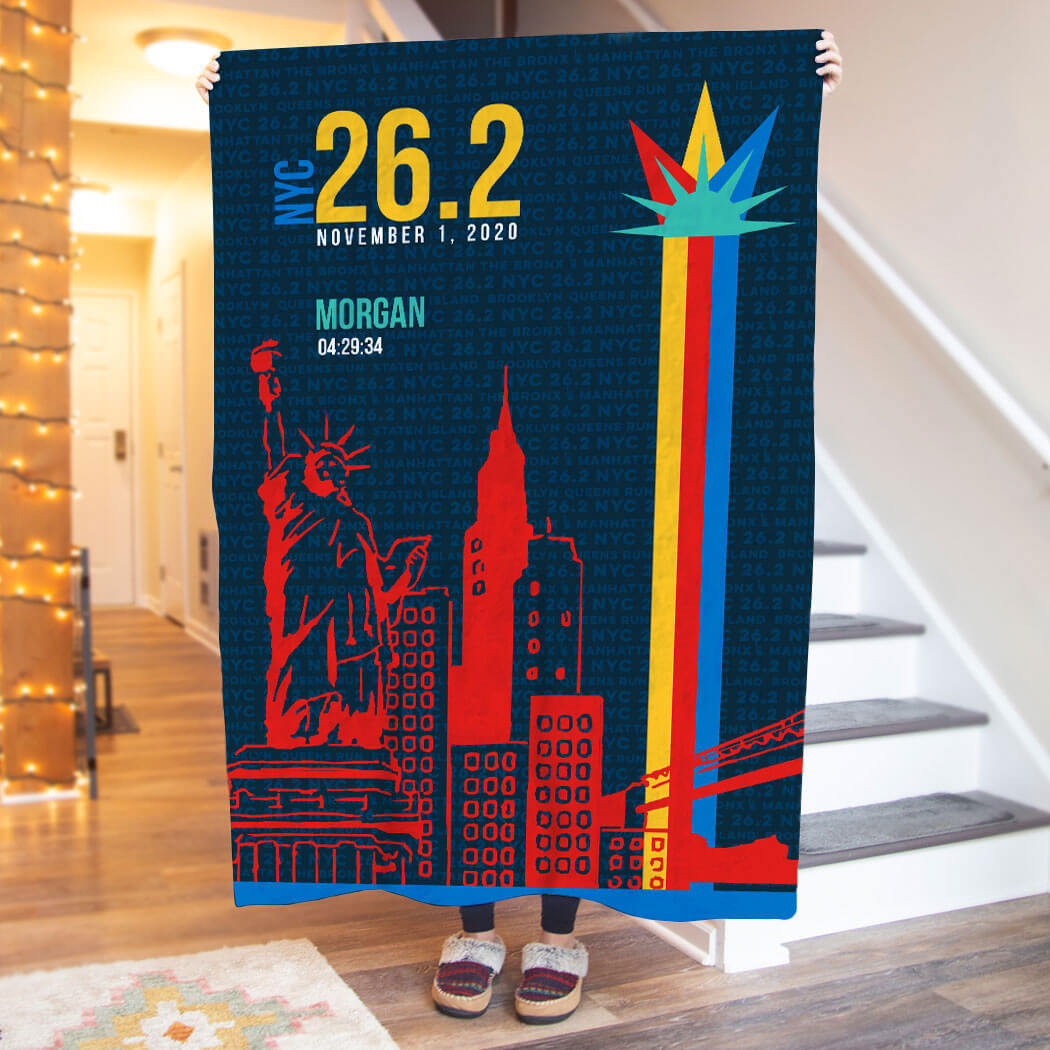 Show off your marathon running pride not only on runs but also while resting with our super-soft plush premium blanket, which makes for a great gift for any occasion. This thick 60" x 40" premium blanket is densely woven, luxuriously soft, and durable. Curl up after a long day and rest with this thick, versatile blanket - It's perfect for those chilly or cozy nights on the couch.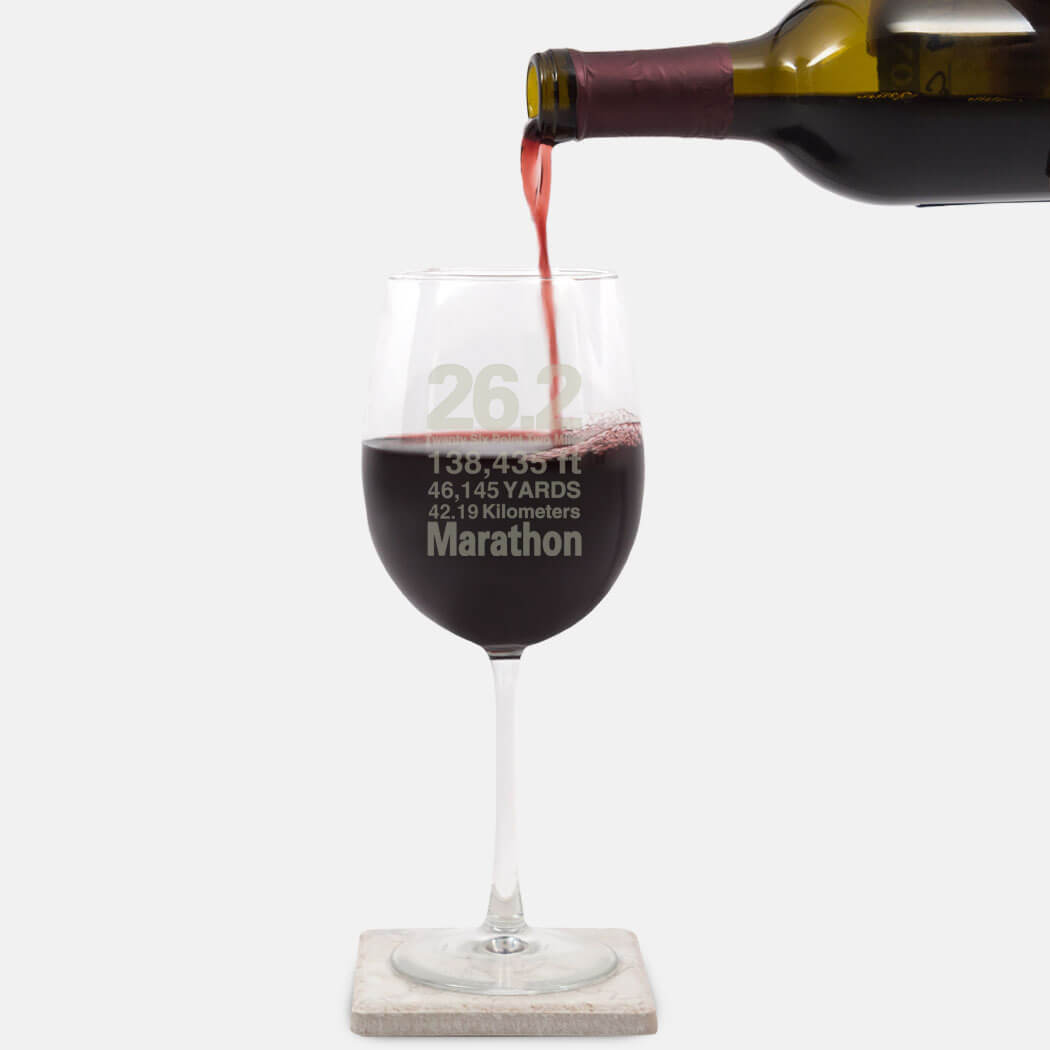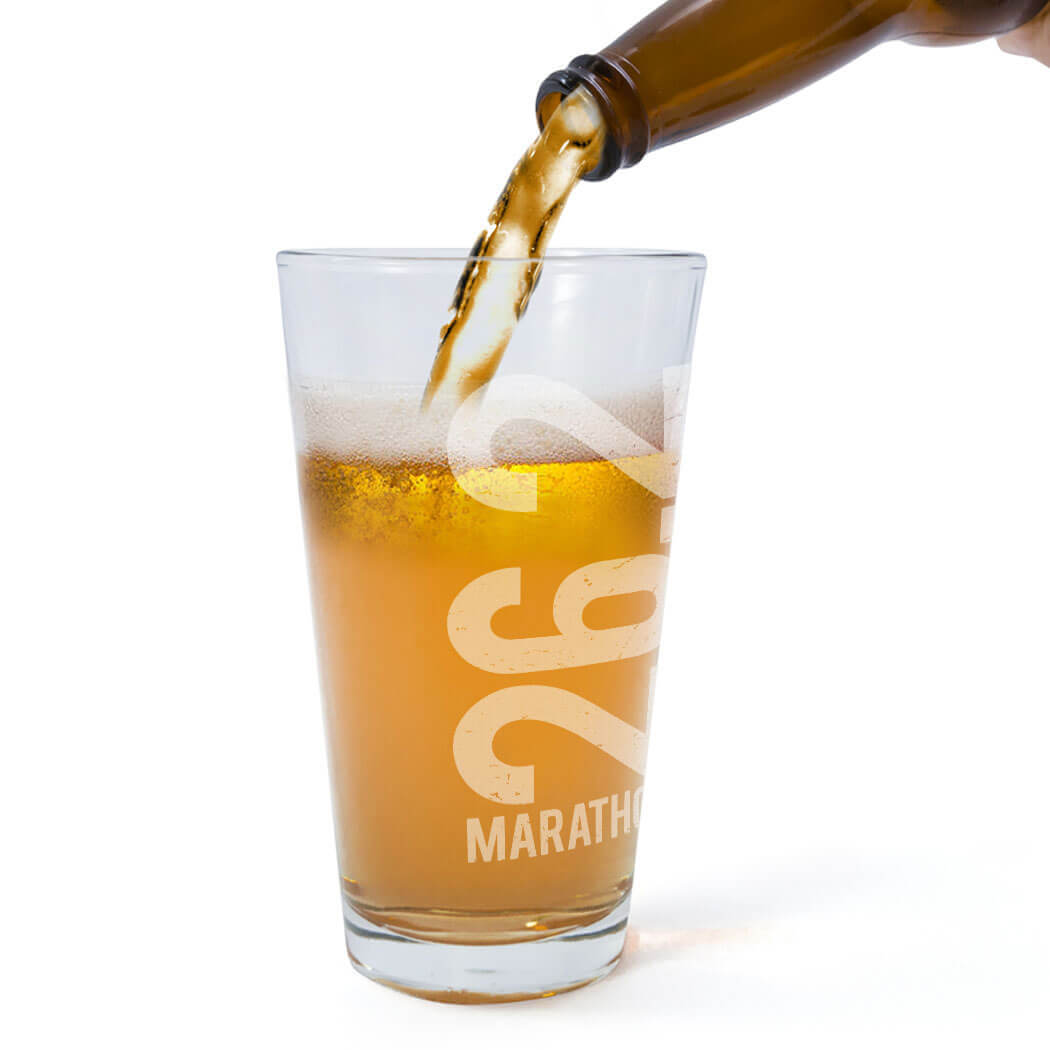 Perfect for the marathoner who also enjoys wine or beer, these glasses are engraved with our 26.2 Marathon Vertical design. Featuring a 15 oz. stemless wine glass, 16 oz beer pint glass and our 19 oz wine glass, they can be engraved on the reverse with up to three lines of text such as the name, race name, time and date. Their curved shape is a pleasure to hold, and it is ideal to toast a runner's impressive achievement.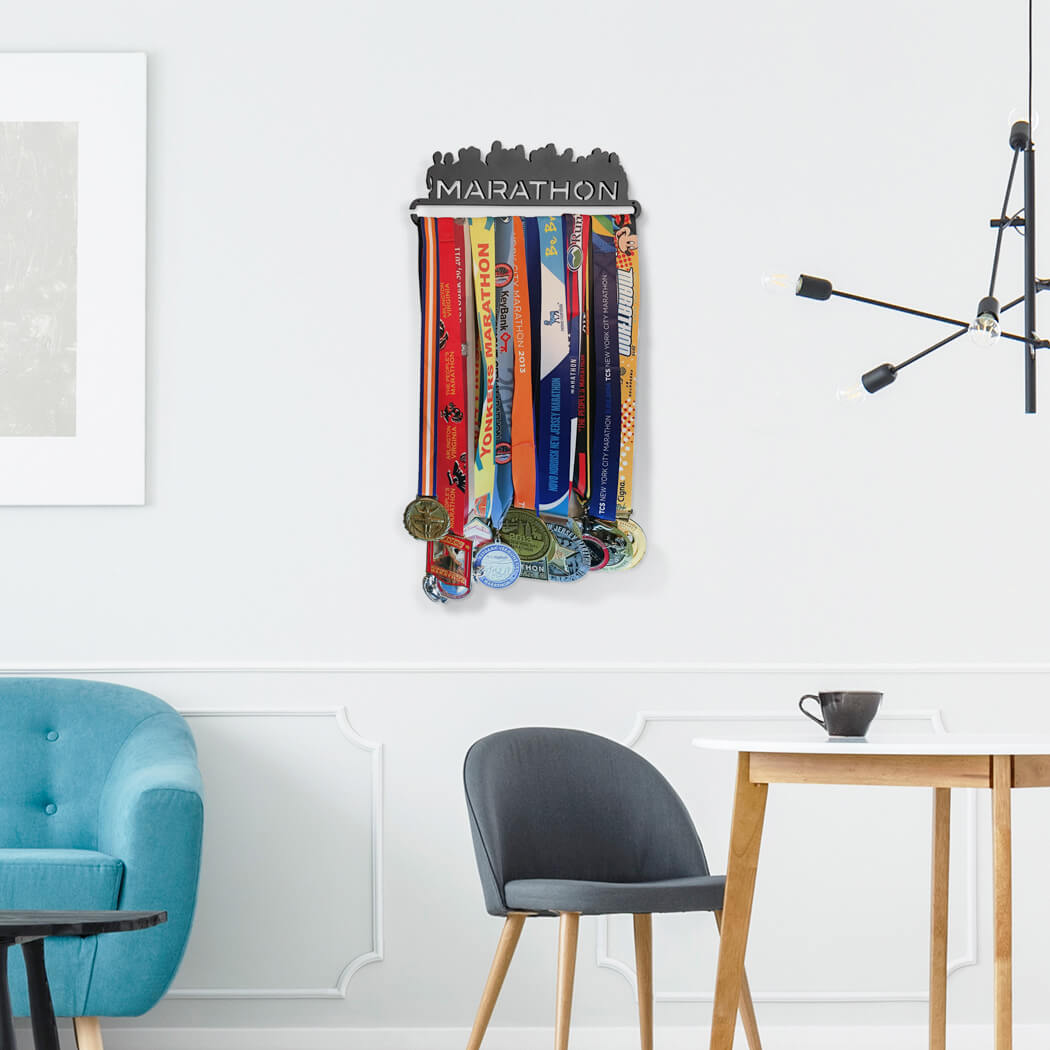 A true marathoner deserves a medal hanger designed exclusively for them. This MedalART Race Medal Hanger boldly proclaims "MARATHON" in laser cut steel. With a powder coat black finish, the is sturdy hanger will showcase approximately 24 medals the way they deserve to be. Easy to install, there is an extension bar available to hold additional medals.
★★★★★ 5 out of 5 stars
A "must-have" for marathoners!
"One word...wow! These medal hangers are a perfect way to showcase your medals. I'm running all 50 states and have 23 medals hanging on two of these hangers I bought. I can add to these with adaptors for my future marathons. This is a real showpiece." – Karl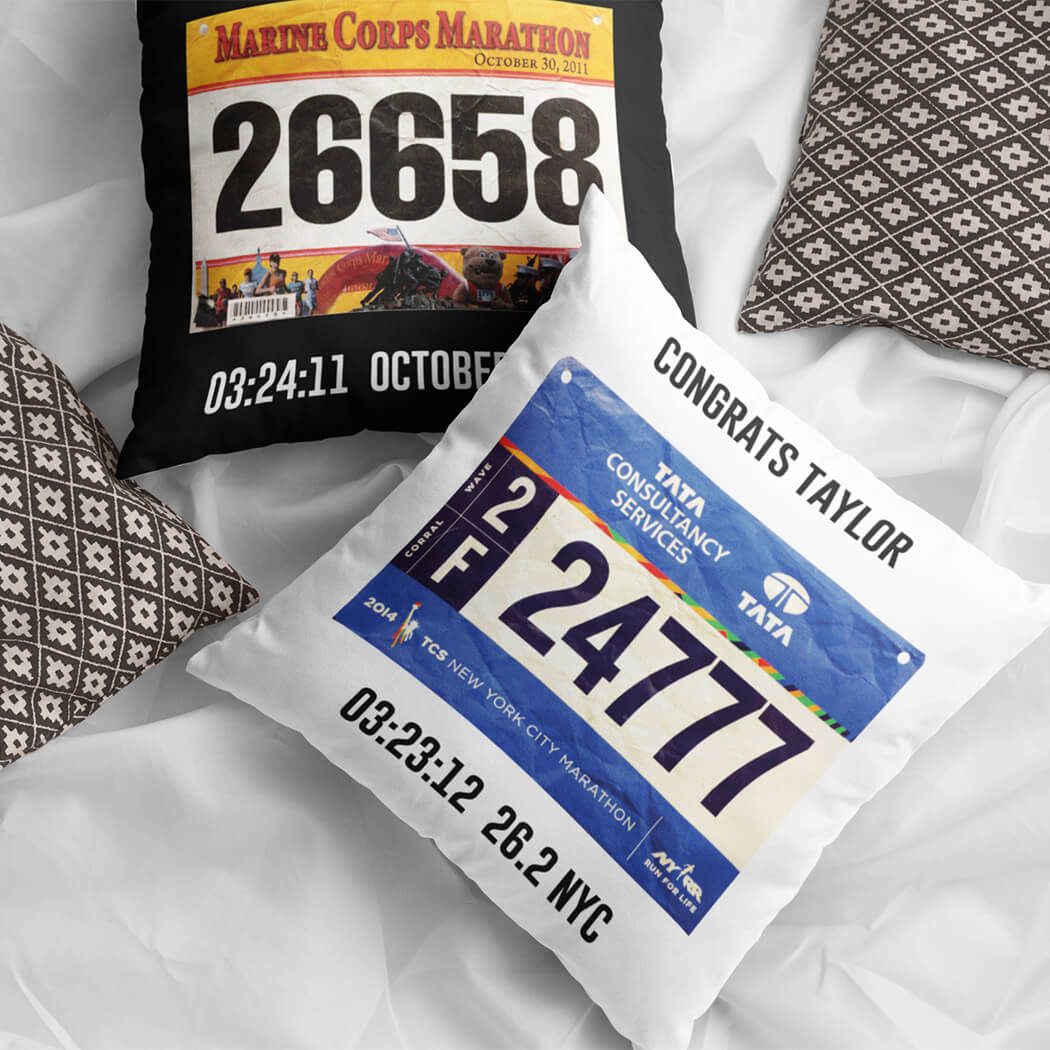 Looking for something different to give a marathoner? This Personalized Twenty Six Point Two Throw Pillow is it! Choose a favorite color and have it personalized with the race name and date, and the runner's name and finish time. Available in two sizes, this soft and comfortable throw pillow will complement any décor.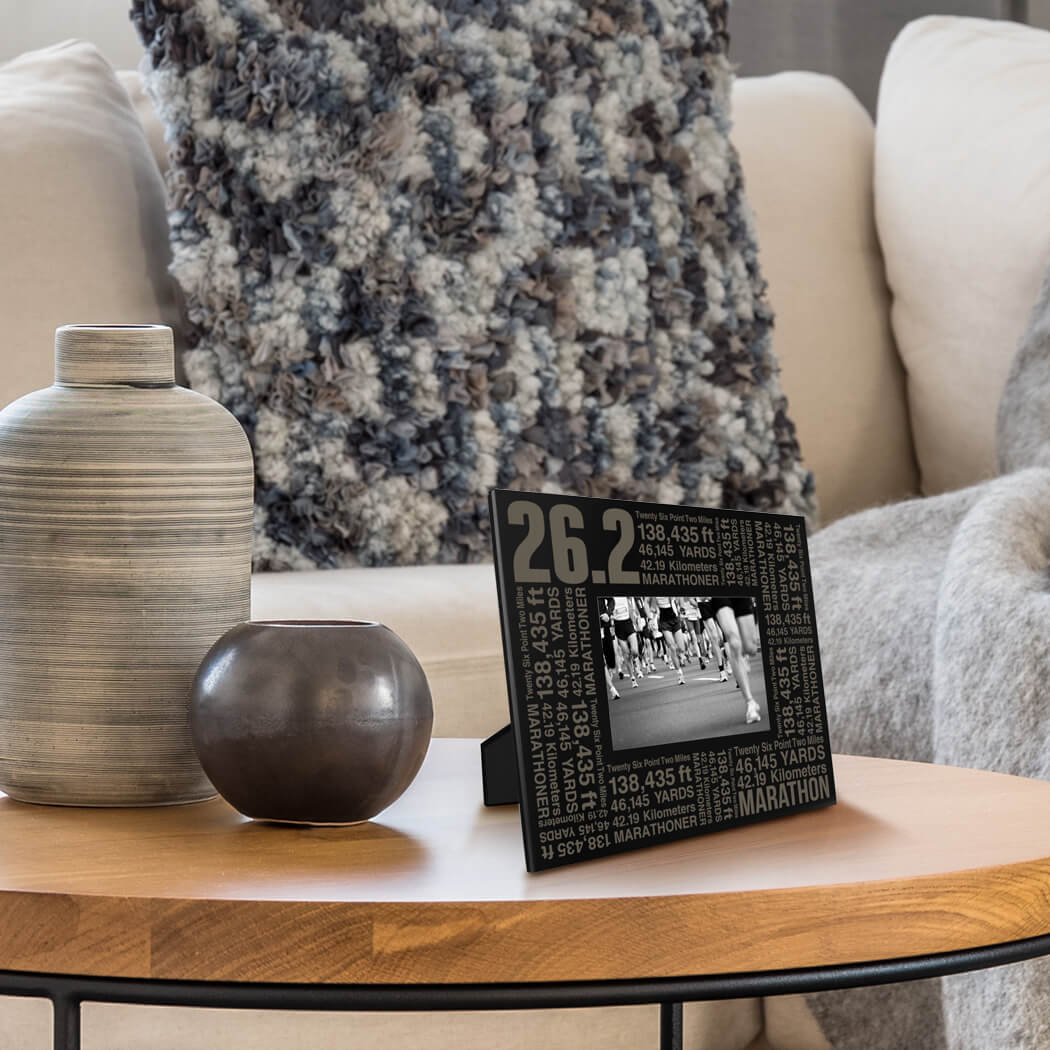 Worthy of showcasing that finish line photo, our Engraved Picture Frames are classic, elegant, and perfect for the home or office. There is a choice of two sizes, either a vertical or horizontal orientation, and it has both an easel stand backing and a picture hanger hook.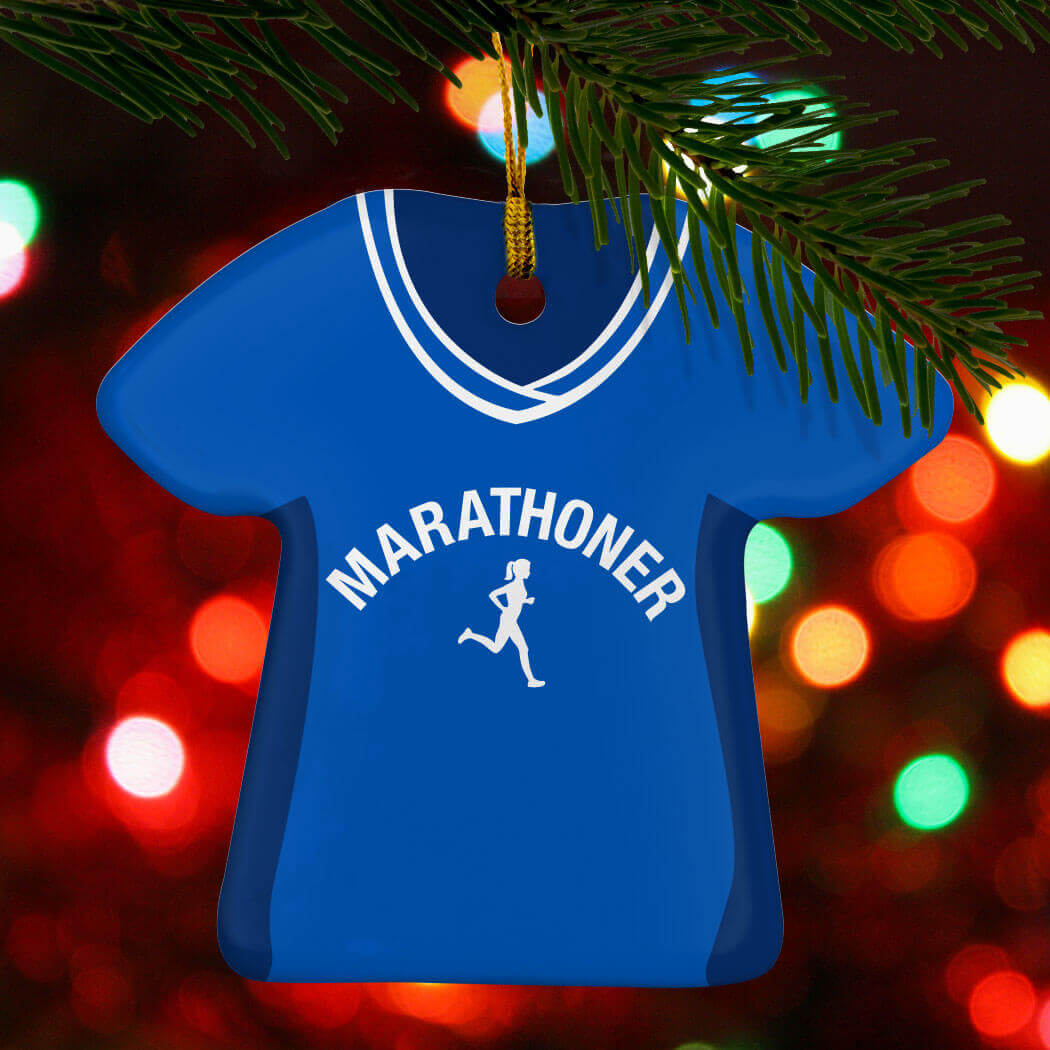 A unique idea to give any time of year, this porcelain ornament has a running shirt design, complete with race bib, that can be personalized with the marathoner's name, the marathon name, distance, bib number, date and 3 lines of custom text which could include the race time and a special message. In a choice of colors, it looks great hanging on a tree at the holidays, or from an ornament hanger on a desk or shelf any time of year.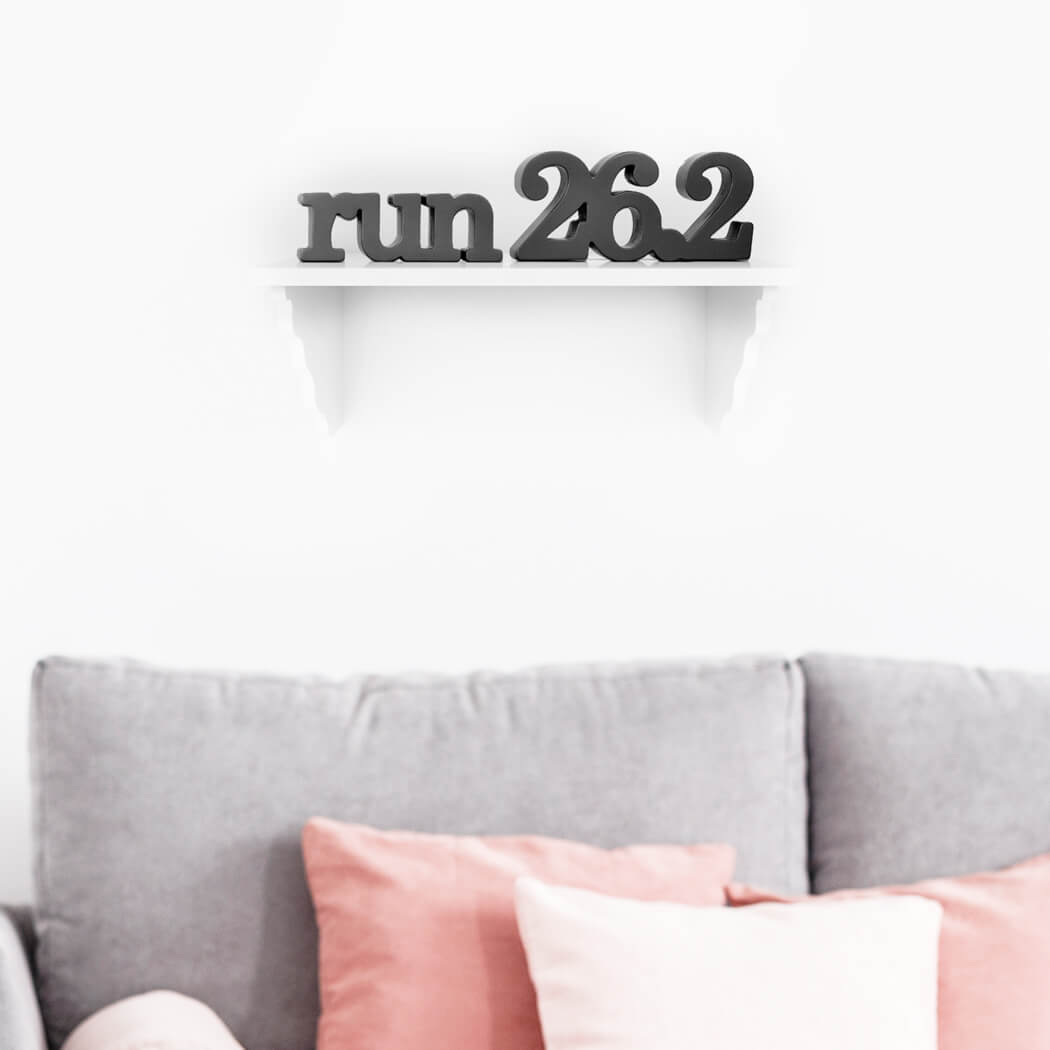 For a fun but still meaningful gift, our 26.2 Wood Words says it all in three digits. This carved wood room accessory is finished on all sides in black, and can stand on a desk, table or shelf – wherever it will stand out for all to see!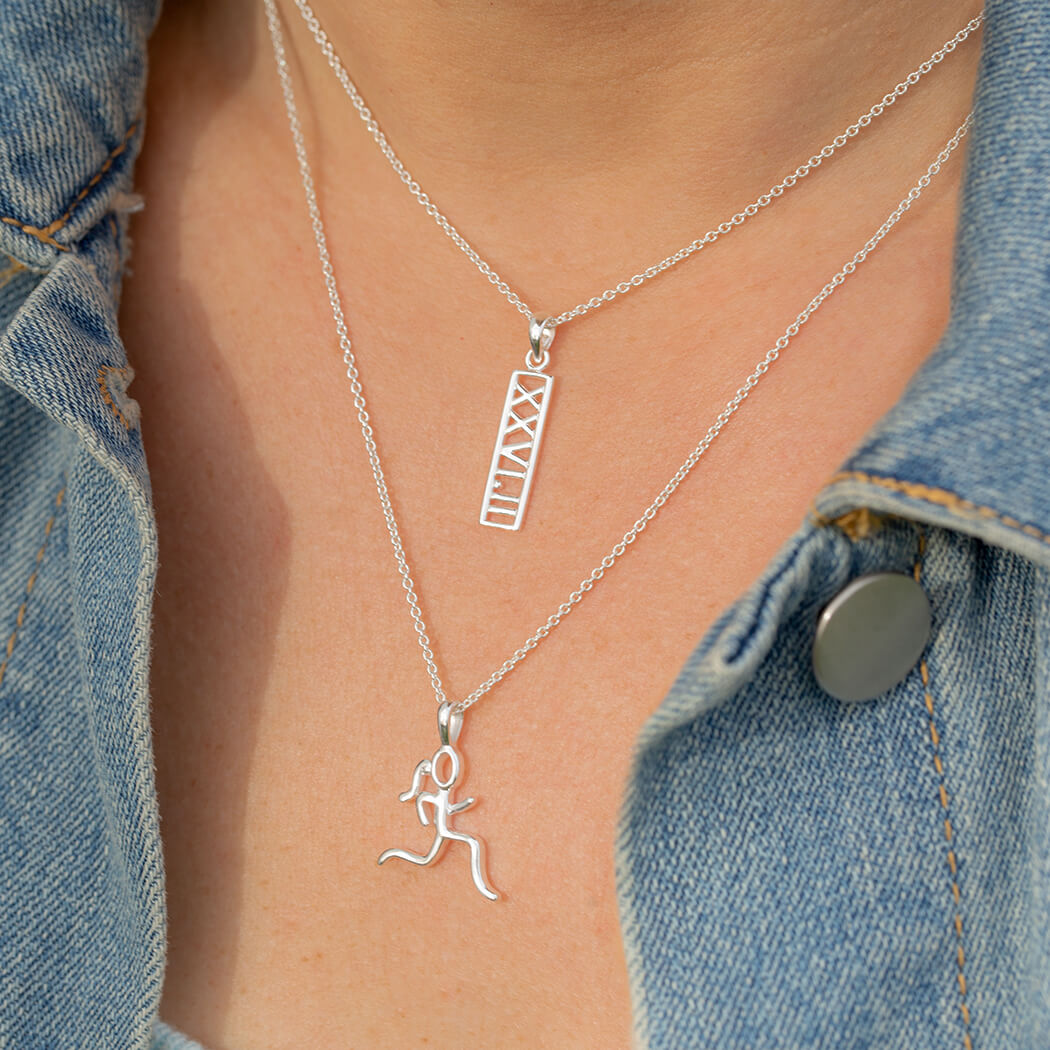 For a way to (subtly) show off completing a marathon, a necklace is a great option, and all of these are made from sterling silver. It's a perfect gift to commemorate at wonderful achievement.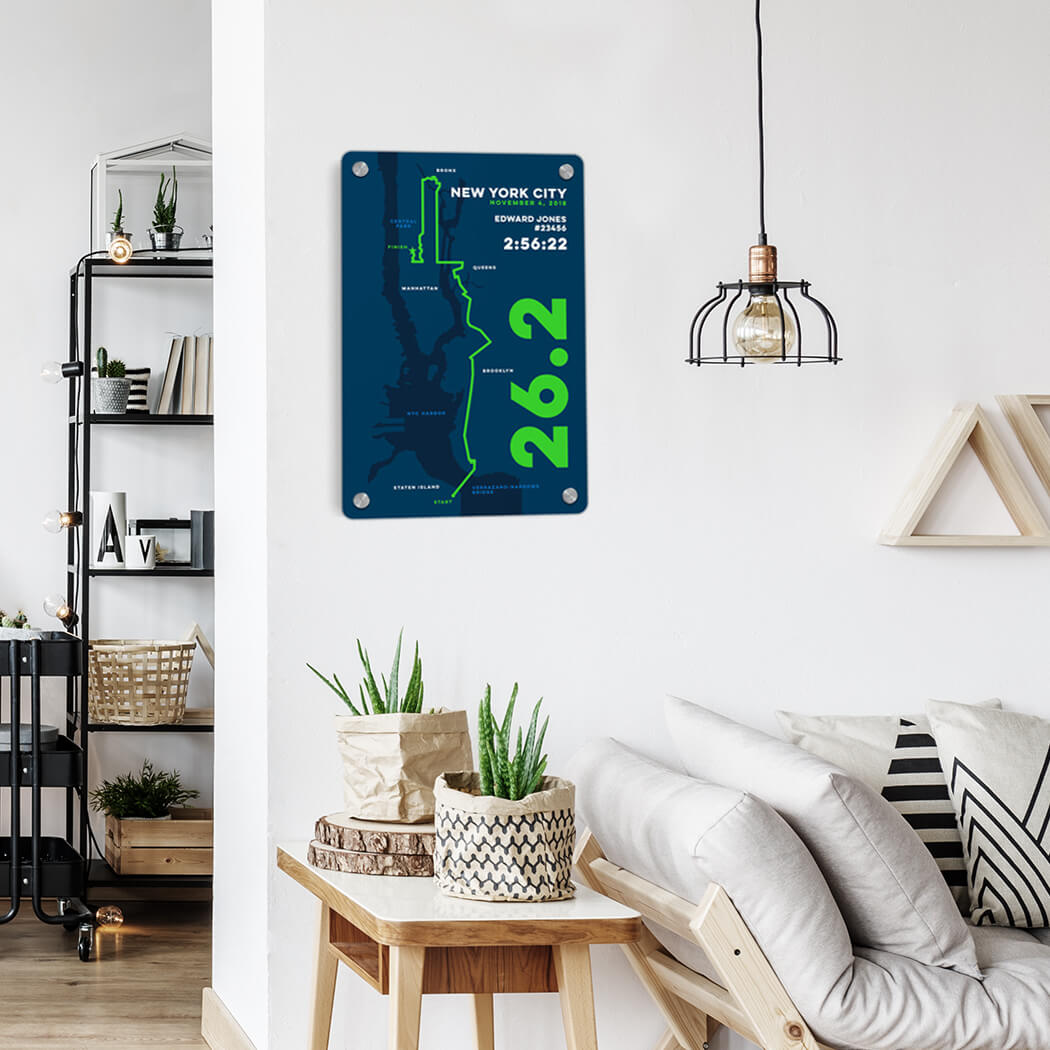 Our Marathon Map Metal Wall Art Collection created just for marathon runners featuring the routes of the major U.S. marathons. Each one has a bold, stylized design of the race route with the towns, neighborhoods or landmarks along the way, and can be personalized with a name, bib number and race stats including the finish time, date of the event and any other personal stat.
With so many options, choosing the right gift to acknowledge the hard work and dedication of a marathon runner can be daunting. You can rest assured that any of these special items will be appreciated and treasured by your favorite marathoner.