Images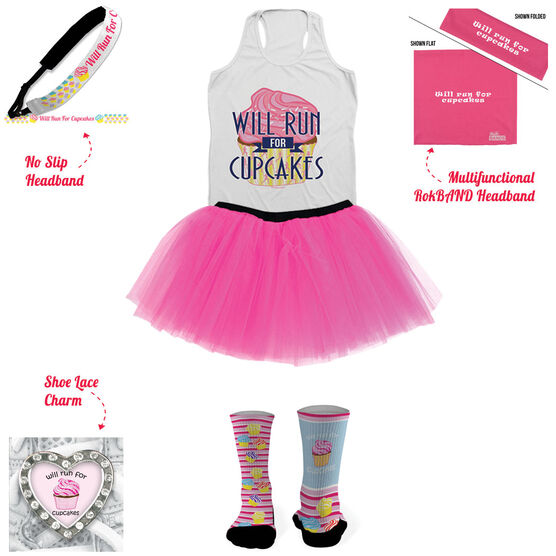 Click to Enlarge
Description

Who doesn't love a sugary sweet confection as a reward after a difficult run? And what's better than running for cupcakes while looking like a cupcake? Choose your favorite pieces from the set, or purchase the entire outfit to save 15% off each item!

Features

Each piece sold individually - choose your favorites by adding each item to your cart.
RokBAND Multifunctional Headband is moisture wicking and measures 9.4" x 8.3"
Julibands No-slip headband is one size fits all, and is fully adjustable
Non-slip lining holds hair securely
Singlet is 100% microfiber polyester to keep you dry and comfortable - they also have a comfy, relaxed fit
Please note that due to the nature of the printing process, this shirt may show presslines that should dissipate after a few washings
Personalized shirts cannot be retuned or exchanged
Tutu length is approximately 11", and the waistband stretches from 23" to 39" for one size fits most
Due to the nature of the tutu's fabric, there might be some slight variance in the printing and color of each item. This is part of its handmade beauty!
Mid-Calf Crew Socks are availalble in two sizes: SMALL (women's shoe size 5-8, men's shoes size 4-7), and LARGE (women's shoe siz 3-13, men's shoe size 7-12)
Each sock is made to order - slight variations may occur due to material and process
The process used for this sock is a printing process which produces a very detailed image on the exterior of the sock which can leave poor ink coverage in the heel and/or toe, while the interior of the sock remains white.
Stainless Steel shoe lace charm
Approx. 2 cm in height
Hole in back of charm to insert lace
Promotional pricing cannot be combined with any other offers or discounts.
Will Run For Cupcakes Running Outfit
http://www.goneforarun.com/will-run-for-cupcakes-running-outfit/tr-22135.html
Promotions